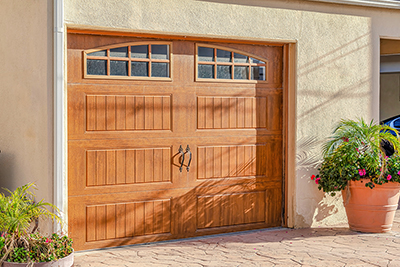 You might not put much thought into your garage doors. But these up-and-downers both keep out weather (and critters) and, if they face the street, keep your curb appeal strong.
Since most garage doors are quite durable, most homeowners rarely need to replace them. But when they do, it's an expensive project: Even budget-level options cost more than $1,000 installed, and sturdier, more design-forward models run three or four times that.
You want durability, reliability, security, ease of use, and low maintenance. If your garage is attached to your home, insulation and quiet operation matter, too, especially if there is living space above it. And, as always, you must be careful about hiring the right company at the right price: Our undercover shoppers found some companies charge nearly double what others do for the same doors and installation work.
Repair or Replace?
To find out if your old door can be repaired, consult a company that sells new doors; most also make service calls. You might be able to replace a door panel, spring, cables, rollers, hinges, operating motor, or other components, or repair bent tracks. Some of these jobs can be done by a do-it-yourselfer. You might also be able to give your door a face lift with fresh paint.
If your door's opener was manufactured before 1993, when stronger safety rules were enacted, it's prudent to replace it rather than repair it, especially if you have kids.
Design
Most residential garage doors sold today are roll-up sectional models made of several long hinged-together horizontal sections. Sections are mounted with rolling tracks at each side of the opening, so that the door can roll straight up and back above the garage interior.
Specialty doors, such as single-panel doors that pivot out and up, are also available, but roll-up doors dominate the market due to several advantages: They can be opened if a car is parked directly in front of the door; when open they allow more vertical clearance inside the garage; and they offer better safety features.
Most roll-up doors operate the same way, but their designs vary dramatically. Some look like carriage house doors; others are designed to look like folding doors. Many doors are designed with frame and inset panels, but there are many other looks.
Materials
Most doors sold today are made of wood, metal, or heavy-duty plastics. Each has strengths and weaknesses.
Wood
Wooden garage doors are popular primarily for their appearance. They're paintable, stainable, and come in architectural styles ranging from mid-century modern to Shaker. But compared to metal ones, wooden doors are usually more expensive and must be repainted periodically.
Among wood doors, the premium models are constructed with solid wood components, rather than a hollow-core construction with laminated wood. Hollow-core models aren't nearly as durable as solid-wood models.
Steel
Most garage doors sold today are constructed of steel. Although steel models don't offer the breadth of finishing options of wooden models, steel doors can be embossed with a coating that creates a wood-grain pattern.
Most of these doors are made of galvanized steel clad in vinyl or a baked-on finish, which means that, unlike wood, they don't have to be repainted regularly. (Most steel doors come with warranties that guarantee the doors won't ever rust—although these warranties don't guarantee that the finish won't fade.)
With wood doors, most homeowners apply their own paint or stain. With steel doors, most buyers simply live with one of the factory-applied colors—usually white, tan, gray, dark green, or brown. But steel doors can take a couple of coats of latex paint to match your home's color scheme.
With steel doors, you can choose between insulated and non-insulated models (we discuss these options below).
A sign of quality in a steel door is the thickness of the steel layer(s). Premium doors use a thick and heavy (24-gauge) layer of metal; cheaper models use thinner material, possibly 28-gauge steel.
Generally, the thicker and sturdier the door, the more expensive it will be. That expense comes with greater durability—less warping or bending, and fewer dents from soccer balls, basketballs, bicycles, and other moving objects. Thicker insulation also means better temperature control. And sturdy well-insulated doors generally make less noise opening and closing.
Aluminum and Fiberglass
Although far less popular than steel or wood, there are also aluminum and fiberglass doors—usually manufactured with a foam core. These doors are lightweight, can offer good insulation, and can be repainted. But because they dent more easily than steel doors, most homeowners stick with steel.
Plastic
Finally, there are plastic doors—some made of high-density sturdy material like the material used in truck liners. Plastic offers lightweight durability with no need for painting or other upkeep, and no risk of rot or corrosion. Also, they open and close very quietly.
Insulation
If your garage is not attached to your home, you probably won't care too much about whether it remains cozy year-round—unless you use it as a workshop or otherwise spend a substantial amount of time there. But if your garage is attached, and especially if you have living areas located above the garage, buy a door with good insulation properties.
Insulated doors are made with a Styrofoam or polyurethane core sandwiched between two thin layers of steel (sometimes the layer for the inside of the garage is vinyl rather than steel); non-insulated models are similar to insulated models except that their cores are hollow; and single-skin models don't have a second layer of steel or vinyl on the inside of the garage (although some have an insulation layer).
The energy efficiency of garage doors is rated according to their R-values, with higher numbers indicating better insulation properties. Single-skin steel doors typically have R-values of five or lower (meaning they'll pretty much just stop the breeze and offer very little insulation); insulated steel doors may have R-values of 10, 15, or higher. Solid-core wood doors usually have R-values between seven and 12. Thicker, sturdier doors offer better insulation but cost more.
If you want a well-insulated door, also consider its weatherstripping. Look for doors that have thick weatherstripping along the entire bottom edge and create a seal with the garage floor; vinyl capping along the sides and top of the door; and weatherstripping between each section of the door itself.
Windows
Most garage doors can be fitted with windows made of glass or plexiglass. You'll find a range of opening shapes and glazing options (clear, frosted, tinted, or mirrored). Windows both look good and let light into what might otherwise be a dark space. But windows, even fitted with plexiglass, are likely to make your garage a little less secure.
Opener Options
Garage door openers work via a chain, screw, or belt to raise and lower the door. The least expensive chain-driven models cost less than $250; the most expensive belt-driven models cost more than $400. In general, the more expensive models operate the most quickly and quietly.
Most openers can be set up to operate with a switch that opens or closes the door from inside the garage or via a keypad outside. All models come with safety devices, including electronic "eyes" that reverse a closing door if the light beam near the ground is interrupted; they also have mechanisms within the motor that automatically reverse a closing door if the door encounters an object that gives enough resistance (usually about 30 to 45 pounds of resistance). Because garage doors are so heavy, after installation you'll want to make sure these safety devices are working properly.
Operating Hardware
If your garage is attached to your house, and especially if it is below living quarters, you'll be interested in reducing the noise of door openings and closings. Buying a sturdy insulated door and a belt-driven opener will help, but you can improve the sound performance still more by paying attention to the hardware that the door will travel on when opening and closing. Plastic rollers are less noisy than steel. Tracks that are made of powder-coated steel tend to look better and operate more quietly than tracks made of galvanized steel.
Hiring a Company
Start by checking our ratings of local garage door suppliers and installers; most also do repairs. Most of the ratings we've received for companies have been positive, but as with most services we cover, the reviews reveal some bad eggs.
One quality check you can make yourself: Ask about the warranties offered by the different companies you're considering. The garage doors and openers themselves are backed by manufacturers' limited warranties, which typically run for 10 to 20 years. To cover parts and labor costs, most installers offer only one-year warranties, but some will agree to provide warranties with longer terms.
Once you've decided on the type of door and opener you want, shop for price. So long as you can describe in detail the size and specifications of the door and the opener you want, you should be able to get prices by phone or email.
Our undercover shoppers asked a sample of area garage door dealers/installers to quote their prices to install a single-car garage door and opening system (with a door opening measuring nine feet by seven feet). We told companies that they would be able to use the garage's existing tracks, and that we wanted them to supply their least expensive insulated steel door with an R-value of at least nine, coated with a baked-on black polymer finish, with no windows. We also told each company we wanted it to supply and install the least expensive chain-driven opener they offered, along with two remote controls. As you can see from the table below, the range of prices we were quoted was substantial, from $1,900 to $2,962.