Last updated December 2017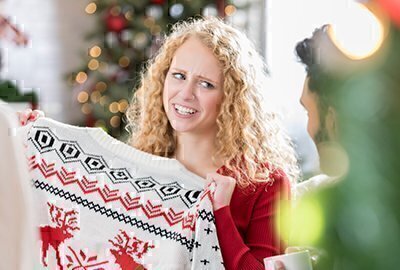 Did Santa let you down this season with a gift that…well…just doesn't do it for you? Here are tips on getting a hassle-free experience returning or exchanging your it's-the-thought-that-counts items, plus strategies for using those gift card gets.
Returns
Check the time frame. While most stores give you months to act, not all are so generous. Many retailers extend their return time frames for items purchased during the holiday silly season—for example, you get 60 days to return it, instead of 30—but at some stores the return window remains small, especially for electronics and computers.
Watch out for dwindling payouts. Check the small print for the store's policy. Many retailers give you only a month to return stuff to get back the price paid, but after a month you might receive just a fraction of the price. That generous 12-month return window might be Scrooge-ier than you thought if you delay dragging yourself to the mall to take back your stuff.
Leave any tags, labels, or stickers attached to the item. Too much tampering or de-tagging and you may be out of luck for a return.
Avoid opening boxes, especially for electronics and especially for computer-related devices. Some retailers reserve the right to refuse a return if the box has been opened or even a seal broken; others charge restocking fees. If you open a box, keep track of what went where so you can repack it later on, making sure all the parts and equipment (manual, power cords, etc.) that came with the item are there when you return it.
If have a receipt, bring it. Otherwise, you will likely receive the current selling value of the item, which is often less than what the gift giver paid, especially with post-holiday sales in full swing after Christmas.
If you don't have a receipt and you think the store is offering a too-low payout, complain. Explain that the item was a gift, and ask to speak with a manager, if needed.


Be courteous. Politeness and a smile can make a difference in whether store personnel care to work out a problem for you.
But stick up for yourself, too. Returns and exchanges are part of the retail business, and stores should treat this transaction as smoothly as they do purchases. If the store's return policy is unreasonable, or if its personnel are uncooperative, tell a manager you plan to dispute the charge with your credit card company (or to ask person who bought the item to do so). Federal law and the policies of credit card companies grant consumers enormous leverage when they seek to return dissatisfactory or defective merchandise.
Watch out for restocking fees. After much badgering from consumer advocacy groups—including we here at Checkbook—many retailers stopped charging these ridiculous fees. But some still do, especially on electronics. Ask stores to waive these absurd fees.
Before you ship back an item to an online seller—which can be a swift pain—check whether it will allow you to walk it in to one of its brick-and-mortar stores. Many retailers with local and online stores allow this.
If an electronic item doesn't work properly either right out of the box or soon after, take it back to the store and insist that it allow you to exchange it, rather than submitting it to the manufacturer under a warranty repair claim. Some stores offer to help you ship only broken items to the manufacturer. Our view: Stores should stand behind all products they sell and immediately move to make things right if there's a defect or mechanical problem, rather than making customers wait weeks or even months for a warranty repair or for a manufacturer to send a replacement.
Gift Cards
Use the card. Wait! Don't leave! Okay, this is obvious advice. But LOTS of consumers fail to redeem gift cards—according to Consumer Reports, almost one-third of gift cards are never used. ONE-THIRD!
Use the card soon. The faster you act, the less likely you are to forget about or lose that plastic.
Register it with the retailer, if you can. Some retailers allow you to apply the gift card value to an existing store account. Do so and the next time you buy something the store will automatically remind you about the gift-card credit—and you don't have to worry about toting around or losing your cards.
It's easy to overspend when using a gift card—it's a big reason retailers love them. Plan out your purchases so that your cost stays close to the gifted value.
Just because someone gave you free money doesn't mean you should neglect to get the best deal. Don't fall for fake sales (most sale prices aren't special at all, but just efforts by stores to manipluate their customers to spend). Read our articles here at Checkbook.org for advice on getting the best price on specific types of products, plus check out our top tips for getting the best price when shopping online. Find a better price elsewhere? Ask your gift-card retailer to match it.
If you are given a receipt with your gift card, save it. It may be the only proof you have of the card's value if for any reason the card doesn't work.
There's a good federal law that protects the value of your card. The Credit Card Accountability, Responsibility and Disclosure Act mandates that gift cards must retain their full value for five years from the date of purchase.
If you don't think you'll use the gift card, consider regifting it or even selling it. Reseller sites such as GiftCardBin.com and CardCash.com buy up partially used and unwanted gift cards and resell them. These sites won't pay out anywhere near the full value for your card, but something is better than shoving it in your kitchen junk drawer and forgetting about it.