Don't Want to Book a Mystery Rate? Here Are Strategies for Getting the Next-Best Hotel Rates
To us, the rates offered by Hotwire and Priceline Express are too good to pass up. But some travelers want or need to stay at a specific property. Below are options worth checking out based on more than 3,500 prices recently collected by our researchers, listed in order of what to try first. Below that, we share additional tips for saving on your next stay.
goSeek—Our shoppers found this site—not (yet) owned by Expedia or Booking—often offered pretty good prices and was easy to use. Unlike most other booking sites, goSeek looks not just at advertised per-night rates, but also how coupon codes and other special offers might affect costs. In our shopping, although goSeek rarely scored us better deals than Hotwire or Priceline Express, it usually beat the other booking-site options. On average, it saved us 13 percent off prevailing rates.
SnapTravel—This site bills itself as half-bot, half-human, using text messages to communicate deals; in our tests it saved us about 14 percent off prevailing rates. You tell SnapTravel your desired location and dates, and it sends you a message with a link to some offers; or you can request prices for a specific property and it will send you pricing. Although SnapTravel often offered us rates nearly as low as Hotwire and Priceline mystery deals, at the time of this writing it had a fairly limited inventory. Some of our staff liked using it (the process is very streamlined), but some didn't (had to switch from a computer to a phone to review rates, and found its follow-up texts annoying).
Check the hotel's website—To put it mildly, hotels are getting fed up with Expedia and Booking's trade restrictions and big fees—but not fed up enough to stop working with the two behemoths that fill an increasingly large share of their rooms. To avoid paying their fees, some hotels lure guests to book directly with them by offering upgrades, extra points, and other perks. While these bonuses aren't usually valuable enough to overcome a mystery deal's steep savings, they're better than the nothing you score with most third-party sites.
Look to "unlock" other deals—As hotels and independent travel sites try to compete with Expedia and Booking, we're increasingly seeing special offers for shoppers who join frequent-traveler clubs, supply an email address, connect via Facebook, or take a similar action to access exclusive pricing.
Call the hotel—In addition to checking for perks on hotel websites, try the low-tech approach of calling; sometimes you can negotiate a lower rate. Ask to speak to a manager or sales manager.
Give Kayak or Trivago a spin—Several websites promise to scour the web to deliver simple-to-buy results. Every now and then we found a good deal on Kayak or Trivago.
Keep checking for deals after you book. If you don't go with a mystery rate or otherwise prepay, you usually can cancel a hotel reservation with no penalty up to 48 hours before your stay starts. Several websites—including Kayak, Google, TripAdvisor, and specialty apps and sites like Pruvo, TRIPBAM, Waylo, and Yapta—track hotel rates and let you set up notifications for when a hotel changes its price. If a lower rate becomes available, cancel and rebook at the lower rate.

We no longer bother with Priceline's "Name Your Own Price" option.
Priceline has three options for booking hotel rates. There's its low-rate mystery deals. It also shows available specific hotels like most other online-booking sites, with prices that largely match what most other sites offer. And while it still operates its "Name Your Own Price" bidding option that it used to build its brand, it appears to be phasing it out.
We used to favor the bidding system but now find Hotwire and Priceline's Express Deals offer about the same prices with far less clicking and trouble.
If you need more than one bedroom, consider renting an apartment or home.
We find renting an apartment or home via Airbnb or HomeAway/VRBO often—but not always—costs less than a hotel. Groups in particular usually will save a lot by renting a large home rather than multiple hotel rooms.
You might save by bundling air, hotel, and/or car rentals.
Since bundled deals bypass the Expedia and Booking pricing restrictions, sometimes you can find great deals with operators that group hotel bookings with airfare, tours, etc. However, be aware that many package trips are bad deals in disguise.
Beware of pop-up windows and scammers.
As you hunt for bargains, pop-up windows might pile up. Know that crooks are scamming a lot of travelers these days by posing as hotels or booking sites. Whenever you're shopping online, be careful about giving out personal info or credit card numbers. Before clicking on an unsolicited offer or search result, investigate the seller—and watch out for phishing sites.
Although there's little price competition among online booking sites, travelers still benefit from tons of competition among hotels.
Although Expedia and Booking leverage their large market share to force hotels into their anticompetitive pricing schemes, as long as there are plenty of hotels competing against each other good deals will exist. Unlike the airlines, car rental companies, and hotel booking sites, several hotel companies are still competing with one another, meaning you might even get overwhelmed by choices when plotting a trip. Remember that filters are your friends.
Want to save time? Consider hiring a good travel agent.
Some of us love wandering the internet looking at destinations, hunting for the best deals, watching Rick Steves eposides, and reading reviews. But if spending hours planning a trip seems too much like toiling at the job you want to escape, consider using a travel agent. Since travel agencies charge fees for most services, using an agent usually costs more than booking on your own, but the help an expert provides is often worth it. Click here for advice on finding a special agent.
No matter where you shop, don't be swayed by ads proclaiming big discounts or warnings about a shortage of rooms.
Almost all the travel websites we reviewed hype steep discounts based on "regular" rates hotels seldom actually charge. A common trick: displaying a price that's crossed out next to a much lower "special" offer. It seems like you're getting a deal, but you probably aren't.
Most of the websites owned by Expedia at least explain how they calculate their crossed-out faux rates: They state it's the third-highest price the hotel charged for the room over the last 30 days. Expedia gets a polite golf clap for transparency, but we still have a big problem with the overall effect of these phony bargains. After all, the advertised higher "list" price hardly represents a prevailing rate.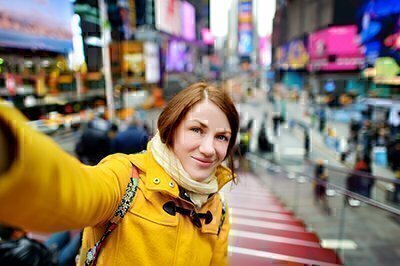 Similarly, many websites discourage users from shopping around with warnings like "Only 2 rooms left!" or "19 other travelers are looking at this deal!"
After collecting more than 3,500 hotel rates while researching this article, we can assure you there's no rush. These terrible deals will still be available later. In fact, in most scenarios hotel-room prices actually go down the longer you wait to book.