Mystery Rates Score the Best Hotel Deals
While the Expedia/Booking duopoly doesn't allow hotels to advertise different prices for the same room across different selling platforms, it does let them offer lower rates if access is limited to an exclusive set of shoppers. So while in theory AAA, AARP, Costco, and other membership groups can hawk special rates via members-only sections of their websites, so far these arrangements are uncommon. (Although all three of these groups offer travel services, in our tests we rarely found that any offered the best rate.)
But we did save significantly on rooms when buying Hotwire Hot Rates and Priceline Express Deals. To get these deals, you supply your city and dates, and get a list of available rooms—just like a standard online hotel search. But unlike other travel sites, Hotwire and Priceline offer "mystery rates," marketed respectively as "Hot Rates" and "Express Deals," that reveal prices and amenities but not the hotel name. After you book one of these rooms and your credit card is charged, then you find out where you'll stay, no backing out.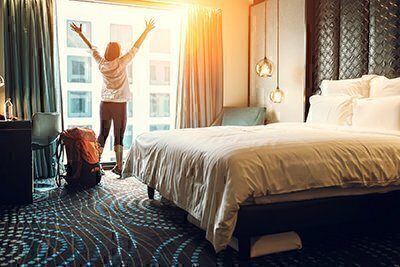 Sure, it sounds risky, but our staff has booked more than 100 mystery rates and seldom had any trouble. Although you aren't told the hotel names or addresses when shopping, you get plenty of information and filters to control key criteria and ensure you land at a good spot. Click here for our tips on how to avoid trouble.
The reason to gamble a bit on Hotwire and Priceline Express offers is that they represent the only way to save significantly on hotel rooms. And according to our research, the discounts are usually large: On average, booking mystery rates saved us about 38 percent off the prevailing rates offered by most other travel websites and the hotels themselves.
Over three months, we shopped for the lowest rates from 16 travel websites for 24 hotel stays in 19 U.S. cities. For each booking, rather than comparing rates for specific hotel properties we sought the lowest rate among all hotels in our desired neighborhoods listed as four- or five-star properties with overall customer ratings of 80 percent or higher.
For nearly every one of these 24 searches, we found the lowest-cost room was a Hotwire or Priceline Express mystery deal. After we paid for the stay and the hotel was revealed, we immediately compared that price with what we would have paid had we booked it using the other travel websites or directly with the hotel. Our biggest percent savings off the standard rates was 63 percent; the smallest was nine percent. The table below reports examples from our tests.
In head-to-head competition, Hotwire usually beat Priceline: Of our 24 tests, Hotwire beat Priceline Express 16 times and Priceline Express won five times, with three ties.
We're a little reluctant to hype Hotwire and Priceline; after all, they both belong to the two companies that are forcing hotels to abide by anti-competitive, anti-consumer pricing policies. But within the current (rigged) system, these are the only options that consistently allow you to save money.