The Disappearing Hotel Bargain
Agoda, Booking.com, Expedia, HomeAway, Hotels.com, Hotwire, Kayak, Momondo, Mundi, Orbitz, Priceline, Travelocity, Trivago, VRBO…
Dozens of travel websites are eager to arrange your next hotel stay. But this world of options is an illusion: Almost all travel booking sites were either started by or gobbled up by Expedia, Inc. or Booking Holdings (formerly Priceline Group), two Fortune 500 companies that together now control 95 percent of third-party online hotel bookings.
In the past you could call the hotel desk and get one rate, call the company's 1-800 line and get another, find an entirely different price on the hotel's website, and then look at dozens of competing rates on various travel websites. Now most booking options offer the same price for the same room.
That's because Expedia and Booking leverage their overwhelming market share to dictate how hotel rooms are priced. Buying up their competitors was expensive. To avoid purchasing more plucky startups—which might try to compete by (God forbid!) offering lower prices—Expedia and Booking each demand that hotels offer the same room at the same price across all booking platforms. Those that don't comply to these pricing constraints don't get listed on most travel websites and lose out on most online business.
Our researchers looked up more than 3,500 hotel rates on 18 different booking sites plus hotel company websites. We requested rates for one-, three-, and seven-night stays in 46 U.S. cities and 12 foreign ones and found very little price variation among most of the options.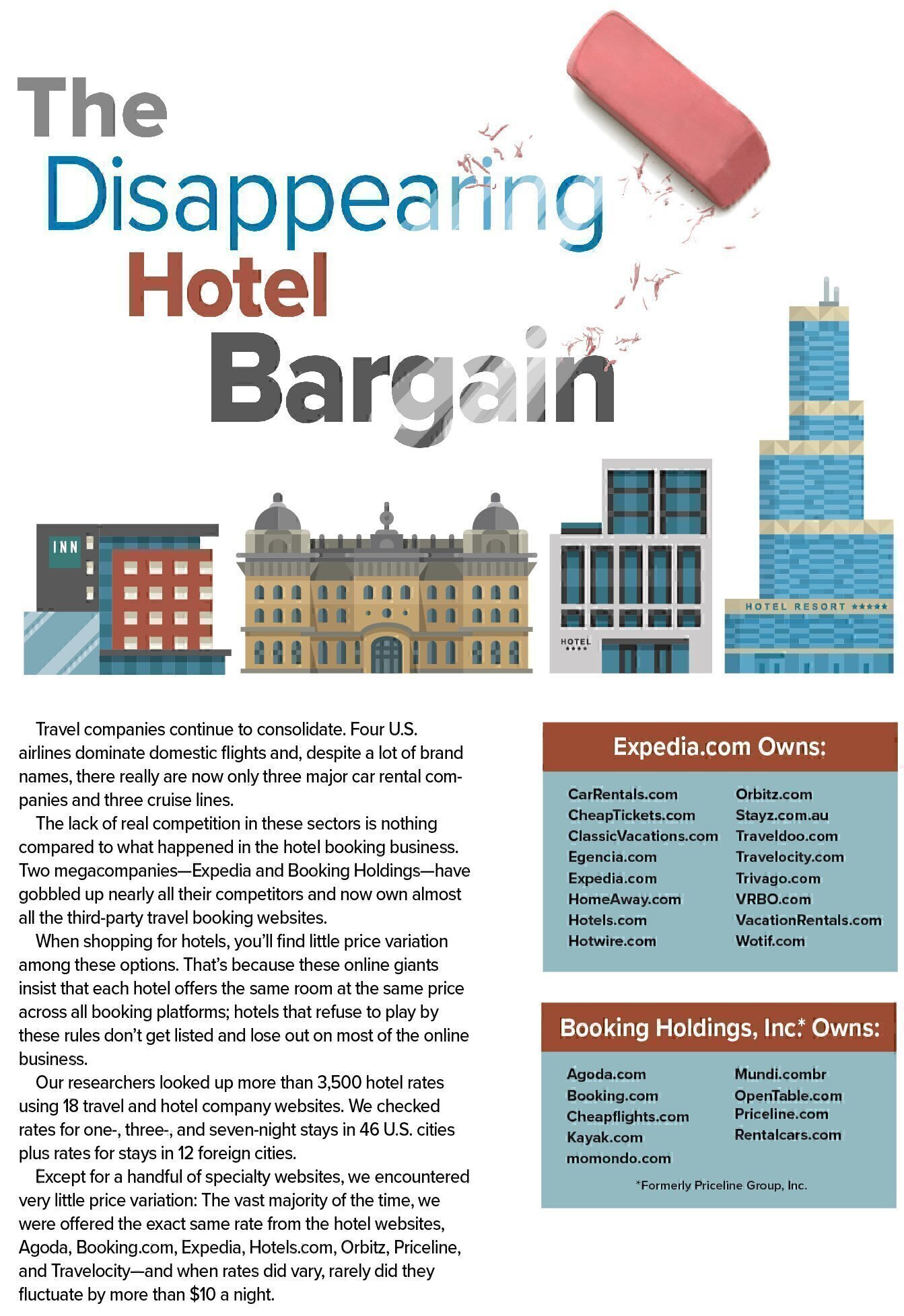 Although the pricing policies and hefty booking fees of Expedia and Booking Holdings certainly affect hotels' revenues, it's hard to say how much the lack of competition costs consumers.
Since hotels and travel websites must present consistent pricing, consumers don't have to hit 20 sites to find the lowest rate. But the Expedia-Booking duopoly clearly prevents consumers from easily obtaining better deals, meaning many people likely pay more.
Overall, hotel prices have remained fairly flat over the last several years, growing just a bit faster than inflation. On the other hand, more hotels have been built, and competition from vacation rentals offered on Airbnb and HomeAway/VRBO should be pushing hotel room prices downward.
And someone is paying for the booking services' increasingly steep fees, which now range from 10 to 30 percent for hotels. That these high commissions exist at all seems an indication of unfair trade practices; after all, a 20 percent fee is a lot of money to simply place a customer into a room. The same sites charge airlines only three to five percent.
Another indication that enforced fixed prices cause consumers to overpay: Hotel reservations account for the biggest share of booking websites' profits. A 2013 Forbes article noted that 97 percent of Booking's profits came from hotel bookings.
It's still unclear whether Expedia and Booking's eerily similar policies were formed using illegal collusion. Antitrust laws require each company to establish its own prices, and bar it from working with a competitor to refrain from competing. Because these two companies effectively share the same pricing policies, they clearly warrant further investigation by regulators—and remedies to hotels and travelers if they've been illegally injured.
European regulators have accused travel booking companies of illegally fixing hotel rates. In the U.S., regulators haven't acted to prevent the booking companies' pricing practices, and the few class action lawsuits related to price fixing were dismissed.
But even if there's no tacit illegal agreement between the two megabookers to not compete on price, it appears to us that there's at least an unspoken price parity policy to prevent newcomers from establishing footholds.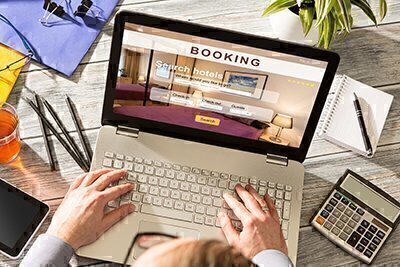 Another example of unfair business practices was Expedia's attempts to "dim" hotels that too aggressively sought bookings on their own websites. If a hotel company got on Expedia's bad side, it would push down its listings in search results, or fail to show hotel photos or list important features. After taking some heat from hotels and consumer advocates, Expedia says it stopped the practice. But the message to hotels was clear: Don't undercut us on price.
Hotels apparently are still a bit unsettled by Expedia's warning shots: We couldn't get any of them to speak to us on the record about Expedia or Booking. They can't afford to lose the bookings by speaking out or cutting the cord to the third-party sites—especially when there's more sales growth there than elsewhere.
And let's face it: There's a long history of U.S. consumers getting screwed when there's little or no competition among service providers. Whenever price fixing occurs, consumers pay. Take a look at the airlines' ridiculous fees if you need an example of this; note your $200 cell phone bill if you want another; remember (if you can) how much we used to pay AT&T for long-distance phone calls.
Consumers benefit most when lots of companies must compete by offering great service and low prices to earn our business. When all the companies have quietly inbred, there's little incentive for them to work hard to make sales.