Tips on Booking Mystery Hotel Rates
We have overall positive experiences with mystery rates—but learned some lessons.
Our staff stays in a lot of hotels for work and fun, and for years we've almost always booked mystery rates from Hotwire or Priceline Express. While the savings are too good for us to pass up, some deals come at a cost.
First, make sure search results are sorted by price. Many travel sites show a curated list ordered by "recommended" or "best fit." Often this means the best deals appear further down the list.
Since it seems risky to book and pay for stays without first knowing the hotels they'll get, many consumers are wary of mystery rates. If you haven't tried it, the process might seem sketchy. (Will you overnight at some dump run by a Norman Bates protégé?) But although you don't get to pick a specific property, the sites provide plenty of information and filters for key criteria to ensure you land at a good spot.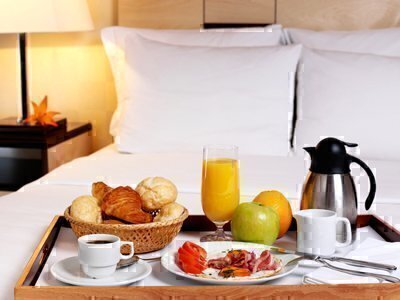 When you click on a listing in its search results, Hotwire sometimes hints at the hotel name by reporting "the last person who booked this deal got The Bedbug Inn" or whatever. These hints are pretty good predictors: We end up at the hinted locale more than 80 percent of the time. (Priceline hasn't provided these clues.)
Over the last few years, we have booked more than 100 of these mystery stays with very few snafus. One key: Search only for hotels with user ratings of 80 percent or better on Hotwire and 8+ with Priceline. And limit your search to places with at least 3½ stars—some of the higher-starred properties are often no more expensive than two-star ones, which are sometimes (but not always!) pretty gross.
However, every now and then our Hotwire and Priceline Express steals frustrate us especially by neighborhoods that are too loosely defined, resulting in a stay at the outside edge of our desired area that requires a hike to the subway/museums/city center/restaurants.
If there's a reasonable chance that you'll cancel your trip, wait to book or avoid mystery-rate deals and other prepaid arrangements. Travel websites' urgent warnings that rates might go up are B.S. and there's little cause to rush: We often find great deals even at the last minute. Unless a special event like the Super Bowl or New Orleans Jazz Fest books up all a region's rooms, hotel rates tend to go down as the dates of stays approach.
Although Hotwire and Priceline Express rightly provide dire warnings about not allowing changes, cancellations, or refunds, if you screw up or your plans change don't just eat the loss; call and ask if you can shift your reservation or get your money back.
When I occasionally select the wrong dates or make other dumb booking mistakes, I almost always salvages things by calling the hotel, which is typically happy to move around my reservation.
If you need to cancel your stay and want a refund, start by calling Hotwire or Priceline. It helps if you can point to a history of prior purchases. If they won't budge, ask the hotel for your money back. In our experience, one or the other might issue a credit (you'll improve your chances by explaining that you'll later rebook the trip).
Mystery rates offer some disadvantages.
Even though Hotwire and Priceline Express offer a lot of filters to help you control key considerations (location, star level, customer satisfaction, fitness rooms, swimming pools, on-site restaurants, parking arrangements, WiFi charges, pet policies, and more) about the mystery hotels, many travelers feel that booking an unnamed hotel is still too much of a gamble.
By far the biggest bummer to booking blind is that you can't specify or check out the hotels. This is especially a problem if you want to stay at a conference or wedding venue; be a few blocks from a subway or train station or near an airport for an early-morning flight; or have an easy walk to a tourist site.
Other drawbacks:
We sometimes disagree with the number of stars Hotwire and Priceline award. And sometimes the low prices are due to an ongoing remodeling effort that has driven away lots of other customers.
Although Hotwire and Priceline Express let you specify a preferred bed type, and you can call the hotel to request adjoining or connected rooms after you book, there's no guarantee—which is annoying if you're traveling with kids and want direct access to where they'll sleep but not to bunk with them.
Our gripe with all hotel booking sites? Search results report the base nightly rates, not the total price including taxes and fees. To see totals, you must click on each listing. Because most booking sites charge the same taxes and fees, relying on base nightly rates to compare costs is fine, but Hotwire and Priceline Express charge slightly higher booking fees than most others. Usually we find that even when we add in these higher fees Hotwire and Priceline Express still have the lowest prices, but it's another annoying step to take.
Similarly, when booking on any site, watch out for resort fees. With Hotwire, Priceline Express, and many other sites, you frustratingly don't see these silly required extra charges until you click on individual listings. We say all sites should include their dumb facility fees for WiFi, "free" happy hour, and whatever in their base rates; otherwise, it's a bait and switch.
You don't usually earn points in hotel companies' travel clubs when you book mystery rates. (You can still earn points for what you spend on parking, meals, etc., during your stay.) One side effect of the Expedia/Booking duopoly is that hotels' rewards programs are more generous than before, as they want you to skip the middleman and book via their websites, which spares hotels from paying booking fees. But since mystery bookings typically net 25 to 50 percent savings, sacrificing perks and points that usually represent a value of less than 10 percent doesn't seem so dire.
Hotels often assign the best rooms to their most loyal customers and the least desirable ones—small spaces, digs near noisy elevators or with airshaft views—to those who paid the least. Indeed, while our staffers who book via Hotwire and Priceline Express sometimes get great rooms, we more often get stuck with fine-but-not-fantastic ones.
The greater issue is that when prepaying for anything you lose a great deal of leverage if there's a problem. If you're assigned a lousy room, you can't cancel; you'll have to count on the benevolence of hotel staff to make things right. The good news is when we've complained about room assignments, hotel staffers usually can reassign us to better ones.