Vehicle Service Contract Plans Are Big Hassles and Bad Deals for Most Drivers
Ads from CarShield featuring rapper-turned-actor Ice-T say that buying its vehicle service contracts can help you avoid thousands in auto repair bills. CarShield also hired ESPN's Chris Berman to urge viewers not to "drive another second without protection."
Several other companies and car dealerships hawk these plans, also known as "extended warranties." Even some AAA chapters and auto insurance companies such as Allstate and GEICO now sell this type of coverage.
Everywhere we turn, consumers encounter scads of annoying sales pitches for car repair plans. Buy a new or used vehicle from a dealership and the finance manager will try to persuade you to spend thousands on one. Your phone is likely inundated with robocalls selling coverage, often using deceptive and even illegal sales tactics. Your email and U.S. mail boxes get hit with official-looking statements warning that your ride's manufacturer warranty has expired, or soon will, and you are facing a likely Carmageddon if you don't buy their plans right now.
These companies promise to pay for repairs you might—but probably won't—need. We advise against buying these kinds of mini insurance policies—home warranties, service contracts for electronics, trip protection, water-and-sewer line coverage, and so on. They are overpriced and highly profitable for the companies that sell and administer them and pay infrequent claims, but are usually awful deals for consumers.
While we advise against purchasing any type of service contract, our review of policies and the complaints filed against CarShield and dozens of other warranty sellers indicates their products are especially lousy buys. These companies commonly use misleading marketing to scare consumers into paying thousands for their products and then, if you actually need repairs, go to great lengths to avoid paying for them.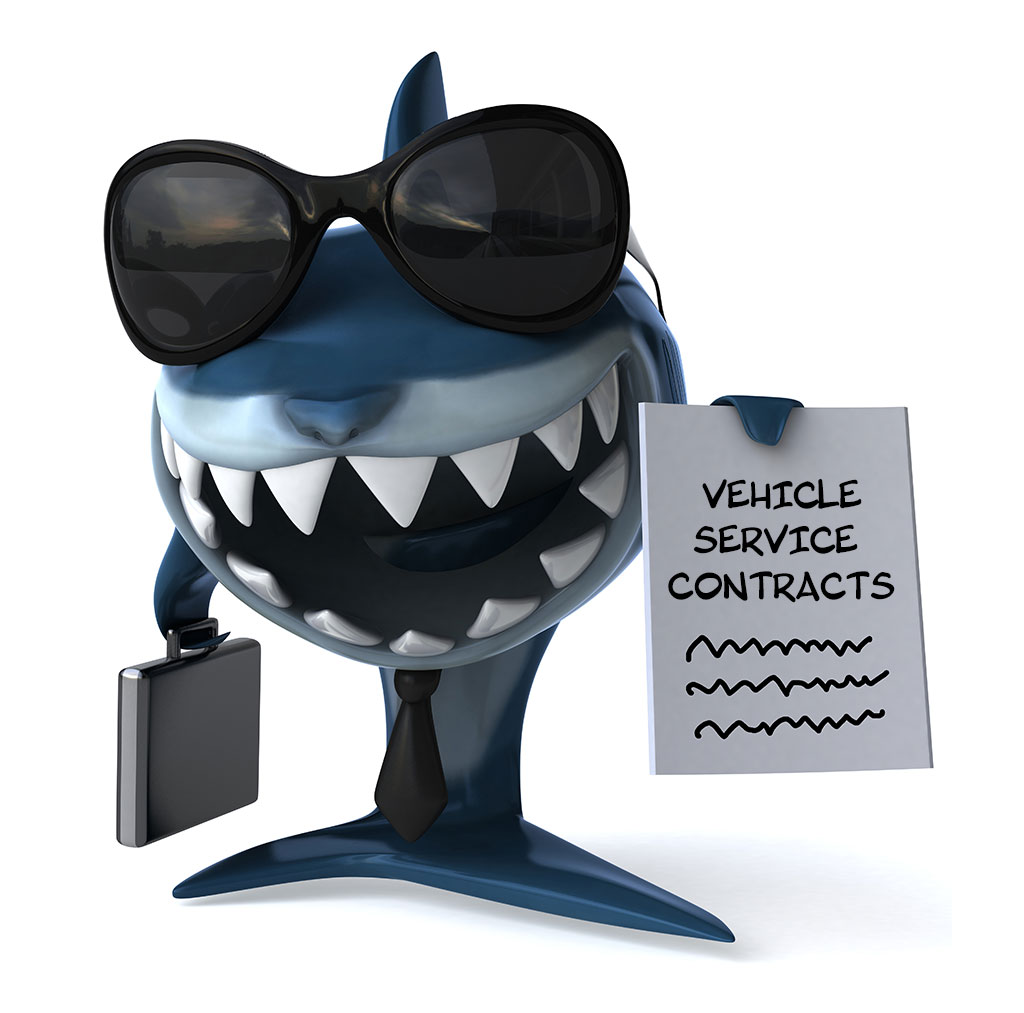 CarShield and dozens of other warranty sellers have been awarded "F" grades by the Better Business Bureau (BBB). They've generated thousands of consumer complaints—so many that the St. Louis-based BBB, which covers southern Illinois and southwest Missouri, where CarShield and many other marketers are headquartered, issued this warning:
"BBB advises consumers to use extreme caution when entering into an extended auto service contract for your vehicle. Consumers report to BBB they feel deceived by misleading advertising, which includes mailers, telephone sales representatives and radio and television commercials. Consumers also state they have difficulty canceling their policies and that requested repairs were not covered by policy administrators."
Many complaints deal with the insufferable, often illegal robocalls and deceptive marketing mailings commonly used by these companies.
Many others highlight what often happens when a customer's car or truck actually needs to be fixed. All too often, consumers report that after making repair claims, plan administrators found sneaky fine-print reasons to deny their requests for compensation or to limit amounts they'll pay. Maybe that's what Chris Berman means when he proclaims that CarShield is "rumblin' and tumblin' all over that car repair bill."
How They Work
Vehicle service contracts are big business, with $35 billion in retail sales in 2018, according to Colonnade Advisors, an investment banking firm.
Prices for plans vary depending on the breadth of coverage; vehicle make, age, and mileage; and number of years (the longest terms are seven years or 100,000 miles). We found one plan priced at nearly $6,700 and short-term plans for around $2,500. But most of the plans we checked cost around $3,000 to $4,000.
Generally, the more you pay the broader your coverage. With some companies, paying more upfront lowers or eliminates per-repair deductibles, which are usually around $100.
CarShield and most other sellers don't actually provide the coverage. Instead, claims are handled by third-party "plan administrators"; if you need a repair, you contact the administrator and it decides whether or not to pay for it. Get a repair without first obtaining authorization and you likely won't get reimbursed for it.
When CarShield responds to customer complaints filed with the BBB, it often points out that its plan administrator, not CarShield, makes claims decisions. The BBB maintains that companies should be responsible for the products they sell, even if their customers interact with a different corporate entity.
CarShield is suing the St. Louis BBB, accusing it of being biased against the company and ignoring its efforts to respond to the bureau's concerns.
In a response filed with the court, the BBB denied the allegations and said that while the company made some changes in its responses to complaints filed with the BBB, it has not addressed the bureau's ongoing concerns about misleading and deceptive advertising and marketing, nor resolved an ongoing pattern of complaints.
Service contracts marketed by automakers through their dealership franchisees generally require that you use the dealers' repair shops. That can be a drawback; our surveys indicate that, on average, car owners are more satisfied with repairs done by independent shops than by dealers. Third-party plans like those CarShield sells allow repairs at dealerships or independent shops.
Gotcha! Many Repairs Aren't Covered
Wade through the fine print for these contracts, as we did for more than a dozen of them, and you'll find so many excluded repairs that you'll wonder if there's anything left on your car that is covered.
Common components usually excluded: brake shoes and rotors; clutches; fuel injectors; exhaust systems and catalytic converters; batteries; shocks and struts.
Did the hybrid battery pack fail in your Toyota Prius? Not even that automaker's Extra Care Platinum Vehicle Service Agreement, Toyota's most expensive plan, will cover your repair costs.
Need to replace a heat shield, battery cable, or the transmission throw-out bearing on your Honda? How about an engine repair due to carbon buildup or overheating? Don't expect the Honda Care vehicle service contract to cover any of that.
Has your car or truck developed a water leak? Expect to get soaked for that repair.
You'll also pay your own repair bills if a built-in navigation system loses its way or your entertainment system fails to entertain.
Most contracts also exclude many non-mechanical parts, such as armrests, seat fabric, door handles, weatherstripping, bumpers, and body panels.
Sometimes you can increase coverage by buying a premium plan, but even with such Cadillac coverage we often found long lists of excluded repairs.
You'll also be on the hook for the cost of diagnosing anything that turns out not to be covered. That can be expensive if, for instance, determining the problem requires a shop to tear down your engine or transmission.
Here's another head-scratcher: Some plans exclude parts such as valve guides, piston rings, and transmission bands if the administrator concludes they failed due to your vehicle's age or mileage, even with normal operation and use. Ditto if you have age- or mileage-related seepage from your vehicle's seals and gaskets.
Some plans provide multiple details about what is covered but say little about possible parts and situations that aren't, and telling the difference practically requires a degree in automotive engineering. "ANY PARTS NOT LISTED ABOVE ARE NOT COVERED," says a sample contract supplied by American Auto Shield. Some companies list covered and non-covered parts and conditions, a more consumer-friendly approach.
But the contract, listing all these exclusions, often isn't provided until after the plan is purchased, unless a customer asks to see it in advance or finds a sample on the company website, as we did. That leaves many customers relying on fast-talking salespeople, rosy brochures, and other marketing that fails to highlight all the complicated restrictions.
Oh, Your Repair Is Actually Covered? Well, Get Ready for More Roadblocks
Based on our review of complaints, it's clear that car warranty plan administrators are passionate about denying claims.
CarShield has generated the most complaints to the BBB of any vehicle service contract company we checked; in June 2021, it had racked up 1,850 complaints over the past three years, 1,150 of which were in the last 12 months.
In May 2021, the BBB issued a consumer alert for CarShield's administrator, American Auto Shield, due to the number of complaints from customers who said they weren't aware of all the restrictions until they tried using the coverage. As of January 2022, the BBB reported receiving more than 1,300 complaints about American Auto Shield over the last three years, nearly half of them during the last 12 months.
Many complaints filed against CarShield and other warranty companies describe similar scenarios of denied reimbursement, sometimes even for repairs that should be covered. A big claims-denial strategy: Plan administrators decide a problem existed or was developing before coverage was purchased.
Similarly, plans often deny coverage when administrators conclude drivers failed to take action to avoid or limit damage, such as continuing to drive vehicles after hearing squeaks or rattles, or seeing warning lights.
Administrators often also refuse to pay out when customers can't provide receipts or other proof that they performed all required oil changes on time or otherwise followed the manufacturer's maintenance recommendations. And—as if that's not enough—upon sign-up, plans typically impose a waiting period of 30 days or 1,000 miles, during which no repairs are covered.
Bernard McMillian of Burgaw, N.C., encountered an extended runaround when he tried using his CarShield coverage for the first time after two years as a customer.
At first, he said, the plan administrator, American Auto Shield, denied his claim for an engine repair on his 2011 Dodge Ram 1500, saying he couldn't provide receipts for regular oil changes.
After he ran around town to obtain them, the company demanded towing receipts to show that McMillian didn't continue driving the truck after the problem had surfaced. Then he had to pay $900 to have a mechanic tear down the engine and take photographs of the parts that needed repair. Finally, after waiting more than two months, he said, the company agreed to pay for only part of the repair, leaving McMillian on the hook for the cost of replacing a damaged crankshaft.
"I am left having to pay $2,800 because of this useless product and have been without a drivable vehicle for two months while they come up with excuse after excuse for why they won't honor their policies," McMillian wrote in his 2020 complaint to the BBB.
CarShield told the BBB that American Auto Shield rejected the claim because McMillian continued to drive the vehicle once the problem occurred, causing further damage. It said that if he wanted to pursue the case further, he should arbitrate it with the administrator, as his contract required.
"That's passing the buck," said McMillian. He said he first purchased the service contract because CarShield commercials made it "sound like a winner to me." Now he says his wife has to calm him down whenever he sees a CarShield ad on TV.
We found plenty of similar complaints against CarShield and other companies.
One consumer who bought a policy offered by Endurance Warranty Services complained to the BBB that he waited for two months to get approval for an engine repair. At first, the company required use of parts that were so inferior that the repair shop refused to use them.
After that issue was resolved, the customer said, the company told the shop that it decided not to cover the repair because the damage apparently occurred during the 1,000-mile waiting period. In responding to the BBB complaint, the company said it had reached a resolution with the customer but didn't provide details.
As of June 2021, the BBB gave Endurance Warranty Services a "C+" rating and issued an alert for its past advertising practices, including the use of aggressive, confusing, and intimidating mailings, some of which, the BBB said, were sent in envelopes resembling federal tax documents. Over the past three years, the BBB has received more than 775 complaints about the company, 340 of which were filed in the last 12 months.
Although far fewer complaints are filed about plans offered by automakers, some customers expressed frustration with them, too.
After a Hyundai owner's Santa Fe SUV developed leaks in its air conditioner hoses, the Hyundai Protection Plan refused to pay for the $700 repair, saying hoses were excluded from coverage. Checking the contract, the customer confirmed that hoses were indeed not listed among the many air conditioner parts that were eligible for payment if they failed.
However, the customer noted that when the dealer presented the plan, there was a checkmark next to "Climate Control System," indicating it was covered.
"How am I supposed to know what parts are making the A/C system and what [are] not?" the customer asked in a complaint to the BBB. The customer added that the way the contract was formulated and sold "requires a high level of mechanical knowledge about [the] car air conditioning system to even detect potential traps."
But Wait, There's More
As if all these aggravations aren't enough, some plans limit the hourly amount they'll pay to reimburse your mechanic. For example, unless you pony up an additional premium, the American Auto Shield contract we reviewed limits the payable labor rate to $100 per hour. In most major metro areas, shops' labor rates are usually higher than that; in some regions, they average more than $140 per hour.
You also could wait weeks just to get a repair authorized. A common complaint we saw involved long delays while companies sent inspectors to assess whether a repair was eligible for reimbursement or requiring second opinions from other repair shops—yet more potential hurdles.
Deceptive and High-Pressure Marketing
As you might expect, the annoying ads, robocalls, and other marketing tactics used by warranty sellers don't mention all the policy exclusions, claims denials, and other hassles.
Instead, they use scare tactics, citing problems that cost thousands of dollars to repair, then providing a solution: Buy one of their plans to avoid disaster.
This misleading, aggressive marketing draws lots of complaints. Consumers—including some who don't even own cars—are often deluged several times a week or daily with come-ons by companies warning them that their auto warranties have expired or soon will. The scary words "Final Notice" often get bandied about to suggest it's their last chance to get in on a good thing.
Those who respond often end up being subjected to a tortuous, high-pressure sales pitch.
A consumer in Allen, Texas, told the BBB that a representative of Motor Vehicle Services, another BBB F-rated company, "tried to scare and bully me into getting their extended warranty services, which I declined. He made it seem as though I was a criminal for not responding how he wanted me to."
Some consumers complained that companies tried to mislead them into believing that they were associated with their carmakers or state motor vehicles departments.
"The company stated the extended warranty was an absolute requirement of the motor vehicle [department]," said an Elkton, Md., woman who had been subjected to a sales pitch by Safeguard Auto Direct, yet another Missouri BBB F-rated company. "I thought I was talking to the Motor Vehicle Administration the entire phone call."
A Denton, Texas, man told the BBB that within two months of buying a new Subaru, the Missouri-based Motor Vehicle Services sent three notices warning that his warranty was about to expire. "The whole notice or letter is geared to look like it came from Subaru," the consumer said. "This could easily coerce someone that didn't know better."
Another frequent gripe came from those who purchased policies and then tried to cancel—in some cases because they had changed their minds, in others because they realized they had fallen for a misleading, high-pressure sales pitch. Many said they found it difficult to reach anyone and, when they did, were treated rudely or even had a company representative hang up on them, sometimes repeatedly.
"When I called Motor Vehicle Services to cancel the policy and get a refund, I was yelled at by three different men in their call center, being told I was letting my pride get in the way and that is why I did not want to continue with them," a Sarasota, Fla., woman wrote the BBB. "They would not let me cancel the policy no matter how many times I asked."
An Ann Arbor, Mich., customer of US Automotive Protection Services, another BBB F-rated company, had similar issues. "The sales representative continued to berate me for around 10 to 15 minutes, demanding that I consider how many people were out of work due to COVID and that I should not cancel," he said.
Some said companies continued to bill—or try to bill—their credit or debit cards after they canceled.
Years ago, two principals of US Fidelis, a prominent failed service-contract marketer, were imprisoned after facing federal charges related to, among other things, engaging in some of the very behavior that customers now accuse other companies of employing today, including using deceptive marketing and failing to make required refunds to those who canceled their contracts. It was just one of several companies that sell and back vehicle warranties that have gone out of business over the years, stranding its policyholders.
Don't Buy These Plans
There's no point in paying thousands of dollars for coverage for repairs you likely won't need and backed by companies that often refuse to pay out if you have a problem.
Keep in mind that vehicles now come with longer manufacturers' warranties and better reliability. Most owners will have few problems, which makes it even less likely that a vehicle service contract will be a good bet.
The risk of even expensive car repairs isn't worth insuring against. When buying one of these plans, you're betting that the cost of your vehicle's repairs will exceed the price you pay for the coverage itself. The plan's seller is betting the opposite—but it gets a lot of leeway in deciding when and how much to pay out for most repairs, which means it's making a safer bet.
So it's not surprising then that a survey by Consumer Reports of auto repair service contract customers found more than half never used their coverage; even those who did ended up paying hundreds of dollars more than they saved on repairs.
You'll do better by planning on paying for repairs yourself. That's also our advice if you're thinking about purchasing other kinds of service contracts, whether for your home's HVAC systems or appliances, computer devices or smartphones, or water and sewer lines. Even if your vehicle needs a repair, you want to be in charge of decisions, not a company focused on holding down its own costs.
One final warning: Be careful when financing the purchase of a new or used car. The Federal Trade Commission warns that some dealers have been caught sneaking the costs of service contracts into loans or leases.