How to Choose a Carpet Cleaning Service
Last updated in November 2016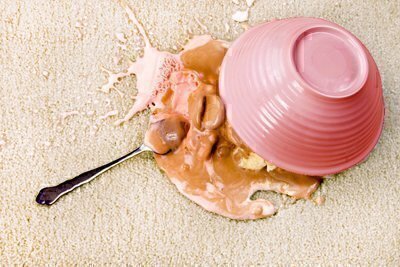 There's no way to avoid it. You can banish the dog to the backyard. Restrict the kids to non-carpeted rooms (or, along with the dog, to the backyard). Be "that host" who makes everyone leave their shoes inside the front door. Rearrange furniture to cover stains. But no matter what you do, you'll eventually need to have your carpet and rugs cleaned. Even perfectly unreasonable actions won't protect your floor coverings from air brought from outdoors, airborne dirt and dust, and oily cooking residue. Here's a rundown on how to find a great grime fighter for your carpets and rugs.
What Their Customers Say
Start by looking at the customer ratings reported on our Ratings Tables. To collect them, we asked area consumers (primarily Consumers' Checkbook and Consumer Reports subscribers) to rate carpet and rug cleaning companies they had used. Our survey asked respondents to rate companies "inferior," "adequate," or "superior" for "doing work properly," "starting and completing work promptly," "neatness," "advice on service options and costs," and "overall quality." Our Ratings Tables show, for companies that received at least 10 ratings on our survey, the percent of each company's surveyed customers who rated it "superior" (as opposed to "inferior" or "adequate") on each question. Click here for more information on our customer survey and other research methods.
The highest rated companies were more than twice as likely as the lowest rated companies to get "superior" ratings on our survey questions on "doing work properly," "neatness," and "overall quality."
Complaint Histories
In addition to ratings from customers, our Ratings Tables show counts of complaints we gathered from the Better Business Bureau (BBB) for a recent three-year period and complaint rates relative to the volume of work companies do. Click here for more information on reported complaint counts and rates.
Guarantees
Most carpet-cleaning services guarantee workmanship in writing, but what they promise varies. Even without a written guarantee, most will redo a job at least once if the customer complains that it is unsatisfactory.
Some companies require you to report a problem within a few days, since they feel any problem that does not show up in that time is probably new. But others will let you wait a month or more—which lets you make sure the problem will not just go away.
Give companies credit if they talk candidly about the limitations of what they can do before they begin work. Some types of stains—for example, urine, coffee, tea, mustard, and mildew—are extremely difficult or even impossible to remove once they have set, and companies may not know whether they can remove them until they try.
Some companies may have you sign forms in advance explicitly excluding a wide range of trouble spots from their responsibility. This practice enables you to turn to another outfit that does promise to take care of the problems that concern you.
In addition to any guarantee from the cleaning company, if your carpet is still under its manufacturer's warranty ask the company whether its services will keep the warranty in effect. Carpet manufacturers' warranties are notably murky about their coverage for "wear" and "appearance," and many include a clause declaring that, for these sections of the warranty to remain in effect, the buyer must prove the carpet was "professionally maintained." This typically means that you must have your carpet professionally cleaned once every 12 to 18 months using a hot-water-extraction method. So if you care about warranty coverage, show the warranty information to the cleaning service and have it assure you that its services will meet any professional maintenance requirements.
Methods They Use
Select a company that offers cleaning methods appropriate to your carpet. (See our article on cleaning methods for information on the pros and cons of available methods.) If your carpet is lightly soiled, any method, if performed properly, will be acceptable. But, in most cases, you're best off with a company that offers hot water extraction with truck-mounted equipment or a combination of shampoo and hot water extraction.