In September 2016, the top price for a non-scalped ticket to t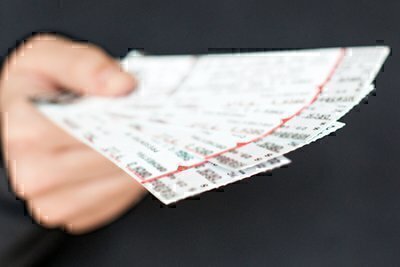 he musical "Hamilton" cost $849, the highest price ever listed for a Broadway show. But while checking out the rocking, rapping founding father might be out of reach for most mortals, there are plenty of tricks that can score you discounted seats (or standing-room spots) to hot plays, concerts, and sporting events. Here are some ways to pay lower prices (or at least snag a spot at a sold-out event) for big games, small chamber music groups, Shakespeare plays, and more.
Be an Usher
Many theaters and seated concert venues rely on volunteer ushers and ticket takers. Policies vary from venue to venue, but you can usually expect to see the show you work at for free (though you might land in standing room) or to earn a credit toward one seat to another show. You might have to wear a uniform or just adhere to a simple dress code (no sandals or "I Hate Shakespeare" T-shirts). Bonus: You'll meet like-minded culture vultures. To find out whether your favorite venue has a program like this, hit its website or call the box office; you'd be surprised how prevalent this arrangement is.
There's an App for That
In New York City, you can still stand in line near Times Square to buy discounted theater tickets. But now, people in other cities can get in on the how-low-will-the-show-go action via a pair of apps and websites. The recently launched Today Tix is a website and app that offers discounted (and full-price) seats for plays, operas and comedy shows in markets including Boston, Chicago, San Francisco, and Washington, D.C. As its name suggests, you can score a last-second seat or buy a ticket a week in advance. Many tickets are sold at face value, but some are discounted—for example $12 tickets ($24 face value) to the musical "James and the Giant Peach."
In business since 2002, Goldstar is a nationwide discount broker selling tickets to concerts, plays, and an array of quirkier events like food-truck festivals and speed-dating parties. Goldstar, designed to be easy to graze by date, hawks advance and last-minute tickets via the Web and its app. It even posts occasional comps, though they're most likely to smaller events or things like nieghborhood walking tours, not the Rolling Stones 7,000th Anniversary show. Deals range from $17.50 admission (a $35 value) to hear songstress Suzanne Vega at the Larcom Theatre to free tickets to a pub crawl (a $10 value).
Previews and Dress Rehearsals
For theater or opera shows running for weeks or months, many venues offer lower-priced tickets for some of the first performances, aka the previews. Deals range from a small percentage off, say, 20 percent, to pay-what-you-can nights. The idea is that the cast and crew are still learning their cues, but you'll generally take in the same quality show you'd see later in the run at a discount.
Less common, but still occasionally on the marquee: free dress-rehearsal tickets, which can offer an insider view of theater or opera shows.
Fan Clubs
Whether your audio tastes veer toward Britney Spears or reggae legend Burning Spear, your favorite act probably has an email mailing list. If you sign up for this virtual fan club of sorts, you'll often get early notice of tickets and occasional special deals.
Many bands have fan forums on their websites, too, where you can sometimes buy discounted tickets from a fellow Adele-oholic.
Ticket Brokers and Craigslist
Want to see a sold-out concert or go to the big football game? You can likely score tickets via an online broker like Stubhub.com, Seatgeek.com, and Vividseats.com. High-demand tickets are almost always sold for higher than their face value, and you'll usually have to pay additional fees as well. One newer site and app, Tickpick.com doesn't charge buyers fees and offers some tickets via auction, allowing buyers to determine their own prices.
To get tickets to a sold-out show or game at a good price, your best bet is buying from an individual seller via . You'll often find people unloading seats they can't use at the last minute. Just beware of scam artists and never buy paper tickets from someone who won't meet you in person.
For shows and games that don't sell out, brokers and individual sellers will slash their prices. A good place to evaluate deals from different brokers is Ticketwood.com, which lets you compare prices across multiple reselling sites.
Subscribe
Symphony, theater, and dance season subscriptions are generally offered at a 10 to 20 percent discount. Some offer even greater savings. For instance, a three-play season pass to the Boston Playwrights' Theatre runs $90, nearly half the amount of three full-price tickets.