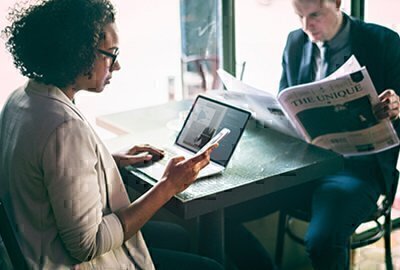 The guy bent over his smartphone at the coffee shop might be tweeting or checking his email, but these days it's just as likely he's reading War and Peace or the latest bestseller. That's because millions of readers have switched from printed pages to their electronic devices, be they e-readers like Kindles and NOOKs, tablets, cell phones, or laptops. If you're already an e-bookworm, or thinking about converting, in addition to saving trees you can save some cash—if you know where to look. Here are some (copyright law-compliant) tips on how to e-read for free.
Local Libraries
Almost all libraries now buy e-book licenses from publishers and make them available for download by patrons, formatted for their device type, through services such as OverDrive.
To borrow e-books, you need a library membership and a device to display the text (e.g., e-readers and almost all tablets, smartphones, and computers). You can search for titles in your library's online catalog, and check them out (or join the waitlist). Agreements between libraries and publishers vary, and not all authors and publishers allow their titles to be loaned electronically, but most now do. We routinely find dozens of bestsellers, as well as mainstream nonfiction and fiction titles (including recent releases), available for electronic library checkout.
At most libraries, many titles are available for download right away, but if you want to borrow an e-book that has landed on, say, the Oprah's Book Club reading list, expect to spend some time on the waitlist before your book becomes available.
While libraries typically limit e-book loan periods to between seven and 21 days, for some titles you can specify a longer lending period. After the borrowing period expires, access to the e-book is removed from your device and it can be loaned to other patrons.
Sometimes there's wiggle room for the time limits imposed by libraries (and books available for loan via sellers, described below). Because the library or company can take back your borrowed e-book only if you are connected to the internet, you can hang on to an e-book past the due date by turning off your wireless connection before your loan expires. If the e-book is stored on your laptop or smartphone, keeping your device in the Digital Dark Ages for even a few days probably isn't a reasonable strategy. But if you have the tome on your Kindle, NOOK, iPad, etc., you could get a few more days to find out whodunit without going to the back of the line and waiting for the book's license to become available again.
Books Without Copyrights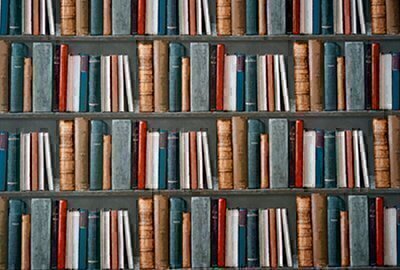 Books in the public domain—which usually means they were published more than 100 years ago and are no longer protected by copyright—can be downloaded from several online resources, as can titles with "creative commons" and other special licensing. The big e-book sellers offer many classic titles for free. Other sites that list old freebies include:
Freebies from Booksellers
In addition to offering free reads of e-books in the public domain, Amazon, Barnes & Noble, Google Books, and Apple iBooks showcase frequently changing lists of popular books for free download. They serve as complimentary samples of sorts: Readers who bite on the free novel/sci-fi saga/cookbook and enjoy it may come back to buy the author's other books. The search terms suggested below will help you find these giveaways. Another shortcut is to search each site for "0.00" to bring up books listed for free, and from there refine your search.
Amazon Prime
If you have an Amazon Prime membership ($119 per year) and own a Kindle, you can borrow one book per calendar month from Amazon's Kindle Owners' Lending Library. Amazon's lending library has more than 800,000 books, and there's no time limit on borrowed e-books.
Sharing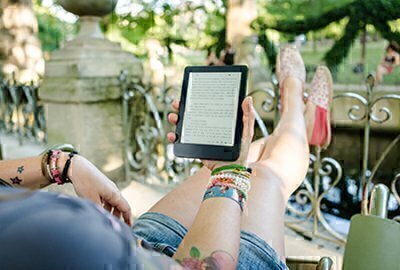 You can also share some e-books you buy on Amazon and Barnes & Noble with others, gratis:
Amazon—You can share eligible e-books purchased from Amazon for 14 days. If the recipient doesn't own a Kindle device, they can view the e-book using a free download of Kindle's reading app. Once you've shared a book, you won't have access to it until the recipient "returns" it to you or the 14-day loan period expires. Books can be shared only once.
Barnes & Noble—B&N's LendMe program lets you lend and borrow NOOK e-books among your own non-NOOK devices and share them with others. As with Amazon, many books cannot be loaned, there is a 14-day lending period, and books can be shared only once.
Lending Websites
Want to borrow an e-book but don't know anyone who has it to loan? Sites such as BookLending.com and Lendle.me (both for Kindle users only) are exchanges where readers can list books they own that they are willing to lend, and can borrow other users' titles. Both are free to join, and it costs nothing to borrow books.
Promotional Downloads
Many writers who self-publish and some publishers release titles for free download for promotional purposes. Websites such as obooko.com, Free-eBooks.net, Freebooksy.com, and many others let you download these free reads. Be forewarned that there are zillions of titles to wade through, sometimes accompanied by scant information, and many of these books are offered for free because there's no market for them—which is our diplomatic way of saying they may not be very good.