Last updated November 2022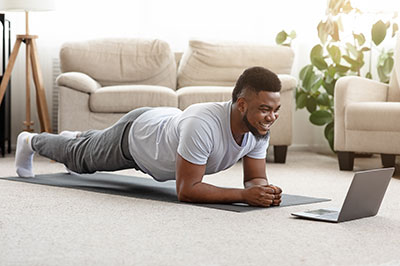 Ready to Hit the Gym Again?
How COVID Changed the Fitness Industry—Possibly for Good
The COVID-19 pandemic hit the U.S. gym industry like a kettlebell swing to the gut, with millions of clubs temporarily closed by government shutdowns. Even when fitness centers began reopening, in late 2020, many customers were spooked, and refused to return to their elliptical machines or barre classes. The International Health, Racquet, and Sportsclub Association (IHRSA) estimated that by 2021 some 27 percent of U.S. fitness centers had permanently closed.
Even now, many former gym rats are staying away from spin studios and fitness clubs, dissuaded by the still-not-tamed pandemic and the new workout habits they picked up (or completely blew off) for the past two years.
"If I have the choice, I would rather dance and work out outdoors or in my open-air garage," said Christine Plepys, a public health executive who lives in Poulsbo, Wash. "Right now, I have no desire to be inside with other people who are breathing heavily."
Like many Americans, Plepys has forged a new workout routine that doesn't require hitting a traditional gym. At home, she rides an indoor exercise bike and streams online yoga sessions; on weekends she attends outdoor dance classes.
Other exercisers who have returned to fitness centers are finding a dramatically different experience. There are more outdoor classes, a bigger focus on "wellness" offerings such as yoga and meditation, and fewer "boutique" studios (aka small gyms devoted to one workout, whether it's barre, biking, or rowing).
Here's what to expect as you ponder how to work out now, whether you want to head back to a traditional gym, give virtual fitness a try, or consider other options. Best of all, the shakeout in the industry means there are more options (if not more actual clubs) to trim your waistline while also trimming your budget.
Click here for our full coverage on getting the best deals on fitness and our ratings of local spots for quality and price. We'll issue a revamped review of local gyms next year.
Many Companies Are Struggling to Recover
If you haven't been to a fitness center since early 2020, prepare yourself for some changes. First off, you may have fewer options than before. Several big players are gone or have shuttered locations during bankruptcy reorganizations: 24 Hour Fitness, which pre-COVID was the second-largest U.S. chain, closed more than 100 of its gyms; Town Sports, which operated clubs in the Northeast, also went bankrupt and its facilities operate under new ownership. Other chains and franchises, including boutique spinning and barre studio Flywheel Sports, shut down entirely.
"Independent clubs have suffered more," said Bryan K. O'Rourke, a fitness trends analyst. "Some closures were regional, driven by different demographics. Older people with more education and higher incomes are less likely to return to the gym; more restrictions in certain markets led to more gym closures."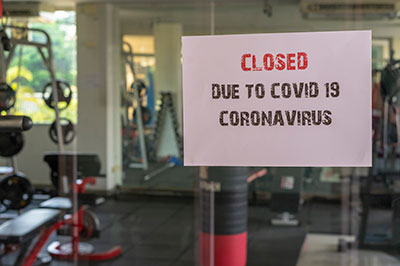 Some national chain gyms have remained open and solvent, particularly those on the lower-priced end of the spectrum, known in the industry as "High Value Low Price."
Planet Fitness, the world's largest network of gyms, claims it closed none of its 2,000-plus U.S. locations in response to the COVID-19 slowdown; it and other brands with lower monthly membership dues are reporting membership levels at 80 percent or more of their 2019 levels. Planet Fitness offers membership options for just $10 a month.
Boutique gyms, usually devoted to one type of workout (indoor cycling, yoga, CrossFit) and often priced by the class, haven't fared quite as well. Cycling studios, in particular, have been lapped by at-home bike setups ranging from the spendy and high-tech (pandemic-MVP-and-now-on-the-ropes Peloton) to the inexpensive DIY setups (an outdoor bicycle made stationary by a $50-$100 bike trainer stand plus your own tunes or podcasts).
Devotees of some major, high-priced studios (indoor biking cult SoulCycle, Pilates/strength combo Solidcore) still have sweatboxes to go to, but many people newly accustomed to cheaper home workouts are balking at paying up to $40 a class anymore.
"I don't want to be in a group setting where I don't know people and in a closed space," says former gym goer Alison Gary, who lives in Greenbelt, Md. "It makes me very uncomfortable. There is not enough of a return on the investment. But I may consider private sessions or a bigger space with fewer folks."
Still, a 2021 survey by market research firm UpSwell found 80 percent of consumers wanted to return to a gym someday. If you are ready, you'll likely find owners and clubs willing to bargain on things like annual membership fees or class costs.
How Gyms Have Changed
As attitudes and attendance shifted during the pandemic, what your gym has on offer did, too. It ranges from different class types and formats to the way studios are being built.
"People will see a real change in programming, a lot of investment in what I would call 'restorative programs,'" said Chris Craytor, chairman of the board for IHRSA. "People are investing in recovery-based classes." These range from yoga and meditation sessions to weight training based "functional fitness" classes meant to shore up students' muscles and balance for daily tasks—carrying groceries, going up the stairs. Many gyms are emphasizing the connection between overall health, obesity, and COVID risks. And gym chains including Crunch Fitness and Life Time have added "recovery zones" with massage chairs, stretching devices, and compression boots.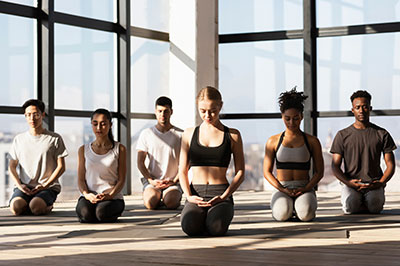 Hordes of people sweating in closed rooms will always be a thing at gyms, and some people love working out in that environment. "I tried virtual workouts during lockdowns," said Page Holland, who lives in Great Falls, Va. "I didn't feel like I worked out as hard as I did when I was in classes at the gym. I didn't get the camaraderie, energy, and excitement—that feeling that we are in this together. I did workouts, but there was no thrill."
Holland is back at her gym full-tilt and said it has as many classes as ever. But due to staffing issues and attendance, many fitness centers haven't returned to 2019 levels of classes. It's worth checking before you join a new gym (or re-up at an old one) just for group classes; you may find that the club that once offered 20 classes a day is down to one or two.
Many exercisers are craving working out with fewer people anyhow, and fitness businesses are catering to that desire. That might mean sharing personal trainer sessions with a friend or two, or heading to boutique gyms like F45 Training or Barry's Bootcamp, which bring groups of a dozen or so together for cardio or strength classes. "It's a way to get personal attention for less money than a one-on-one training experience," said Craytor.
When outdoor workouts boomed in 2020, many gyms invested in al fresco equipment or spaces: Think covered pavilions that host spin classes or HIIT (high-intensity interval training) or yoga rooms with big windows that open to the outside, the better to bring in fresh air. Climbing gyms (or fitness centers with climbing walls) had been on the ascent before the pandemic; now they're back, but they've often added outdoor components for clients to scale.
"The only group class I take anymore is Nia," said Plepys. It's a free-form dance workout that "was an indoor class before the pandemic, then it went to Zoom, and we eventually started meeting outdoors, no matter the weather. It's been very freeing to keep doing it this way."
Perhaps the biggest change at traditional gyms isn't actually happening in real life; it's the remote locale revolution that overtook workouts in 2020. Gyms, forced to close, started streaming barre, bootcamp, Zumba, and other low-equipment exercise classes to keep their members happy and to stay in business.
What's New at Home
Working out at home isn't new—see Jane Fonda's Spandex-and-legwarmers-loaded 1980s videos and a million weight benches collecting dust across the country. But the last five to 10 years have accelerated a digital- and device-powered revolution that has given consumers many more choices on how, when, and where they work out. The best part? Many of these options are cheap to free.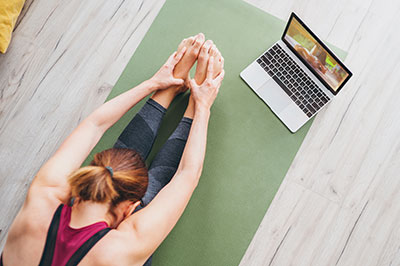 Streaming exercise classes were on the rise before the pandemic, with both informal free classes on YouTube (just search "yoga" or "free weights" for a zillion options) and via monthly subscription services (e.g., Daily Burn, obé Fitness, Glo, THEWKOUT, and CorePower Yoga). Peloton, the home cycle company, sells both its own screen-outfitted bikes and treadmills as well as a monthly class subscription service that can be used with or without the bike.
The apps, which can be streamed via your phone, computer, or TV, cost from $13 to $30 a month. Most include both live and recorded classes of many types (weights, cardio); others, like CorePower Yoga, just focus on one type of exercise. Many apps include interaction with instructors plus online "high fives" and camaraderie with other students. "I've surprisingly stuck with Peloton," said Gary. "A big motivator is that I have a few friends who also have bikes, and we often schedule a ride together. We text each other during classes and often end sessions with a FaceTime chat as we have breakfast or chug water."
The pandemic also forced many gyms to get into these streaming wars, offering live or recorded classes via Zoom or other platforms. "The workout-from-home revolution had already started, but COVID forced health clubs to accelerate their involvement in it," said Craytor. Now most gyms offer both in-person and streaming classes, a further sign of the changed-yet-flexible workout environment.
"Consumer trepidation around using in-person fitness facilities will likely push a full recovery out to 2023 or 2024," said Alex Evans, managing director at L.E.K. Consulting, a global management consulting firm which covers the fitness industry. "And even once gym use reaches pre-COVID-19 levels, it will be based on a different mix of in-person and digital at-home activity."
Want to Join or Rejoin a Gym? Take Time to Find the Right Fit
The entire fitness industry thrives on good intentions. Most people who sign on with fitness clubs or studios stop using them after only a few months—and many workout dropouts continue to pay monthly membership fees hoping they'll soon revive their motivation.
Before you join a gym or sign up for a bunch of fitness classes, make a plan that realistically considers what activities you are likely to participate in and how often you'll do them.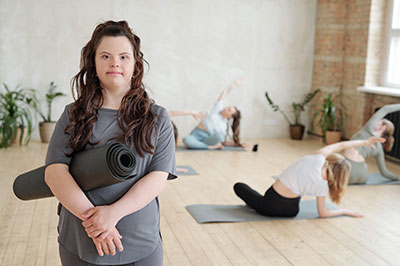 Start by weighing all your non-gym exercise options. Can you work out less expensively some other way—doing pushups and sit-ups, running, biking, or joining a sports team? Also check out fitness centers operated by local governments; many operate less expensive fitness club–like facilities.
Still want to join a club? Many gyms and fitness studios let you try them out for free for a few visits, or offer short-term memberships or small packages of visits to let you dip your sneaker toe into cardio/yoga/weightlifting/etc. without a big commitment. Start by taking advantage of these intro offers. While there, check out the cleanliness and condition of equipment. Go at times when you're most likely to exercise regularly, so you can see how crowded it gets and judge how helpful the staff is.
Our ratings of clubs for quality and price should help you choose a gym. We'll publish updated ratings and costs next year.
Shop around. Our price research found that some clubs charge twice as much as others for about the same facilities and amenities. Because many gyms have several fee plans and discount options, make sure the sales staff offers you the best available rates. When discussing costs, mention other clubs you're considering.
Watch out for the non-discount discount. Many clubs print up membership fee schedules with inflated prices so that they can cut the price during the sales pitch. The same non-discount strategy appears in advertising. While many advertised specials truly offer lower prices, others are confusing or misleading come-ons.
But do check whether you qualify for a discount based on an arrangement between the facility and your employer or health insurance plan. In particular, many Medicare Advantage policyholders have access to programs that offer free or very-low-cost memberships at participating fitness centers.
Before signing any contract, ask about cancellation and freeze rules, and make sure any promises made are put in writing. If they claim you can cancel your membership at any time, make sure that's in the contract. If they say the facility is about to break ground on a new lap pool, don't believe it unless it's written down. Clubs typically are merciless in enforcing their contracts. Most will not release you from a term contract or refund payments if you quit. By law, a club must stop requiring monthly payments or refund a prorated share of prepaid fees if you quit because of medical reasons or move out of the area. Some clubs will let you off the hook for monthly fees or refund part of the annual fee in the absence of illness or moving. In many cases, however, you'll have to repay the club for any discounts received for committing to a term or pay a cancellation fee.
Since the financial commitment of a club membership can be substantial, Massachusetts law provides for a cooling-off period of three days after signing a contract to cancel and get a refund. Cancel in writing by certified or registered mail. If you can persuade the club to give you a longer cooling-off or trial period, do so.