How to Plan Your Plant Purchases
Last updated in April 2016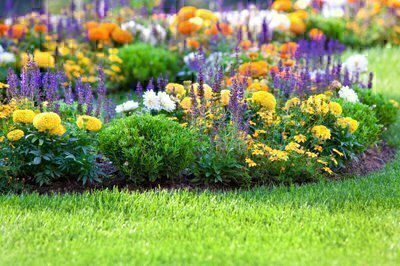 Start by making a plan that takes into account your yard's soil type and acidity, drainage patterns, and sunlight exposure. Match plant types with areas where they are likely to thrive. Your plan should show how your property will look right away, and how it will look years from now when your plants have grown. Without a plan, you could wind up with an assortment of plants that do not complement each other in size, shape, or color. You might end up with shade where you want sun and with the view from, or of, your house obscured. Worst yet, you might pay for expensive plants when inexpensive ones would do just as well.
It's easy to make a rough drawing showing your house, other structures, property lines, and desired plants. Get guidelines and ideas from gardening websites, friends with attractive gardens, and the experts listed below.
You can also hire a landscape architect or garden designer to provide complete service, including consultation, design, assistance in selecting a landscape contractor, and supervision of plant selection and contractor performance. Or get only the consultation or the design. Your first conversation with an architect may be free; after that, fees are set in various ways.
For more information on landscape designers and landscape contractors, see our article on landscaping help.
Your local cooperative extension office has master gardeners you can call for advice and help with diagnosing plant problems if you bring or send them specimens. Other local sources of gardening expertise:
University of Massachusetts Cooperative Extension
39 Stockbridge Hall, 80 Campus Center Way
Amherst, MA 01003
413-545-4800
www.ag.umass.edu/extension-outreach
The Arnold Arboretum of Harvard University
125 Arborway
Boston, MA 02130
617-524-1718
www.arboretum.harvard.edu
Boston Natural Areas Network
62 Summer Street
Boston, MA 02110
617-542-7696
www.bostonnatural.org
Massachusetts Department of Agricultural Resources
251 Causeway Street, Suite 500
Boston, MA 02114
617-626-1700
www.mass.gov/agr/gardening
Massachusetts Horticultural Society
900 Washington Street
Wellesley, MA 02482
617-933-4900
www.masshort.org
Tower Hill Botanic Garden
11 French Drive
Boylston, MA 01505
508-869-6111
www.towerhillbg.org