How to Check Out a Contractor
Last updated November 2018
Make a list of several companies that seem suitable for your project; then get in touch and schedule in-home consultations. Your objective is to compile a list of at least three companies, but preferably five or more, that will give you proposals and pricing.
Hold Get-to-Know-You Meetings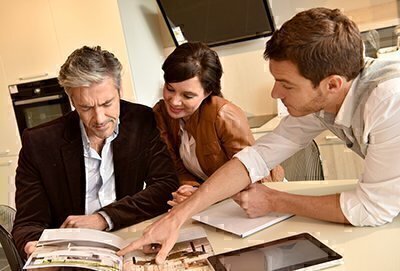 Start by walking around your home reviewing any plans you have, even if they're rough drawings. (Be sure to have extra copies of plans for contractors to take with them.) During each meeting, do the following:
Make sure the contractor understands your objectives.
If you have a finished plan, it should show what you want to do. If not, make sure the remodeler understands the job exactly—for example, that you want to completely redo the kitchen, rather than only replace cabinets and countertops.
Ask for first impressions.
Unless you've already hired an architect or designer to plan the work, ask the contractor what he or she thinks will work best. Do you get thoughtful ideas and answers? Does the contractor care about the costs of different options?
Discuss potential problems, from your perspective.
Is your old house insufficiently wired for the job you have in mind? Does the plumbing back up from time to time? Are floors uneven?
Ask about potential problems, from the contractor's perspective.
You'll learn a lot about your job—and the contractor's experience—by asking this early on. He or she may note, for example, that some walls can easily come down while others cannot, or that local ordinances and building codes might hinder your grand plan to add a family room off the back of your house.
Ask about timing and scheduling.
How soon can the contractor fit your job into the company's schedule? If you have a particular time frame in mind, can the company follow it? Otherwise, ask for an estimate of how long the project will take to complete. Also, check on parts of the job that will significantly impact your home life. If you're redoing a kitchen, for instance, how long will you have to live without one? If water will be cut off completely, how long will you be high and dry? At this point, don't put a lot of stock in precise estimates and schedules. Instead, use them to get a general idea of what to expect.
Discuss the company's expectations and business practices.
Different companies have different ways of working; even though you're the customer, some contractors insist on adhering to their own business models and approaches. For example, some companies insist on buying all or most of the finish products. Some will use only their own subcontractors and won't accept your recommendations. Others may balk at providing a detailed bid unless they have the job in hand. Best to know these things upfront and either negotiate out the unsatisfactory parts or move on to another candidate.
Discuss the remodeler's credentials and experience.
How long has the company been in business doing this kind of work, and how long have key employees, like lead carpenters, been on the job? If you live in a house with defined architectural or structural features, has the contractor worked in similar environments with similar building materials? If you want to add a second story, has the company done pop-ups before? Can the company cite examples in which it has solved problems creatively?
Ask who will do the work.
Some remodelers use subcontractors for nearly every aspect of the job; others do most of the work themselves. Whatever the case, make sure that top-notch tradespeople will handle each part of the project. Ask about subcontractors, and look up their ratings here at Checkbook.org. (Keep in mind, however, that some subs work only for contractors and not consumers; if so, they probably won't be reviewed.) Also, ask whether you can recommend—or even insist on—subcontractors you already know and trust.
Take the person's temperature.
Try to get a sense of what it would be like to work closely with this person. Are his or her answers to questions easy to understand? Does he or she listen to you? Is communication otherwise easy? Do you sense an interest in solving your problems and delivering what you want? Is he or she appropriately enthusiastic about your job? Can he or she provide details on how the job will unfold day-to-day while the company takes apart and then rebuilds your house? Does the remodeler readily supply names of subcontractors and suppliers? Because many business owners don't perform hands-on work, and large remodeling outfits rely on designated project managers to coordinate projects, are you comfortable with the owner's role in the process? Try to meet the person who will actually manage the project day-to-day.
Conduct Background Checks
After your first meeting, do more vetting to make sure each of your choices will serve you well.
Check references.
Pretty portfolios of completed work are nice to look at, but you need to speak directly with former customers. Ask for and then check references. Obviously you won't get a list of homeowners who had lousy experiences, but you can reduce the likelihood of receiving only positive references by asking for names of customers whose projects were similar to yours or who live in your neighborhood. Also, ask for references of customers who have current projects underway, customers whose projects were recently completed, and customers whose projects were completed several years ago. Recent customers will have fresh memories and be able to provide details on the day-to-day process; past customers will be able to tell you, and show you, how the work has held up.
Go beyond simple questions like, "How did things go?" Get specific answers to specific questions on each company's performance, and, if it seems reasonable, invite yourself over to view the finished work. While it might be awkward asking strangers to let you wander through their homes, opening and shutting every door the contractor hung and checking whether toilets wobble, the more feedback you can get the better.
Be sure to ask prior customers how the contractor responded when things didn't go right. Firsthand experiences like these are invaluable and can make one contractor stand out from the others.
Check licensure.
Home improvement contractors need trade licenses in Massachusetts, which also requires most contractors to register with the state.
By choosing a licensed contractor, the threat of reporting problems to licensing authorities represents one form of leverage for resolving disputes. And because you have taken the care to choose a licensed contractor, the licensing authorities will feel you deserve their help. Perhaps most important, if you use unlicensed contractors, you become your own de facto general contractor, making yourself responsible for correcting defective work uncovered by inspections—and possibly making yourself responsible for injuries suffered on the jobsite.
Ask any contractor you are seriously considering to present proof of a currently valid license; then verify it by checking the website of the Office of Consumer Affairs and Business Regulation or by calling 617-973-8700.
Check insurance.
Any company performing work in your home should carry two types of insurance: liability and workers' compensation. The former compensates you if equipment crashes through your roof; the latter covers workers injured in the crash.
Tell contractors you'll require proof of insurance before work begins. Insurance companies readily supply certificates.
Check for complaints.
While customers might rate a company poorly on our surveys even for minor deficiencies, filing a formal complaint with a consumer agency usually reflects serious dissatisfaction.
To check for complaints about a particular business, contact the Office of Consumer Affairs and Business Regulation (617-973-8700) and the Better Business Bureau.
Check for lawsuits.
A simple internet search likely will turn up any lawsuits filed against a company.
Check credit references.
Ask for contact info for two or three companies that supply building materials, and then check with each. Deal only with contractors that have solid credit and pay their bills promptly.
Check subcontractors.
It doesn't do you much good if the general contractor is licensed and carries proper insurance but relies on unlicensed, uninsured subs. Tell general contractors you're considering that, if required by law for their trade, all subcontractors need to be licensed; once you've selected a company, ask it to supply insurance certificates for all subcontractors.
Also, use our ratings to evaluate the quality of subcontractors. Our reports include reviews of roofers, plumbers, electricians, cabinet and countertop suppliers, flooring contractors, carpet installers, carpenters, masons, siding installers, and many more. Ask remodeling outfits that rely on subcontractors if you can make your own suggestions.