Is Pet Insurance a Smart Purchase?
Confusion About Value
The overwhelming majority of consumers don't buy pet health insurance. Only one percent of the nation's 185 million dogs and cats are covered. That's a lot different than the United Kingdom, for example, where 25 percent of pets are insured, and Sweden, where that number is 40 percent.
And while you might expect otherwise, "veterinarians do not see the value in pet insurance," according to a 2016 internal survey by the North American Pet Health Insurance Association (NAPHIA). Of 102 vets surveyed who didn't recommend insurance or were unlikely to do so, 46 percent said it's not worth the money or too expensive, the survey found.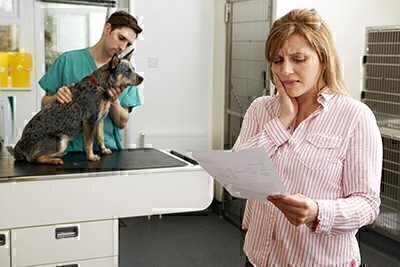 We've long advised that pet insurance is not worth it for many people, especially those who aren't willing to bear large vet bills should their pets suffer serious injuries or major diseases.
Nevertheless, lots of owners have put their money on what they believe is a good value, and pet insurance sales are jumping like a spooked cat in a viral video. Last year U.S. pet owners spent more than $1 billion on insurance—up 23 percent—and more than 1.8 million pets are now insured—up more than 17 percent—according to NAPHIA.
Pet insurance has improved over the last 15 years. Since 2003, a number of new companies have entered the market to get a piece of the action, including Pets Best, Embrace, Petplan, Trupanion, Healthy Paws, and Figo. They're looking at the 25 percent of pets insured in the U.K. and barking at a potential $32 billion market here. That competition is also a treat for consumers. Payment of benefits is moving more toward reimbursement for typically 70 to 90 percent of the vet's bill, and away from the set schedule of payments pioneered in 1982 by Veterinary Pet Insurance (now Nationwide), which still uses it for about half its policies.
We don't like that type of schedule because it can cap benefits below the actual charge for a given service. We compared two Nationwide plans—one that uses a schedule and the other that reimburses 90 percent of the vet bill. The schedule had significantly lower premiums but also paid $11,200 less in illness and injury benefits for our high-problem Woof.
Other improvements: Pet insurance now commonly covers hereditary and congenital problems, chronic conditions, and alternative medicine such as acupuncture and chiropractic. Wellness and preventive care is available as an optional add-on for additional premiums. Consumers can usually customize their annual deductible, reimbursement percentage, and annual limits, and the internet makes buying a snap, though complete disclosure of how future premium costs will rise because of age is often lacking. With so many moving parts to keep track of, pet insurance plans can be intimidating for consumers to compare. Everything, however, boils down to dollars in and dollars out, which is why we sought to clear the confusion using a meticulous, empirical cost/benefit/value analysis.
The Costs: Peace of Mind for Piece of Wallet
Premiums are the explosive material in the price-hike time bomb. Because most buyers sign up when their pets are young and monthly premiums are lowest, it looks like a manageable expense. But we found several insurers didn't adequately warn prospective customers about the high cost of covering a pet for life. In fact, they sometimes claim just the opposite.
Embrace, for example, sent us numerous email follow-ups to our undercover shoppers. One claimed that it's a "myth" that pet insurance is "too expensive. No way! You can insure your pet for as little as $1 a day." But nearly 13 years of Embrace coverage would cost almost $12,000 for Kitty and about $19,100 for Woof, if they lived in Boston.

That works out to $2.55 to $4.08 per day—not a dollar a day—and that's a pretty penny in absolute terms.
In relative terms, that's also pricey, considering that Embrace paid little more than $1,000 in benefits for our Boston-based low-problem Woof and Kitty, and only about $4,600 when Woof had a moderate level of health trouble. Embrace was a good deal when Woof was beset by more than $27,800 in veterinary medical bills; it paid $23,400 in benefits.
Embrace tended toward the high end of our premium samples. The total hidden cost of premiums for life ranged widely among plans we compared, from Healthy Paws's $6,060 to Petplan's $21,842 for Woof. For Kitty the cost ranged from Healthy Paws' $3,571 to Embrace's $11,976. However—as they say in the car commercials—your mileage may vary. Pet insurance premiums are based on your animal's age, breed, species, home ZIP Code, and benefit options (including deductible, percent reimbursement, and benefit limits).
Overall, insurance was a poor deal when Woof and Kitty were lucky to have only low to moderate health problems and a good deal when they suffered lots of medical problems. But the problem with spending so much to insure against disaster is that the odds of calamity are fairly long. Every six seconds a pet owner faces a vet bill of $1,000 or more, according to PetInsuranceQuotes.com, an online marketplace. Pet insurers also cite this statistic. That sounds scary, but in a country of 185 million cats and dogs that's about a three percent chance over a year.
Meanwhile, the average annual pet insurance premium in 2017 was $516, while the average annual vet bill per pet the same year was only $92. Even if you focus on insured pets, the risk is rarely disastrous. The owners of eight percent of Embrace's insured cats filed claims for lymphoma in 2016, and the company's highest-cost cancer claim was almost $15,000. Yikes! But the average cost of cat cancer without insurance was a lot less...well...catastrophic: about $2,900.
At the same time, the owners of 17 percent of Embrace's insured dogs filed claims for cruciate ligament injuries, and the insurer's nightmare claim for repair of that was $21,047. But the average for that treatment without insurance was only $4,500, Embrace said.
Then too, the most common claims are for minor problems. In 2016, the top three claims for dogs insured by Embrace were for diarrhea, vomiting, and ear infections. The average cost of care without insurance to treat intestinal issues was $861; for ear infections it was $324, according to Embrace.
Most of the plans we compared offer 'unlimited' annual limits. Embrace didn't. Two Embrace executives we interviewed said the unlimited option needlessly raises the cost of coverage because $10,000 in vet costs in one year were unlikely. "It's pretty rare," said Shawn Brown, director of product at Embrace.
Bottom line: Pet insurance for life is very expensive. If you want peace of mind, know what kind of cost you're getting into and shop for the lowest-price providers. If insurance would bust your budget and the worst does happen, be prepared to deal with the emotional loss from euthanasia, the number one cause of deaths among pets.
The Reality: Pet Insurance Is Unlikely to Save You Money
The hidden high cost of premiums is alarming, but it could be justifiable if you get proportionately high benefits in return. To determine the net value of anything, you have to follow the money by adding up all the benefits and subtracting all the costs. "That is something people have tried to calculate, but it's almost impossible," says Kristen Lynch, executive director of NAPHIA, because every pet's future health needs are different and unpredictable.
True. But, in fact, every day insurance actuaries measure the frequency, severity, and cost of past losses to forecast future losses. They know what benefits are likely to be paid, even if you don't. That's how they stay solvent and profitable.
Because that also creates an information imbalance that puts consumers at a disadvantage in assessing the true value of insurance, we created a cost/benefit model to arm you with similar information and valuable benchmarks.
We found even the best insurance plans cost more in premiums than they paid out over Woof 's lifetime, when he suffered only moderate health problems costing $6,646 in illness and injury vet bills, plus $2,360 for routine care, over his life. After we accounted for the considerable lifetime cost of premiums, our net out-of-pocket costs across all plans was about $2,800 to $17,700 higher with pet insurance than without it.
Only when Woof suffered major costly health problems in our study did the pet owner typically come out ahead financially. With high illness and injury bills of $27,850 and $2,360 for routine care over Woof 's unlucky life, his owner saved about $1,000 to $15,500 with insurance vs. without
However, even with those nightmarish vet bills, one company's plans—sold under the AKC and PetPartners brands, which are underwritten by the same insurer—cost policyholders a bit more total out-of-pocket than they would have paid if they didn't have insurance—about $1,900 more.
And keep in mind that even when you have insurance, owners still have considerable skin in the game, thanks to copays, deductibles, limits, and exclusions. That might still dissuade you from giving the green light to break-the-bank veterinary medicine. For example, if the insurer reimburses 90 percent of a $20,000 treatment, the owner still has to pay $2,250 in out-of-pocket copayments and deductible; with 70 percent reimbursement, they're on the hook for $6,250.
Lynch concedes that the value of pet insurance depends on the level of illness and injury claims you make. "If you use it, it has value; if you don't, it doesn't," she says. However, Lynch says that the standard of value of pet insurance is not scoring more benefits than you pay in premiums; rather, you're buying peace of mind knowing that you're covered against the risk of being nuked by vet bills.
That's a good point, but go back to the high hidden cost of premiums over our example cat's or dog's lifetime. Are you worried enough to pay $3,600 to $21,800 for peace of mind?
If you have the money, and you're willing to pay any price for today's advanced veterinary medicine to save your seriously ill or injured pet, use our shopping advice to find the best insurers and get the best deal.
If you're on the fence about whether to buy pet insurance and can't afford to spend a fortune on heroic medical efforts that might—or might not—save your dog or cat, pet insurance is unlikely to make your vet bills much more affordable. Indeed, insuring your pet for life will only increase your out-of-pocket expenditures on veterinary care if your pet has only low to moderate health problems.
While no one can predict the future, instead of insurance we recommend this: Visit several pet insurance websites to obtain premium quotes for your pet's current and future ages, to estimate how much you should stash away each month for your specific breed. Then deposit that money each month into your own dedicated vet care savings account instead of sending it to an insurance company.
The account may not cover all your bills if your cute ball of fur has big medical problems early in life, but neither does insurance typically cover 100 percent of vet bills. If your pet has average-size vet bills—in the hundreds or couple-thousand-dollar range—your savings should cover a good chunk of it. And if your pet is really lucky, the money you saved is in your pocket, not in an insurance company's.
Another important alternative to insurance is simply shopping around for the lowest price on the veterinary services you need. When we did that, we found price differences and savings worth hundreds of dollars for the same vet services within the same city. Since shopping around is difficult in an emergency, plan ahead and use our ratings of area veterinary practices—which factor in prices as well as service quality—to line up the best, most economical vets before you need them.