Why Use a Travel Agent?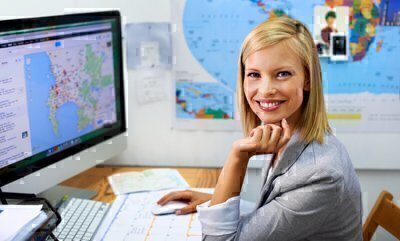 While fewer people use travel agents these days, knowledgeable agents can still provide useful services. There aren't as many agencies now as before the Internet Age, but many of those still standing have survived by offering superior service and sharing their expertise.
What Can They Do for You?
Good travel agents can save you a lot of legwork—performing research, searching the Internet, pricing, and booking—but they also provide other benefits.
If you use a travel agent who has visited your destination, you benefit from his or her firsthand experience and local contacts. You can find out from someone you trust whether activities really are as much fun as they sound, if a hotel is as opulent as the brochures claim, which tour guides know their stuff, where (and where not) to eat, how to avoid the tourist traps (and tourist hordes), and lots of other information.
Good agents are also aware of—and have access to—special money-saving deals and promotions. The agent can alert you to current security warnings, obtain visas and other essential travel documents, and help with other practical details. If you will be traveling with others, an agent can coordinate arrangements for the entire group. If you have special needs (disability, diet) or special interests (ecotourism, antiquing, golf), an agent's expertise is especially valuable. And if anything goes wrong, a good agent can be a central source of help and leverage. By using a travel agency to book tours, charter flights, and other services that may not go according to plan, you get a responsible party to handle your complaints and help make things right.
Why Pay Booking Fees?
The travel business and the role of travel agencies have changed dramatically in the last 10 years.
Airlines used to pay travel agencies a commission—typically 10 percent of the ticket price—on the tickets they sold. Agencies could survive solely on airline ticket sales.
Pre-Internet Age, if you wanted to find out airfares and hotel rates and availability from a variety of providers, you either had to call them all yourself or contact a travel agency, which could access all the information using fancy software.
It's all different now. Except for corporate travel, airlines pay no commissions. And consumers can shop till they drop on the Internet, checking prices and availability of multiple airlines, hotels, and other providers at a single website.
Agencies still receive commissions on hotel bookings (typically five to 10 percent, although only about half of hotels pay them), cruises (10 percent or more), car rentals (two to five percent), and tour-operator packages (10 percent or more).
To compensate for lost commissions, travel agencies charge customers fees for each service—typically $30 to $50 to book a domestic flight, $30 to $100 for an international flight, $0 to $100 for a cruise, and about $100 per hour for research and planning advice. Fees often depend on how much the agency can make from commissions. For instance, buy a trip with a tour operator that pays a 10 percent commission and the agent might not charge any fee. But for an overseas trip including flights, stays at multiple hotels, rail passes, or car rental, fees can be $300 or more. Also keep in mind that many travel agencies are now staffed by independent contractors who set their own fees.
Paying a fee represents a big hurdle to many consumers. Why pay someone to do what you can do on your own? In fact, the fees should not be your main consideration. What matters is whether an agency will really help you. The travel agency business has evolved: To attract clients, travel agencies must now provide expertise as travel consultants.
Even when travel agency services were no-fee, they imposed other types of costs. You had to spend time communicating with your agent, and you had to do it during the agent's working hours—which might not include 10 o'clock at night or Sunday afternoon while you watched a ballgame. More important, an inept agent's bad choices could cost you hundreds of dollars. What matters today is what has always mattered: choosing an agent who has the expertise to find out what you want and works hard to get it for you.