Buying secondhand stuff saves money and helps the environment. Here's how to do it.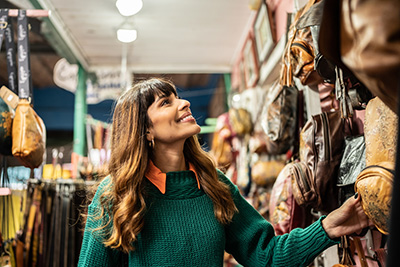 Earth overflows with unwanted stuff. Governments struggle to find ways and places to dispose of our trash or recycle it, and we keep adding to the heap.
In addition to saving big bucks, buying used keeps stuff out of landfills. And getting an already manufactured product means no one has to make a new one, which saves resources and energy.
There are dozens of ways to find and buy used goods: local email groups, message boards, and listservs; websites and apps; friends and neighbors; yard and estate sales; thrift and consignment stores; and well-known mega retailers. There are also many general online marketplaces hawking used goods, including Amazon Warehouse, Craigslist, eBay, Etsy, Facebook Marketplace, and OfferUp.
This article details your best bets for used stuff, where and how to buy items, and advice on how to avoid trouble. Click here for our report on the "Buy Nothing" movement, which can provide secondhand stuff for free; just respond to an announcement and go pick it up.
Prevent used-purchase snafus by inspecting the item before you buy it—though that's often not an option when shopping online. If you receive something that doesn't work or is in worse condition than advertised, you may not have recourse—depending on where you bought it and how you paid. Paying by credit card is the best option, since you can dispute the charge if there's a problem. Online marketplaces like eBay and Amazon offer dispute resolution services. PayPal also lets you discuss problems directly with the seller and, if necessary, allows you to file claims; eBay decides if you deserve a refund.
But if you pay a private seller using cash (often the only payment they'll accept), or via a payment app like Venmo (which doesn't allow disputes), you're likely stuck.
Another precaution: If you're meeting up with a private seller you found online, bring a friend. If possible, meet in a public place, and keep your phone handy. Trust your instincts: If you get a weird vibe or a deal seems too good to be true, bail.
Is it usually a bit more work to seek out, evaluate, and purchase used? Yes! Is it worth it? For many products, absolutely.

Baby/Kid/Parenting Gear and Toys
New parents often buy gadgets, products, and toys (fancy diaper disposal systems, wipe warmers, changing tables, monitors, swings) for their precious cherubs, but then rarely or never use them. And because child-development phases pass quickly, even helpful products that get used aren't needed for long. That means the used marketplace has a glut of items moms and dads need—or think they need. Cribs, highchairs and other furniture, strollers, play kitchens, toys and games, LEGOs, train sets and other hobbies, water play tables…there are lots of opportunities to save.
You'll probably want to thoroughly clean most items before letting your kids play with or chew on them. Soap and water will usually do the trick; or make a solution of one tablespoon of bleach per gallon of water to disinfect especially grubby stuff or anything likely to make its way into a mouth. Smaller items can be run through the dishwasher.
Thoroughly inspect merchandise for damage that might present a sharp edge or could otherwise injure your little darlings. Go over furniture for peeling paint and missing parts.
For a crib, check cpsc.gov/recalls for recalls and make sure it meets current safety standards. Drop-side models, outlawed by the Consumer Product Safety Commission in 2011, are an automatic no-no, and it's illegal to sell those.
In our shopping, we found it helpful to look for specific makes/models of cribs; otherwise there are just too many used ones available to parse through.
Used child car seats could be compromised. Don't buy one (or accept a free one) unless it was recently purchased and you know the previous owner well enough that you'd trust them with your kid's life.
What we like best about buying used furniture: no assembly required! And if you score a deal on name-brand furniture (Bellini, Pottery Barn Kids, and others) and keep it in decent condition (hide those Sharpies), you can probably resell it someday.
Local listservs, eBay, Craigslist, garage sales, and children's consignment shops all sell used kid paraphernalia. Many communities offer periodic children's clothing and toy sales, or swap meets, which can be a treasure trove for thrifty parents.

Bikes
Kids quickly outgrow their rides, and adult pedalers often peddle their old ones. Plus, like cars, bike manufacturers introduce new models each year, which means you can sometimes find still-brand-new wheels from last year at a discount. And many bike shops sell secondhand cycles.
If a new-to-you bike needs work, our ratings of bike shops for quality and price will help you get rolling.

Books
We love borrowing books and ebooks from libraries. If you want a collection of books at home, there is still a plethora of used-book sellers. Amazon can connect you with resellers, many offering free shipping. Some local independents also have considerable online presences: Portland, Ore.-based Powells bills itself as the world's largest independent bookstore and has a huge selection of preowned books; New York's StrandBooks.com is another fun place to hunt, especially for rare or out-of-print titles.
While you can often save a lot by buying used copies of recent bestsellers for a buck or two, students can really cash in by acquiring or renting used textbooks. In addition to checking for secondhand stock at on- and off-campus bookstores and on eBay, college students can try Textsurf, which aggregates online sellers' and rental services' offerings; major players included in its searches are AbeBooks, Amazon, Chegg, ValoreBooks, and VitalSource.
Little Free Library provides public places for readers to leave and borrow books. Go to littlefreelibrary.org for a list of locations.

Clothing
The secondhand apparel market is hot and getting hotter. In 2021, it generated $35 billion in revenue; by 2026, it's predicted to hit $82 billion, growing three times faster than the worldwide apparel market overall. It's not only cool and eco-friendly to buy previously owned clothing; you can also earn a bit of cash by unloading your gently used apparel via brick-and-mortar shops, easy-to-use apps, or online consignment stores.
Major retailers have joined the movement. Patagonia's "Worn Wear" program allows shoppers to trade secondhand items for store credit; the company cleans and refurbishes it, and resells it at a fraction of what you paid. Boutique athletic apparel giant Lululemon's "Like New" program also issues store credit for gently used items; the retailer sells traded-in products in stores and online. REI's Re/Supply has deals on a range of secondhand clothing and gear. Clothing reseller thredUP has partnered with Macy's to create secondhand sections in select locations. Several other companies, including Nike and Levi's, have launched similar re-commerce programs.
These efforts are in addition to an explosion of secondhand clothing sites, including Depop, Etsy, Poshmark, TheRealReal, thredUp, VestiaireCollective, Vinted, and eBay.
You can also rummage at Goodwill and other thrift shops, which usually offer the lowest prices for secondhand threads. And there are still a lot of local consignment stores.
The used clothing arena is especially great for kids, who outgrow sizes heartbreakingly fast. Childrens' consignment shops and local swaps often yield very gently worn clothing and shoes for less. And when your first-grader wipes his greasy mitts on his shirt? No sweat! You paid only $2. Dressy duds are usually in almost perfect shape because most kids wear them only a handful of times.
If you've got a source for free hand-me-downs, even better. Work out trades with friends who have kids older or younger than yours. And when your kids are done with their clothes, make sure to send them down the line. It's good karma.
Want to sell your stuff and earn cash for fresh fashions? See our "Clothing Resale Options" section for our scoop on successful selling. While you probably won't make a bundle selling your old sweaters, it's better to earn even a small amount of cash than to have unwanted items clogging your closet.

Electronics, Computers, TVs
Because so many of us nerds trade up to get the latest, greatest devices, the electronics market is ripe for low-price picking. Although you can save a lot buying used tech vs. new, a lot of the secondhand stuff still comes with big price tags, which means the stakes are often higher than, say, nabbing a $10 tennis racket. And for computers, smartphones, TVs, and the like, it can be difficult to determine if your deal includes a defective product.
But be careful who you buy from; avoid private sellers unless you already know them or someone who will vouch for them.
Stuff that was returned because the buyer wanted something else is fine; in theory, that's the same as buying new, but the box or packaging was unsealed.
Next best are products refurbished by their manufacturers. You can still run into trouble, but most of these deals come with warranties and tech support. For example, Apple offers a one-year warranty on its refurbished phones, as does Samsung for its certified preowned phones. Dell offers a 100-day limited warranty on its refurbished machines. We'd happily buy under one of these plans, especially if it's a gift for an accident-prone kiddo.
Still, the latest models are rarely available used, so you'll have to settle for saving by buying something manufactured a couple digital generations ago.
While we think refurbished stuff sold by manufacturers is probably fine, we wouldn't buy secondhand items from other (even well-known) retailers. You just can't know where they got their products or what (if anything) was done to refurbish them. While manufacturers like Apple promise "You will receive a 'like new' device with genuine Apple replacement parts (as needed) that has been thoroughly cleaned and inspected...with new battery and outer shell," many other stores are hawking items that were returned because they were defective; the store or manufacturer has (hopefully) repaired them and then dumped them onto the secondary market. We'd rather buy something that was never defective.
If you're thinking about buying from Amazon, Best Buy, or other stores offering used stuff, read the fine print on your return rights, guarantees, and warranties.

Exercise Equipment
As we discuss in our section on gyms, the fitness industry thrives on good intentions. Lots of New Year's resolvers buy pricey treadmills, stationary bikes, elliptical trainers, and cross-country ski simulators but then (often pretty quickly!) end up back on the couch bingeing Netflix.
Their sloth is your reward: You can score rarely used equipment for free or nearly so. But because treadmills, ellipticals, and their ilk injure a lot of wannabe hardbodies, make sure your steal comes with its instruction manual or that you can find one online.
Because exercise equipment is expensive to ship, search locally at yard sales, Craigslist, Freecycle, listservs, social media groups, and specialty consignment shops such as Play It Again Sports. You could very well end up with a free piece of equipment if you're willing to haul it.

Furniture
Unfortunately, the saying "They don't make 'em like they used to" applies to most furniture made today. Instead of buying crappy case goods and other furnishings, consider tracking down finely crafted older items.
If their bones are high quality, you can reupholster sofas and chairs, refinish solid-wood dressers or tables, and otherwise clean up just about everything else.
Click here for ratings of upholsterers. We also have ratings of furniture repair shops. But before going that route, carefully inspect the item to decide whether it's likely to last long enough to justify rehab costs.

Games
Ever tried to sell a used pool table, ping pong set, or other large rec-room toy? Fuggedaboutit. There are so many man caves with unwanted billiards sets and other space-hogging entertainment equipment that the secondhand market is awash in them. Sellers' desires to reclaim some room means you can save big.
Before you commit to buying a pool table, make a plan for disassembling, moving, and setting it up again.
Board games are also plentiful in the secondhand market. Before buying, make sure sellers attest that all critical pieces are accounted for (Clue isn't the same without Professor Plum or the candlestick).
You can still find some deals for used video game consoles and games, but now that most games are bought as downloads rather than on cartridge or disk, many old ones are becoming retro collectibles, not bargains. GameStop is still around (for now) and sells used games and consoles. Try Amazon, eBay, Craigslist, and yard sales, too.

Gift Cards
CardCash.com and GiftCardBin.com buy unwanted (and sometimes partially used) gift cards and resell them. These sellers don't usually offer big savings, but you'll at least rescue a card from a sad fate of laying in someone's junk drawer for years. Make sure to check expiration dates before you buy.
Click here for more advice on buying and selling unwanted gift cards.

Jewelry
Given that nearly half of American marriages end in divorce, there's a large secondhand market for jewelry, especially diamonds. Sources include estate sales, eBay, Craigslist, DiamondBuyersIntl, TheRealReal, WPDiamonds, jewelry stores that sell vintage items, and—for the practical-if-unromantic—pawn shops.
If you bargain hunt for gemstones, look for certification by the Gemological Institute of America (GIA). But since GIA didn't start issuing reports until 1953, stones in vintage settings may be hard to evaluate. Keep in mind that if you don't like a setting, you can easily have the stones reset to your liking and still save a lot over buying retail.
With person-to-person purchasing (eBay, Etsy, or Craigslist), beware of scams like phony GIA certificates, defective diamonds that have been treated, and more. Consider taking any expensive piece to an independent appraiser before finalizing the sale.

Kitchen Supplies, Cookware, Appliances
Home cooks often purge their kitchens (or storage rooms) of gadgets, small appliances, and other nonessentials that have seen little use—and are ready to join your culinary arsenal.
Amazon sells household appliances via its Warehouse section, which offers open-box or used goods for well below the price of new. But they come with only a 30-day returns window.
Buying used major appliances is trickier. You may strike gold (or stainless steel) buying gently used appliances being offloaded due to a remodel. But you won't get a guarantee or warranty from individual sellers, and delivery and hookup arrangements are on you.
Another option is buying from a "scratch and dent" appliance outlet, where new but imperfect stoves and other stuff is hawked at big-time discounts. Carefully inspect to make sure you're willing to put up with the unit's blemishes, keeping in mind where it will live and how you'll use it. If your laundry setup is out of sight of guests, who cares if the dryer has a gash on the door? Another perk: These appliances are usually still under the manufacturer's warranty.
Click here for more advice on buying appliances, including ratings of stores for quality and price.

Musical Instruments
This one time at band camp there was a kid who aspired to be a professional oboist. But other interests interfered, so now her giant woodwind is in great shape and ready for another kid (yours) with bigtime Peter and the Wolf soloist dreams.
From band and orchestra instruments to pianos and guitars, shop secondhand for bargains that will be music to your ears (but brace yourself to hear "Hot Cross Buns" 10,000 times). Because there are so many used options available, focus your shopping on well-known quality brands.
We have ratings of area instrument shops that can advise you on important points—and possibly sell or rent you something at a good price. We also have ratings of musical instrument repair shops.
Each type of secondhand instrument poses special concerns (mold and mildew inside woodwinds, dents in brass, missing head joints in flute cases), which makes buying online a little less appealing than in person: It's best to check out these elements and give them a test run.
There are also tons of used pianos out there. Some are free, but you'll still have to move them, and some are in terrible shape. When shopping for a used piano, ask lots of questions: How old is it? What was the original sales price? How often was it played? ("Every day" is better than "Never.") How often was it tuned/maintained? (Click here for ratings of piano tuners.) Any existing damage? If you're a serious musician, or buying for someone with symphonic aspirations, buy from a trusted store that offers a strong warranty.

Sporting Goods and Camping Gear
Because kids quickly outgrow soccer cleats, ice skates, batting helmets, and other athletic essentials—and their interests wane faster than you can say "Taekwondo"—most used gear is in great condition. Find used playthings and uniforms at stores like Play It Again Sports, eBay, children's consignment shops, and by just asking other soccer/baseball/hockey/javelin parents.
Tents, portable stoves, cots, and more clutter many a basement, garage, and attic. Thankfully, outdoor gear lasts for many years, and the secondhand market overflows with bargain basics to get you enjoying the great outdoors for less green. REI also recently entered the resale business.

Tools
Unless you're a professional contractor, you probably don't use your toolkit often. And most tools last a long time. Power tools are often purchased by weekend-warrior homeowners who use them for only a project or two. That means there are a lot of gently used ones on the market. Yard and estate sales almost always have huge assortments.
Want to buy new? Check out our ratings of hardware stores for quality and price.

Watches
Secondhand designer watches are growing in popularity, and there are several reputable online and brick-and-mortar retailers. If you aren't set on sporting the latest model, or you appreciate classic quality, you can get a great watch at a great price. Keep in mind that pre-1980s watches may require more care and maintenance than newer timepieces.
Thoroughly investigate any seller you're thinking of buying from. Prices that seem too low are a warning. Is the seller established? Does it have a longtime social media presence, robust website, and verified reviews? Get recommendations from friends, and check forums and social media for any mention of the seller.
A brick-and-mortar showroom where you can examine the watch is a major plus. When buying online, ask for multiple photos, including some of the inner workings of the watch. Also, ask the seller to set the watch to, say, 2:30 and take a photo. This will help weed out scammer sellers who don't really have the watch.
Click here for ratings of watch repair shops.

What NOT to Buy Used
You can buy used mattresses, vacuum cleaners, rugs, makeup, hats, bathing suits, and well-worn shoes, but, to us, the yuck factor voids the potential savings.
When your bike helmet becomes worn, replace it with a brand-new one. Old ones aren't as effective, and any that have been in accidents should be discarded.
Some materials wear out more quickly than others. Especially avoid paying much for used items made of rubber (tires, rain boots) or with watertight seals.
Clothing made with synthetic fibers (polyester, nylon) attracts and traps odors more readily than natural fibers—so caveat emptor.
We'd buy used TVs and laptops from well-known retailers but not from most private sellers. You just can't know if they've been dropped or will function properly long-term.
Old lamps and light fixtures might have vintage charm but are sometimes fire hazards. Test them or rewire them (sometimes that's an easy DIY task).
Upholstered furniture (chairs, sofas, headboards) can be bargains secondhand, particularly if you're thinking of recovering them. But calculate the extra costs to reupholster or steam clean. To avoid bedbugs, consider isolating items until you can thoroughly inspect and clean them.
Used child car seats could be compromised. Don't buy one (or accept a free one) unless it was recently purchased and you know the previous owner well enough that you'd trust them with your kid's life.