Comparing Local Gyms and Fitness Centers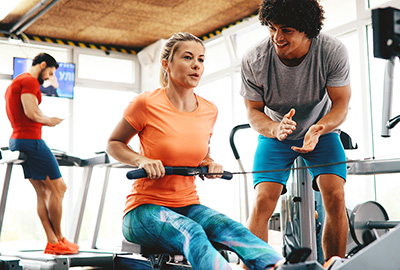 When considering a fitness facility, consider several points, including what its members say about it, location, membership fees, contract terms, facilities and equipment, classes, and amenities. Our Ratings Tables include many of these details for facilities that received at least 10 ratings in our surveys of local consumers.
Review Ratings from Customers
Our Ratings Tables report ratings of the facilities by their customers. We regularly survey Checkbook subscribers plus other randomly selected local consumers we invite to participate. Click here for further description of our customer survey and other research methods.
Our surveys ask participants to rate health and fitness centers they had used "inferior," "adequate," or "superior" on the following criteria:
Quality/maintenance of facilities and equipment
Cleanliness
Adequacy of facilities/equipment for demand
Quality of instruction
Availability/convenience of organized group activities
Friendliness of staff
Providing what the sales staff promised
Overall value for your money
For facilities in the area that received at least 10 ratings, our Ratings Tables show the percent of each club's surveyed customers who rated it "superior" (as opposed to "adequate" or "inferior") on each survey question.
Although several clubs rate quite high on all survey measures, we receive scads of complaints about many other facilities, as evidenced by the ratings shown for them on our Ratings Tables. The most common complaints relate to lousy facilities and equipment, and indifferent customer service.
Check Complaint Histories
Our Ratings Tables also shows counts of complaints we gathered from the Better Business Bureau (BBB) for a recent three-year period. Click here for more information on reported complaint counts.
Compare Costs
Fees vary dramatically from club to club. Our Ratings Tables report fees for six different profiles, ranging from full access for three months for one person to full access for three years for a couple. Based on the information collected from the clubs, we've attempted to calculate the lowest possible rate for each profile for each club. For the three-month user profile, we assumed the user planned to frequent the club for three months and then quit. Charges might be much higher for someone who aimed to be a member for a year but quit after three months.
For each profile, fee differences are large. For example, the one-year full-access individual user would pay between about $200 to more than $2,000.
When comparing fees, keep several factors in mind:
Which facilities you can use. One reason for the price differences is that some gyms offer much more than others. Evaluate prices in relation to the facilities, equipment, and activities offered (also shown on our Ratings Tables)—especially those that you want. Some clubs offer lower fees for memberships that exclude certain features like racquet sports or CrossFit classes.
Times of day. You can sometimes save money by using a club only during off-peak hours.
Per-use fees. Some clubs or membership options require you to pay separately for court time or other benefits, while others offer a broader array of benefits for a basic fee. If you want tennis instruction, regular massages, or other personalized services, check the clubs' charges for these services.
Other clubs you can use. If you are interested in using more than one club location, either locally or outside the area, ask for details on multi-club use opportunities. Our Ratings Tables report whether each club offers memberships that allow access to other locations within or outside the area. If you are interested in using more than one location, get a list of participating clubs. The fitness chains often offer lower membership-rate categories for customers who agree to use just one club location.
Renewal fees. Some clubs charge lower fees for renewals after an initial contract period.
Ask About Discounts
Many clubs offer steep discounts for older adults. The age requirement varies by club, with some offering discounts to members age 50 and up. Keep in mind that some clubs limit access of older-adult memberships to off-peak hours.
You may also qualify for a discount through your employer or school. Many gyms have agreements with employers for "corporate" rates that are typically 10 to 20 percent lower than normal rates. If your employer doesn't have an agreement, you may be able to foster one by recruiting coworkers to join with you. Many companies also offer student discounts.
Also find out if your health insurance plan offers benefits for fitness activities. With most Medicare Advantage plans, policyholders can get free or very low-cost memberships at participating fitness clubs through the SilverSneakers, Silver&Fit, or Renew Active programs.
Many private insurers reimburse their members for gym expenses. Some plans are quite generous: They'll pay for more than just fitness center costs, reimbursing members for exercise and yoga classes, skiing, running-race entry fees, Weight Watchers, and more.
Typical payouts for fitness club memberships are $20 to $30 per month; most will reimburse up to two adult plan members per household. You usually have to sign on with a fitness club that participates in your insurance plan's program. Some insurers partner with companies like ChooseHealthy and HUSK, which claim to offer the lowest rates for thousands of fitness centers. When we compared their rates with those quoted to our undercover shoppers, we found that we usually would save by joining via the third-party companies.
Sometimes health insurance plans attach strings to these benefits to make sure members use them. You might, for example, have to work out eight to 12 times during the month to get the credit.
For discount programs, push clubs for their lowest rates and then ask for any discounts available through your health plan. And even if your health insurer reimburses costs or provides detailed cost information, don't limit your choices to participating facilities. Facilities outside the program may offer better deals—without requiring you to hit the gym two or three times a week to get them.
But Watch Out for Fake Discounts
Many clubs print up membership fee schedules with inflated prices so that they can cut the price during the sales pitch. The same non-discount strategy appears in advertising. While many advertised specials truly offer lower prices, others are confusing or misleading come-ons.
Try Before You Buy
Many gyms and fitness studios let you try them out for free for a few visits, or offer short-term memberships or small packages of visits to let you dip your sneaker toe into cardio/yoga/weightlifting, etc., without a big commitment. Start by taking advantage of these intro offers. During these visits consider:
Is the location convenient? If you can't easily reach the gym, you probably won't use it. Consider only ones close to your home or job.
Is it open when you need it? Check hours of operation. Is it open early enough for you to nab a cycling class before work and late enough for you to hit the treadmill after the kids are in bed? Note the hours of the specific facilities you expect to use; for example, the tennis courts may be open until midnight while classes end by 9 p.m. If you're interested in specific classes, make sure they're offered when you can go.
Does it have the facilities and amenities you want? Our Ratings Tables list this information for the clubs we've evaluated. Almost all offer some form of weight training. Many also have indoor pools, but racquetball or squash courts, indoor tennis courts, basketball courts, and indoor tracks are less common. The table also indicates whether facilities have features like saunas, individual showers, towel service, and lockers. Remember that our Ratings Tables say nothing about the size or quality of what is offered: One club's pool might be about the size of another gym's hot tub.
Does stuff work? Even if a club offers all the facilities and equipment you want to use, that won't help you if it's poorly maintained. Our Ratings Tables report how surveyed customers rated clubs for "quality/maintenance of facilities and equipment." Some clubs received "superior" ratings from more than 90 percent of their surveyed customers; others were rated "superior" by fewer than 30 percent.
Does it offer the classes and activities you want? Check the club's schedule of classes for the current period to see what's offered and when. But know this won't tell you how quickly classes fill up or how often they're canceled at the last minute.
Also ask if the gym streams classes for those who can't make it to the gym but still want to attend. To provide greater insight on class and activity availability, our Ratings Tables report ratings on our survey question "availability/convenience of organized group activities."
Is it crowded? Good facilities and equipment don't matter if you have to wait an hour to use that StairMaster. Our Ratings Tables show ratings on "adequacy of facilities/equipment for demand." When trying out a club, visit it during the time you're most likely to use it, and see if there are lines for equipment, check sign-up rosters for courts to see how full they are, and ask club members whether it gets too crowded.
Is it clean? Our survey asked about "cleanliness"; as our Ratings Tables show, clubs' scores varied widely. When you check out clubs, pay particular attention to the state of locker rooms, showers, and swimming pools.
Does it offer childcare? Our Ratings Tables indicate which clubs offer childcare. If you'll be dropping off your tots, inspect the kids' area. Is it clean, well maintained, and secure? Are age-appropriate toys available? Are workers attentive and plentiful enough to safely supervise the number of kids, and do the kids seem happy?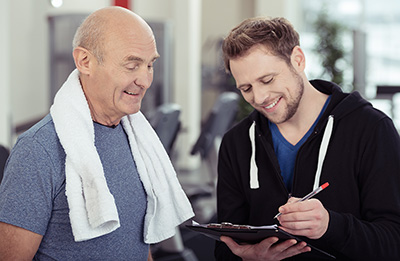 Is the staff competent and helpful? You want a well-staffed club with good tennis pros, energetic class leaders, and trainers who can explain machines and weights. They can help you progress quickly, stay motivated, and avoid injury.
Ask how much experience various staff members have and whether they have certification—but be aware that there are many certification programs, and some of them are meaningless.
Certification programs sponsored by the Athletics and Fitness Association of America, American College of Sports Medicine, American Council on Exercise, and The Cooper Institute are among the most respected.
You can judge staff competence to some degree by observation. Ask trainers what kinds of activities they recommend for reaching specific goals, and ask why.
Is the atmosphere right for you? Different clubs have different vibes. Some are attractively decorated, others more bare bones. Although in-person visits are the only way to find out how a club feels to you, our surveys also asked about "friendliness."