Where to Buy Flowers for Less
Last updated in November 2016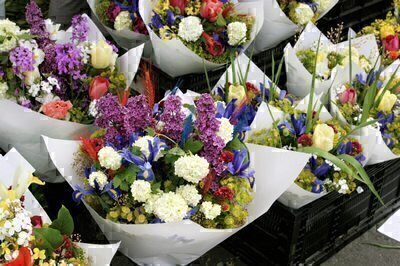 If you want an arrangement delivered, seek exotic or unusual flowers, or need a lot of advice, your best bet is a retail florist. But if you're willing to pick up the posies yourself, are shopping for a typical bouquet, want to arrange the flowers yourself, or would like to save a lot of money, you have several other options.
Street Vendors
You might find flower vendors downtown, near shopping areas, or along major thoroughfares. Some street vendors sell only roses; others offer a variety of cut flowers arranged into bouquets and displayed in buckets. These vendors cater to impulse buyers—hand over some cash and arrive home a hero.
The quality of the flowers can vary a great deal, depending upon when and where the vendor obtained them and when customers buy them. Many street sellers get their flowers from the same wholesalers that supply florist shops each day, but some vendors may be peddling several-day-old flowers. Some street vendors work directly for floral shops and sell the same stuff in their storefront, but some shops employ street vendors to sell their leftovers. Be especially careful about buying on your way home from work at the end of the day; even if the flowers were fresh in the morning, chances are they have been sitting in the sun all day and won't last very long.
In addition to speed and convenience, street vendors have one other major advantage: price. Our undercover shoppers found street vendors' prices averaged about 10 percent lower than those at supermarkets and about 55 percent lower than those at retail florists.
On the downside, however, selection is usually very limited. And, of course, you can't use a street vendor to provide flower arrangements for a wedding or deliver something to a friend in a hospital.
Wholesalers
In the Bay Area, you can also buy flowers at the San Francisco Flower Mart in SoMo, which is where many florists buy their products. The Flower Mart opens its doors to the public at 10 a.m., Monday to Saturday. These wholesalers not only offer incredible variety, but also tremendous savings: Our undercover shoppers collected prices from a sample of five vendors operating in the Flower Mart and found prices were about 60 percent lower than those at local retail florists.
Supermarkets and Warehouse Clubs
Like street vendors, supermarkets, warehouse clubs, and other mass merchandisers count on big-time foot traffic, selling flowers to shoppers who stop in to buy a few things, but leave with a cartful of other stuff.
The services provided by supermarket floral departments range from basic to full-service. Most of these stores specialize in basic cut flowers, blooming plants (especially around holidays for favorites such as poinsettias, lilies, and mums), and green potted plants. Some stores now offer full-service floral departments that offer wire services and provide flowers for weddings.
A major advantage of picking up cut flowers at a supermarket is price. In our shopping, we found that supermarket prices averaged about 45 percent lower than prices at traditional florists.
There is substantial price variation for the same item among different supermarkets (sometimes even within the same chain). For example, we found supermarket prices ranging from $8 to $22 for a dozen red roses.
Garden Centers and Hardware Stores
Although you might not think of hardware stores as places to buy flowers, they often carry a wide variety of potted plants and hanging baskets along with outdoor plants and supplies.
Florists
Good retail florists can meet almost any flower-oriented need. Most offer wire services, plants, and other gifts, and can service large occasions such as weddings. They can deliver an arrangement of flowers to your parents for their anniversary or send a bouquet as a get-well wish to a sick friend.
Florists differ in what businesses they emphasize and the style of arrangements they produce. Florists that focus on wireservice business produce arrangements with a standard "wire-service look" to both the container and the design of the bouquet. At the other extreme, "custom design shops" do little or no wire service business, carry more unusual and exotic flowers, and produce original designs. Many specialty shops maintain files on customers' home designs and color schemes, and keep records of past orders to help them customize a look for each purchase.
National Networks
If you want flowers delivered, either locally or out of town, you can use national services like FTD, 1-800-Flowers.com, ProFlowers, and Teleflora. We discuss these options in "What to Do If You Need an Out-of-Town Floral Delivery." Our take: If you need to place an order for delivery, ask a local florist—either located here or near where the recipient lives—to coordinate the job, rather than rely on a national outfit.