How to Find a Good Plumber
Last updated November 2017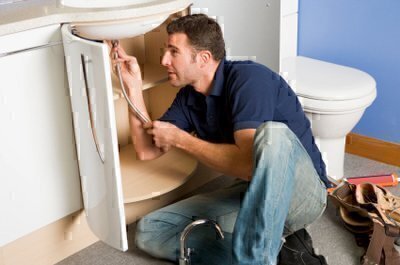 Plumbing has been around since ancient times, with Romans building aqueducts, marble baths, and bronze pipe systems to keep their toga-ed bodies clean and their water drinkable. Flush toilets came into the world in 1596, when a godson of Queen Elizabeth I invented a primitively constructed water closet he nicknamed "Ajax." In modern times, we can luxuriate in jetted tubs, sit on toilets with heated seats, and cook spaghetti in pots filled by special pasta faucets. Still, even our marvelous modern pipes and appliances often spring leaks, back up, or just stop working. That's where a good plumber can get you out of hot (or cold) water.
Fortunately, although there are many plumbing outfits out there that will soak you, we've also found dozens of excellent plumbing companies in the area that can help—and many of the service providers that rate best for the quality of their work also are among the lowest in price.
Here's a rundown of the information reported on our Ratings Tables for area plumbers.
Ratings from Customers
Our Ratings Tables report ratings from area consumers (primarily Checkbook and Consumer Reports subscribers) for plumbing companies that received 10 or more ratings on our surveys. The tables show the percentage of each company's surveyed customers who rated it "superior" (as opposed to "adequate" or "inferior") on several questions: "overall performance quaity," "doing work properly," "starting and completing work promptly," and "letting you know cost early." Our Ratings Tables also report the percent of surveyed customers who rated each company "adequate" or "superior" (as opposed to "inferior") for "overall performance." Click here for further description of our customer survey and other research methods.
Many of the companies received a high percentage of favorable ratings. But other companies were rated "superior" by fewer than half of their surveyed customers. For these companies, customer reviews frequently include words like "overcharged," "unprofessional," "incompetent," "rude," "messy," "no-show," and "dishonest."
Complaint Records
Our Ratings Tables also show counts of complaints we gathered from local Better Business Bureaus (BBB) for a recent three-year period and complaint rates relative to the volume of work companies do. Click here for more information on reported complaint counts and rates.
How Much They Charge
After you have identified high-quality, reliable companies, you need to consider price. To compare companies' prices, our undercover shoppers called the companies listed on our Ratings Tables and requested price quotes for five plumbing jobs; the ranges of prices quoted are shown on the table below. We used those prices to calculate a price comparison score for each company, shown on our Ratings Tables. The scores, which are adjusted so that the average for all companies equals $100, indicate how each company's quotes compare to the average price for all companies quoting on the same jobs. Thus, a score of $110 means a company's quotes average 10 percent above the all-company average; a score of $90 means 10 percent below average.
Our Undercover Shoppers Were Quoted
Big Price Differences by Plumbers1

Description of job
Low
price
Average
price
High
price
Supply and install an InsinkErator Pro Series 750
3/4-horsepower garbage disposer
$310
$506
$850
Supply and install an American Standard Cadet Pro Right Height toilet
$350
$631
$1,070
Supply and install a Moen Arbor M7594C
kitchen faucet
$255
$507
$769
Supply and install a Kohler Devonshire Centerset
K393N4CP bathroom sink faucet
$145
$393
$794
Supply and install a Bradford-White URG150T6N-394
50-gallon gas water heater
$1,014
$1,553
$1,920

* Prices quoted were in response to inquiries from Checkbook's undercover shoppers. The descriptions of jobs are summaries; companies were given additional, detailed specifications and instructions.
As you can see from the table above, prices varied dramatically for the same work. Prices to supply and install an InsinkErator Pro Series 750 garbage disposer ranged from $310 to $850. And to supply and install a Bradford-White model URG150T6N-394 water heater, prices ranged from $1,014 to $1,920.
These large price differences are reflected in the price comparison scores, which range from $60 to $140.
If you have a medium or large job, don't rely just on our price comparison scores—the only way to know whether you're paying a low price is to collect bids from multiple companies. We find that getting three bids for a typical installation job (for example, installing a water heater) saves, on average, about $250 compared to getting just one price quote. For larger jobs, like a bathroom remodel, you'll likely save thousands of dollars by getting just a handful of prices. Although it's a pain to meet with three or four contractors, most of us will agree that it's well worth that time and effort to save $1,000 or more.
When comparing prices, have companies supply quotes on exactly the same job, using the same fixtures. If a job is large, or you are unsure about what you need or how it should be done, let the bidders serve as your consultants. If you need to consult several companies before you can determine exactly what you want done, give each company a chance to bid on your final specs.
Even for small jobs, it makes sense to get multiple quotes—we find it's fairly easy to get prices for straightforward jobs by phone or email.
Our Ratings Tables also report each company's hourly labor rate and its "minimum charge for a service call," and whether the charge covers a complete diagnosis or a specified amount of time. These charges are particularly useful if you need to hire a company for repair work that can't be priced until the plumber has examined your problem. Some companies don't charge for coming to your home, diagnosing the problem, and providing an estimate; others charge $150 or more for this.