Last updated November 2018
As we note in our guide to surviving a home remodeling project, for small and straightforward projects—for example, redoing a single bathroom, swapping out kitchen cabinetry and appliances, or converting a porch or attic into living space—you can usually dispense with hiring an architect or designer and proceed to line up contractors to bid on the work. But if you're adding new rooms, making substantial changes to the existing floor plan, or dealing with complex structural or functional questions, you'll need to hire professional design help. There are several design options and combinations of options. As you search, you'll also get a better handle on costs.
Architects
Of all the options, architects have the most education and training, with undergraduate or graduate degrees and, for licensed architects, several years of on-the-job apprenticeships.
An architect creates rough drawings, then preliminary drawings, then—finally—plans that cover every aspect of the project, including all the materials and products and at least some construction methods. You'll send that final plan to contractors to obtain competitive bids. Later, the architect will help supervise and manage the work done by the contractor you hire.
Because architects typically work apart from contractors, by hiring one you'll get both an independent designer of your choosing and someone who works on your behalf to make sure the project comes together according to your plan, without cut corners or false steps.
In general, you'll benefit the most from hiring an architect if you need a lot of design work—for a big or complicated addition, or to tie in significant changes to more than one room.
If you want only advice, most architects charge by the hour. If you're looking for finished drawings of a straightforward job—say, a bathroom or kitchen remodel—you'll pay either a fixed fee or by the hour (go for a fixed price, if possible). For big jobs and help with project management, architects usually charge a percentage of the project price, from under 10 percent for a simple room addition to 15 to 20 percent for a whole-house redo.
Customer reviews of architects here at Checkbook.org will help you identify firms to interview for your job. As you search, keep in mind that some residential architects accept only certain types of work such as new homes and complicated additions, and won't handle smaller jobs.
House Designers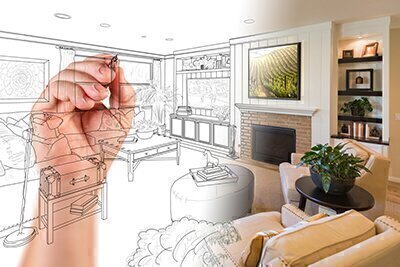 For residential work, house designers can provide the same services as architects. Although most lack an architect's formal education and apprenticeships, the difference between a qualified designer and an architect often comes down to the latter's knowledge of engineering, which, for most home improvement projects, is not an essential qualification. Some house designers belong to the American Institute of Building Design, an organization that's easy to join if the designer has a modest amount of experience. On the other hand, Certified Professional Building Designers (look for "CPBD" after their names) have passed a series of rigorous examinations on building codes, building materials and systems, residential architecture, and more.
Some house designers started as interior designers and expanded their expertise to full-fledged remodeling work. Some are current or one-time contractors who combine experience in the field with design sense.
Some house designers work for design-build companies, which can be one-stop shops for entire projects (in this case, the price of design is rolled into the construction tab; more on this option below), but some work independently, as do architects.
Like architects, house designers charge by the hour or quote a fixed price (preferable), depending on the level of service, or bill a percentage of the final construction price if they're supervising and directing the entire affair.
Kitchen and Bath Designers
Kitchen and bath designers specialize in layout and planning for these often-renovated spaces. They work for architects, design-build firms, manufacturers' showrooms, freestanding studios, retail chains, independent stores, and general contractors. Like house designers, members of the National Kitchen & Bath Association can earn certification via a combination of experience and association-sponsored training. Certified members can use "CKD" (Certified Kitchen Designer), "CBD" (Certified Bath Designer), "CKBD" (Certified Kitchen and Bath Designer), and "CMKBD" (Master Certified Kitchen and Bath esigner) after their names.
Fees paid for the work of kitchen and bath designers employed by another business, like a design-build firm or a store, are usually rolled into the price for the remodeling job or items purchased from the store. Otherwise, payment options resemble those for architects and house designers: hourly rate, fixed fee, or percentage of construction price. Remember, however, that designers working for stores or showrooms will recommend only products sold there.
What's the Best Choice for Design Help?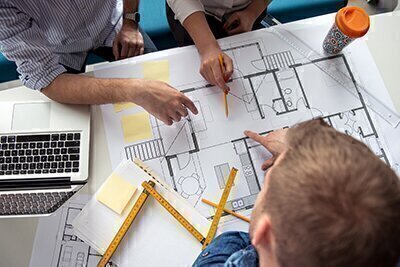 Regardless of the designer, your goal is the same: to hire someone who can translate your ideas and wish lists into a formal plan that contractors can use to successfully complete your project.
In addition to reviewing the architect ratings here at Checkbook.org, confer with friends, relatives, and neighbors who have undertaken similar projects, and ask trusted real estate agents for referrals. Gather some possibilities, check out their work online, and then start talking. Meet in your home, show off the place, and discuss the improvements you want to make. Because initial conversations are usually free, take the time to relay as much info as possible about your style of living, tastes, and expectations for the renovated space or spaces (but don't expect a lot of concrete advice and ideas for free). Ask for the names of clients who hired them for similar projects, realizing, of course, that you're not going to get a list of discontented customers.
Visit one or more completed jobs to see the designer's work in action; gauge how the project came together while at the same time collecting names of contractors who did the job.
This is also the time to start asking about dollars. How much will your design cost? What is the expected tab for the entire project? Whether working with an independent designer or a company, it's reasonable at this point to get at least an estimate of total costs. Obtaining cost parameters is important for three reasons:
It lets you determine how much of your savings to free up or how much to borrow.
It sets a benchmark for comparing contractors' quotes.
If the price is higher than expected, it may force everyone to choose lower-cost materials and building techniques, and may discourage you from later adding options you can't afford.
The best budgets have several parts—for example, one each for kitchen appliances, cabinetry, flooring, lighting, and countertops. Itemized budgets let you see how spending more or spending less on one part of the project trims or gains items on other parts, without exceeding the total budget cap.