Although in contemporary America seniors are less likely to live with their children, compared to other parts of the world, AARP's 2021 "Home and Community Preferences Survey" found that 52 percent of U.S. adults live in multigenerational households. AARP reported that "among those polled, 40 percent said they care for someone living in their home and 38 percent look after someone living on their own. Of those, nearly half worried about the ability of the person they care for to continue living independently."
Even if you have children or other relatives who can help you out, a key part of aging in place involves setting up a support system for your social, personal, and medical needs. Think of this as creating a stand-in family.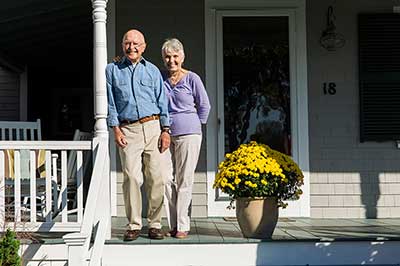 That's where elder villages come in. These are usually neighborhood-focused networks that offer social, medical, and household resources (usually from volunteers) that can help you stay in place.
In 2001 a handful of older residents of Boston's Beacon Hill neighborhood became concerned about how they would stay in their neighborhood and their homes into their 80s and 90s. This led to the founding of the country's first elder village, Beacon Hill Village, a volunteer neighborhood group designed to provide social connections and practical assistance to older adults. There are now hundreds of these villages in the U.S., with many more in development. Some cover entire counties; others focus on small, often walkable neighborhoods.
Each village offers a range of services and benefits, from finding teenagers to play chess with residents to helping with grocery shopping. Typically, a small tax-deductible fee (usually $100 to $500 a year, with many villages offering scholarships for lower-income residents) lets members take advantage of benefits like rides to medical appointments, dog-walking, yardwork, home fix-ups, and tech assistance. The most active villages also offer social activities like book clubs and walking groups.
If there's no village in your area, you can help found one. You'll need to:
Organize a group of nearby neighbors interested in staying in their homes.
You can learn about the village model and get referrals to other resources at the Village to Village Network website. You can sign up for a 12-month "Opportunity Member Trial Membership" for $175, with access to its library of documents, webinars, toolkits, and other resources. (Regular memberships cost $200 to $425/year per village, depending on size and model.)
Decide on a geographic area you'd like to cover. Many active villages serve smaller walkable neighborhoods; some encompass whole counties.
To avoid duplicating services already offered for free or almost free by local governments, talk to local councils or agencies on aging (see the list below). Also find out if your local aging agencies have policies or programs to encourage village-forming.
Evaluate whether you'd like to operate the village as a primarily volunteer operation (lower operating costs and membership fees) or a staffed organization. Volunteer villages often grow into staffed villages as membership increases.
Can you establish a brick-and-mortar headquarters, or do you want to run the village remotely? Both have advantages and disadvantages. Having a physical location often benefits members, but it can be expensive.
Listed below are active villages we could find operating in the Twin Cities area. Did we miss any? Have an update to the info we collected? Email us at [email protected]. We'll try to keep this list up to date.

Elder Villages in the Twin Cities Area
Como Park/Falcon Heights Living At Home Block Nurse Program
Como Park Lutheran Church, 1376 Hoyt Avenue W., St. Paul, 651-642-1127, comobnp.org, [email protected]
Serves older adults of parts of Como Park and Falcon Heights; rough boundaries are Roselawn/Snelling/railroad tracks on west and Larpenter/Dale/Maryland on east; see site for exact service area
Transportation, home safety checks, errands, chores, yardwork, respite care, friendly visits, blood pressure clinics, in-home exercises, in-home foot care, CPR training, meal preparation, service coordination, in-home fall prevention coaching, care management, application assistance, free in-home screening to develop care plan, exercise classes, caregiver support groups, presentations on aging issues, educational information
Fees for some services
DARTS
1645 Marthaler Lane, West St. Paul, 651-455-1560, dartsconnects.org
For age 55+ and their families in Dakota County and the surrounding area
Transportation, household maintenance and repair, yardwork, housekeeping and cleaning, respite visits, caregiver support groups, caregiver counseling and resources, online grocery ordering assistance and delivery, friendly phone calls and visits, lunch & learn, memory café, volunteer opportunities with Learning Buddies and Pen Pal programs
Fees for some services.
East Side Elders
463 Maria Avenue, Suite 201, St. Paul, 651-683-2326, eastsideelders.org, [email protected]
Serves senior residents of Conway-Battle Creek, Dayton's Bluff, and Payne-Phalen
Transportation, yardwork, household chores, friendly phone calls and visits, monthly delivery of free groceries, Letters to Elders (receive cards and letters), wellness clinics (including blood pressure checks and foot care), legal clinics, respite care, caregiver support, referrals to resources, coloring books, elder café (monthly free lunch and entertainment), and social events
Free (donations accepted)
East Side Neighborhood Services
1700 Second Street NE, Minneapolis, 612-781-6011, esns.org, [email protected]
Open to all ages; focuses on residents of northeast and southeast Minneapolis, with programs throughout Hennepin County
Transportation for seniors and those with disabilities living in north, northeast and southeast Minneapolis and St. Anthony, food shelf programs, food shelf home deliveries for age 55+ Hennepin County residents, health and wellness classes, book club, memory sharing group, caregiver support groups, senior employment program, volunteer opportunities, technology assistance
Fees or donations for some services
Hamline Midway Elders
1514 Englewood Avenue, St. Paul, 651-209-6542, hmelders.org, [email protected]
Serves age 60+ residents of St. Paul living in the area bounded by Dale Street to the east, University Avenue to the south, Transfer Road to the west, and Pierce Butler Route to the north
Transportation, technological assistance, yardwork, simple home repair, help with chores and clerical tasks, meal and grocery delivery, shopping help, referrals to professional service providers and resources, friendly phone calls and visits, respite care, caregiver support, low vision assessment and free vision equipment, health care advocacy, shopping for and delivery of medical equipment, holiday gifts for seniors, educational events, social events, defensive driving refresher class, help navigating home care options, exercise classes and groups, knitting and crocheting group, reading buddy program with third grade students
Donations accepted for services
Help At Your Door
651-642-1892, helpatyourdoor.org
Serves seniors and those with disabilities residing in Anoka, Carver, Dakota, Hennepin, Scott, Ramsey, and Washington counties
Transportation, exterior home maintenance and repair, interior household cleaning and chores, grocery delivery (includes putting items away)
Pay per service (sliding scale for transportation and grocery assistance)
Highland Block Nurse Program
2076 St. Anthony Avenue, St. Paul, 651-696-8425, ourladyofpeacemn.org/highland-block, [email protected]
Serves residents age 65+ and their caregivers of the Highland Park neighborhood and the Macalester-Groveland neighborhood south of St. Clair Avenue and east to Lexington Parkway
Transportation, grocery shopping, errands, in-home assessment, foot care, in-home nurse and home health aid visits, respite care and caregiver support
Pay per service (fees are negotiable and on a sliding scale)
Jewish Family and Children's Service of Minneapolis
5905 Golden Valley Road, Golden Valley, 952-546-0616, jfcsmpls.org/our-services/senior-services, [email protected]
Serves older adults and caregivers
Garber Transportation (for those living in a defined area of Hennepin County), shopping services (transportation and a shopping companion), care coordination, caregiver coaching, Alzheimer's and dementia services, caregivers conference, memory café, kosher Meals on Wheels for age 60+, care planning consultation, and Holocaust survivor support services
Pay per service (on a sliding scale)
Keystone Community Services
2000 St. Anthony Avenue, St. Paul, 651-645-0349, keystoneservices.org/seniors, [email protected]
Serves seniors in the community
Care management, health care counseling, foot care clinic, Block Nurse services in St. Paul's West 7th neighborhood, Meals on Wheels with friendly visits at delivery, food shelves, grocery delivery for low-income seniors and adults with disabilities, tax assistance, social activities, book club and word games, craft groups, exercise and fitness classes, wellness and educational programs, volunteer opportunities
Fees for some services
Longfellow Seward Healthy Seniors
3131 Minehaha Avenue, Suite A, Minneapolis, 612-729-5799, lshealthyseniors.org, [email protected]
Serves seniors residing in the Longfellow, Seward, Cooper, Howe, and Hiawatha neighborhoods of south Minneapolis; also limited outreach in Cedar-Riverside and Ventura Village neighborhoods
Limited transportation to local medical appointments, food distribution and delivery, social and health talks, exercise classes, blood pressure checks, clinics, in-home nurse visits, friendly visits, seasonal yardwork and outdoor chores, chore assistance, shopping, caregiver support and education, respite, foot care, vision assessment, fall prevention and rapid screen assessments, advocacy and referrals, diabetes support group, technology clinic, art classes, social events
Fees for some services
Mill City Commons Village
125 Main Street SE, Suite 339, Minneapolis, 612-455-3329, millcitycommons.org, [email protected]
Serves any age; focuses on those age 55+ residing along or near the downtown riverfront
Technological assistance, service referrals, volunteer opportunities, interest groups, social, educational, cultural and fitness programs (some programs require a nominal fee)
Membership: $650 annually per individual; $1,100 annually per household; reduced fee memberships available
Neighborhood Network for Seniors
1895 Laurel Avenue, St. Paul, 651-646-2301, neighborhoodnetworkforseniors.org, [email protected]
Serves residents age 65+ (and their families and friends) of the Merriam Park, Summit-University, Lex-Ham, Snelling Hamline, and Macalester-Groveland (north of St. Clair Avenue) neighborhoods
Transportation to medical appointments, technology assistance, paperwork help, occasional yard work and snow shoveling, home chore assistance, pet care, plant care, grocery shopping help, meal preparation, home safety checks, in-home health assessment, falls prevention, care package delivery, respite care, in-home foot care, blood pressure checks, service referrals, friendly phone calls and visits, education seminars, exercise and balance classes
Low-cost fees for some services
Nokomis Healthy Seniors
4120 17th Avenue S., Minneapolis, 612-729-5499, nokomishealthyseniors.org, [email protected]
Serves senior residents of the Bancroft, Bryant, Corcoran, Diamond Lake, Ericsson, Field, Hale, Keewaydin, Minnehaha, Morris Park, Northrup, Page, Regina, Standish, and Wenonah neighborhoods in the greater Nokomis area of south Minneapolis
Transportation, grocery pickup and delivery, grocery shopping and errands, minor household chores, nursing clinics, blood pressure clinics, foot care, support groups, referrals to community resources, friendly visits, book club, interest groups, health education programs, exercise classes, and social events
Low-cost fees for some services or activities; donations accepted for some services
North East Seniors for Better Living
1961 Sherwood Avenue E., St. Paul, 651-808-1901, neseniorsforbetterliving.org, [email protected]
Serves seniors who reside in St. Paul's Greater East Side, Maplewood, and North St. Paul (see service area on site)
Transportation, light household maintenance and repair, yardwork, gardening help, doorstep deliveries, housekeeping help, memory café, lunch and learn, wellness programs, care coordination, friendly phone calls and visits, and social activities
Fees for some services
North End-South Como Block Nurse Program
727 Front Avenue #118, St. Paul, 651-487-5135, nescbnp.org, [email protected]
Serves seniors residing in District 6 and the Frogtown neighborhood north of University Avenue and east of Dale Street in St. Paul
Transportation, errands, yardwork, help with household projects, seasonal outdoor chores, technological assistance, pet care, friendly phone calls and visits, exercise classes, blood pressure checks, referrals to nursing care, homemaker/companion services for a fee (meal preparation, laundry, light housekeeping, errands, respite care), movie Fridays, pen pal program with elementary school students
Fees for some services; volunteer services are free
Northeast Senior Services
4458 Reservoir Boulevard, #220, Columbia Heights, 612-781-5096, neseniors.org, [email protected]
Serves residents age 60+ of Columbia Heights, New Brighton, Northeast Minneapolis, and St. Anthony Village
Transportation, health insurance counseling, referrals to professional service providers and community resources, senior housing information and tours, seasonal outdoor chores, minor home repairs, housekeeping, friendly phone calls and visits, companion after eye surgery
Fees or donations for individual services
Roseville Area Senior Program
1910 County Road B West, Roseville, 651-604-3520, isd623.org/rasp, [email protected]
Serves older adults and those with disabilities
Transportation (rides to medical appointments from volunteer drivers—donations accepted), referrals to community resources, drop-in lounge, craft shop, foot care clinic, health insurance counseling, caregiver support group, service coordination, free hearing screening and hearing aid cleaning and check, in-home assessment, defensive driving classes, friendly visits, volunteer opportunities, lunch café, Meals on Wheels, social activities, interest groups, educational, health and wellness groups and classes
Fees for some classes and services
St. Anthony Park Area Seniors
2200 Hillside Avenue, St. Paul, 651-642-9052, sapaseniors.org, [email protected]
Serves residents age 60+, and their caregivers, of the St. Anthony Park neighborhood of St. Paul, Lauderdale, and Falcon Heights west of Cleveland Avenue (see service area on website)
Transportation, errands, technological assistance, paperwork assistance, friendly visits, respite care, service referrals, caregiver support group, in-home foot and nail care by nurse (fee), handyman visit (fee), help with household projects and chores, seasonal lawn and garden help, exercise classes, blood pressure clinics, educational presentations, social activities, home safety checks, tools for the vision-impaired, partnership with Speedy Market for free delivery
Fees for some services
Southeast Seniors
22 Malcolm Avenue SE, Suites 124 & 125, Minneapolis, 612-331-2302, seseniorsmpls.org, [email protected]
Serves residents age 65+ of Southeast Como, Marcy Holmes, Prospect Park and Nicollet Island/East Bank in southeast Minneapolis
Transportation, friendly phone calls and visits, grocery shopping assistance, free wellness clinics including blood pressure checks, home assessment and follow up visits, in-home nursing services, caregiver support, respite visits, referrals to services and resources, assistance completing forms, home and yard chores, library book delivery, book club, pen pal program with elementary school students, Connection Club with UMN students, and social and educational activities
Fees for some services
Thrive at Community Thread
2300 Orleans Street West, Stillwater, 651-439-7434, communitythreadmn.org, [email protected]
Serves older adults and those with disabilities residing in the Stillwater Area Public School District (ISD 834)
Transportation, indoor and outdoor home projects, yardwork, housekeeping, friendly phone calls, Community Thread library, coffee and treats on-site, Connector Loop bus, referrals to professional service providers and community resources, health insurance counseling, clubs and activities, group outings, social, educational, and wellness events
Membership options beginning spring 2022: either modest membership fee with sliding scale, or fee-for-service non-member option