Last updated December 2017
For thousands of years, humans have danced to celebrate, mourn, or, in the case of Zumba, shake off calories. There are nearly as many ways to learn how to groove and move as there are types of choreography. You can choose one-on-one lessons at a traditional dance studio (think a soon-to-be-married couple learning to waltz at Arthur Murray) or learn to salsa, maybe for free, at a local club. Whether you want to study up on Argentine tango or learn Zydeco, here are tips on how to get in step.
Determine what kind of dance you want to learn. You can break fancy footwork roughly into three categories: social dance (ballroom, country-western, Latin, square dance), performance (ballet, tap, modern), and recreation/exercise (Zumba, belly dancing).
Save Me a Waltz: Social Dance
Did Dancing with the Stars make you want to learn the cha-cha and the tango? Or do you and your lead-footed fiancé need a few pointers on making the first dance at your wedding spectacular, not sad? You'll need schooling in social or partner dancing.
If you want to learn just a few showy steps, consider signing up for a few private lessons with your partner. You'll get one-on-one tips from a pro and, if you want, choreographed moves for a memorable, Instagrammable first waltz. The downside: You won't gain experience dancing with more than one person, and private lessons are more expensive than group classes.
For wannabe Fred Astaires or honky tonkers, group lessons provide instruction and drive home the social aspect of social dance, as you're likely to switch partners. The idea? Turns around the floor with people of varying skills make you a better dancer, especially if you're lucky enough to pair with someone experienced.
To find a studio or instructor, start by reviewing ratings here at Checkbook.org. (We regularly survey our subscribers, Consumer Reports subscribers, and randomly selected other consumers.) Also check out USADance.org, a nonprofit organization with affiliated social dance chapters across the country. Chapter websites list local events and dance studios, most focused on ballroom and Latin choreography, though country and western shows up in some places. Community colleges, recreation centers, and YMCAs often offer feature dance classes, too. And don't overlook dance halls and nightclubs: Many offer free lessons and a chance to cut a rug with dancers who know paso dobles from rock steps. And while we don't necessarily condone boogieing while buzzed, there's no question that a drink might drown out some choreographic inhibitions.
To evaluate a class or instructor, ask about teachers' credentials. How many years have they been leading classes? What are their educational dance backgrounds? Ask if you can take a free lesson before signing up for any series you have to pay for. Avoid signing long-term memberships until you've participated for a few months; many dance studios make a lot of money off customers who join for a year but soon lose interest. When trying out a studio, class, or lesson, evaluate whether the teacher is clear with instructions, demonstrates moves clearly, and answers questions easily.
Curtain Calling: Ballet, Tap, and Other Showy Stuff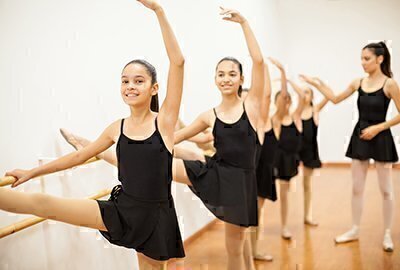 If you're reading this section, chances are high you're shopping for classes for your kid. Whether little Madison or Micah dreams of joining the Joffrey. or you'd just like them to acquire some poise, the requirements for these kinds of schools are similar. Many studios also offer classes for adults. You can use the tips below to evaluate them, as well.
First, ask for referrals from other parents—they'll often have invaluable insight on teachers, facilities, and how often your little darling can get his or her "I wanna be a star" on at recitals. Also check in with the professional ballet or modern dance companies in your area, since many feature classes for children and adults—which can sometimes mean bit parts in productions (think pirouetting sweets in "The Nutcracker."). Dance organizations that don't operate their own schools can often steer you toward good instructors in your area.
Once you've found a few options, ask to observe a class or have your child participate in one. Is the instructor clear? Is he or she informative without being too strict? And, most important, did your child enjoy it? Find out about performance schedules if you're interested in that, and ask to see video of classes, performances, or competitions online.
Don't worry too much about fancy facilities; while you certainly want a clean, well-lighted place, some studios save money and keep fees lower by having barebones digs and great instructors.
Shake Your Groove Thing: Dancing for Exercise
Latin-inspired Zumba. Hip-swiveling belly dancing. Good 'ole Jazzercise. Ballet-inspired barre exercises. Dance classes that double as workouts get people moving—and keep calories burning.
You can dip your twinkle toes into such fitness/fun classes at local fitness centers, at devoted dance studios, community colleges, recreation centers and YMCAs, and spaces like churches and libraries. Your most expensive choice is usually a devoted or boutique dance studio. Like yoga studios, these places generally charge high single-class or monthly fees—as much as $30 a session and $200 or so a month. That strikes us as a ballroomful of money, but fans may like the personal attention and often-sleek digs. You're likely to get a better deal with community college sessions or by joining a fitness center, rec center, or YMCA that offers the kind of dance classes you're seeking (and the chance to try out new dances as they come down the pike).
Sample a range of classes and teachers to find something you enjoy. In all styles of dance, look for instructors who have modifications for injuries or different abilities; if you have gimpy knees, you don't want to do much Bollywood-inspired bouncing in an Indian choreography class. And know that any time you try something new—especially something that requires hand-eye coordination to music—it may take a few sessions for you to feel comfortable.
Also know that, unlike other kinds of choreography instruction, these sessions are relatively "monkey see, monkey do," with teachers demoing moves and giving hand cues in place of excessive verbal instruction. You usually can achieve the same experiences by watching videos online for free.