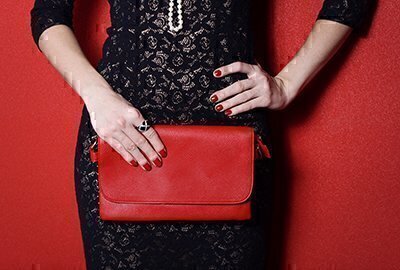 You rent a car when you fly to another city, stream rental movies from Amazon, and use the local bike share to zip around town. So why not rent parts of your wardrobe, whether it's to keep costs down at a formal event or just to shake up your day-to-day look? Overall, these services might provide the best value (and style) for maternity wear or special-occasion clothing: black-tie gowns, bridesmaid dresses, even spendy diamond earrings fit for a ball. There are multiple websites where you can, like Cinderella, borrow finery and give it back, for a price.
So how do you use these and not spend too much, or wrack up fees for damages?
Know that all of these services clean garments or accessories before and after you use them, ensuring no cooties from the last customer remain.
Read the fine print on damage and replacement fees. Some places will make you pay the full retail price (high-end Armarium and accessories site Bag Borrow or Steal) if you mess something up; other services offer insurance ($5 at Rent The Runway covers minor stains and rips) or more liberal policies (plus-size rental biz Gwynnie Bee's website says, "you will NOT be held accountable for normal wear and tear.") Just know what to expect before sporting for-hire stuff to an all-you-can-eat spaghetti party, and be hyper careful if you rent something expensive, like diamond earrings.
For special occasions, give yourself plenty of lead time. Rent The Runway offers a nice selection of party and daywear, but popular cocktail dresses can be booked months in advance for wedding season. Rent early to assure you get what you want off their rack on your back.
Know that a few of these sites (including Le Tote and The Ms. Collection/The Mr. Collection) won't let you see what you're renting before it arrives in your mailbox. It's similar to popular clothing-buying site Stitch Fix, in which a "stylist," working from a bunch of questions you answer, picks items for you to consider purchasing. Some people enjoy the surprise, others don't.
Check the time terms of the rental; some sites aimed at special events lease out clothes for four to eight days, others let you keep things until you feel like returning them.
Everyday Options
Gwynnie Bee: Women's clothing sizes 10 to 32W is for rent on this website, where subscribers have the option to purchase things they like or send them back to trade in for new pieces an unlimited number of times monthly. GB lists a range of recognizable, department-store brands like Levi's, RACHEL Rachel Roy, and plus-size fav Kiyonna. Monthly rates: $49 for one item, three items for $95. Prices seem a little high, but the quality is good. GB also could be a nice option for people who fluctuate between sizes.
Le Tote: With this monthly subscription service, women pay $39-$69 to receive as many "totes" of work and casual clothing or maternity wear as they like. Each "tote," er box, holds three to five garments and accessories; keep and wear the items for as long as you want, then either buy them at a slight discount from retail or return them and get another tote. Items in your haul might include a BCBG floral blouse (retail cost $78) or Kate Spade studs that look like snakes (retail $68). The best deal might be the maternity wear, which lets you rotate through items and then not have to keep a bunch of preggo clothes after Junior arrives. Mom-to-be options: Ripe's lace-yoked dress (retail $118) and Tart Maternity's striped black-and-white
skinny pants (retail $98).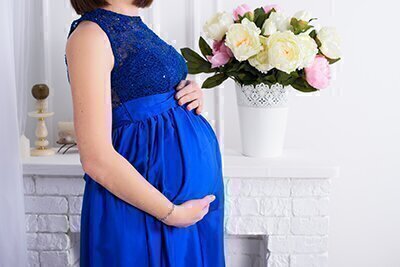 The Ms. Collection/The Mr. Collection: For $49-$113 a month, these his-or-her websites send chicks or blokes three to six items that team stylists (Or are they bots? Hard to tell.) choose based on a style quiz you take. You can then wear them as much as you want until you decide to either buy them (at 40 percent off retail) or ship them back. Packs are a surprise. Brands include Vince Camuto for women and Original Penguin for men.
Special Occasions
The Borrowed Boutique: Does your little prince or princess need a fancy outfit for a wedding, photo session, or other special
event? This site leases dressy togs for kids from infant to tween. Items listed include Tutu Du Monde tulle-skirted dresses for toddlers ($45-$53 for 4-8 days, retail $200) or Stella McCartney's little boys' Napoleonic-cool military jackets ($40-$60, $200 retail).
Borrowing Magnolia: Second-hand, designer wedding gowns (still white thanks to the magic of dry-cleaning!) are for rent or purchase. Rentals cost 30 percent of the retail price, meaning $500 for an Alfred Angelo strapless number or $1,725 for a Vera Wang merengue of a dress. Sizing is limited to what other people have consigned or sold, but there's a handy sizing tool (enter your size, wedding date, age, etc.) that we tried out; it spit out literally dozens of dresses for us to consider. Find three you want to try on, and the company ships them to you for $98, which is deductible from your rental fee if you decide to say "I do" in one of them.
Rent The Runway: Known for glam party frocks and work clothes by mid- to high-level designers, this internet and brick-and-mortar biz leases out women's clothing in four-to-eight day increments. Sample prices: $170 to rent a $1,140 Peter Pilotto cocktail dress for 4 days; $35-$45 to hire a Free People maxi skirt for four to eight days, retail value $128. Rental also includes a backup size in case the first one you try on doesn't work.
There are also two monthly subscriptions: One, for $65, includes a single four-day rental and any additional rentals are $65 flat; the other, for $139 includes unlimited rentals. The biggest caveat: If you're looking for something special for a wedding, prom, or black tie, reserve a long time in advance: We tried to reserve a black-tie dress three months before a fictional summer party and had to resort to our third choice (an Allison Parris cobalt gown, $95 for four days, retail value $485).
Union Station: More than a dozen styles of bridesmaid dresses in hues from fuchsia to grass green star on this site aimed at wedding attendants fed up with buying spendy frocks they never wear again. For $50-$75 a pop, maids can rent a variety of long or short styles. Since every dress is made the same kind of crepe fabric, a wedding party can choose different styles and still match well. The bride or her attendants just need to reserve dresses three months in
advance to guarantee availability. Sizes go from 0 to 1 and
come in two lengths.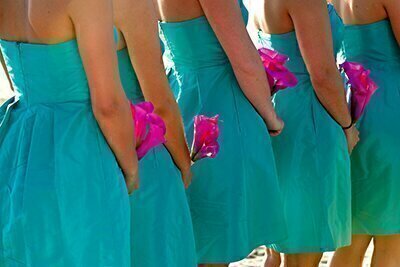 Vow to Be Chic: Has any woman ever worn a bridesmaid's dress a second time? Maybe, but most former attendants get rid of their frocks quicker than the cell phone number of that drunk groomsman they made out with at the reception. This site saves maids money and brides hassle by renting bridesmaid dresses (and informal wedding gowns, like short white numbers) from stylish designer brands like Amsale and Monique LHuillier ($200-$300 retail) for $89-$99. Sizing goes up to 18 or XXL, too.
The Fancy Stuff
Armarium: This New York City-based company dubs itself "luxe
on loan." You can rent a sequined cocktail dress by designer to the socialites-and-stars Naeem Khan for $825 (retail $8,490) or a metallic Pucci turtleneck for $100 (retail, $1577). There aren't a huge range of sizes, but the site will tailor things to fit you.
Bag Borrow or Steal: Pretend to be a wealthy socialite by renting designer bags by the month. Prices range from $50-$600 a month. Highlights: a yellow Balenciaga city satchel ($250 a month, retail $1,500), Chanel quilted chain bags ($425-$600, retail prices in the thousands).
Haute Vault: Movie stars borrow diamonds for the Oscars, and, for some cash, you too can hire spendy bling for a wedding, special event, or just to impress someone at your high-school reunion. After a credit check, you can either become an annual member ($250-$500) to receive three items at a time or you can lease out pieces individually. Examples of for-hire embellishments: a $12,000 Rolex, for rent for $325 a week; $50,000 diamond and emerald earrings for $900 a week.