Last updated February 15, 2022
As newly minted homeowners, my husband and I have finally settled in enough to catch our breath and wonder, "What happens to this house and everything in it if one of us dies?"
Most Americans don't have even simple wills, so we're in good company. But after Checkbook published our updated advice on estate planning tasks and tips, I read it, sighed, and thought, "Well, I don't want to shell out hundreds of dollars to hire someone to help us write our wills and advance healthcare directives and whatever else we need. I'd rather fix up our haunted basement bathroom! I'm going to deal with this myself."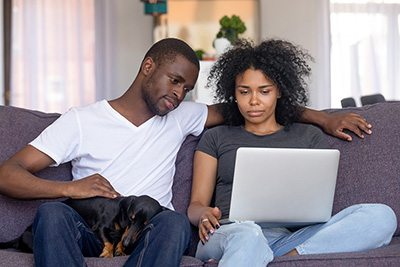 Fortunately, because our finances are straightforward (no kids, no pets, no out-of-state property ownership), we can DIY our wills and other must-do planning documents. And there are several free or low-cost online estate planning solutions available to budget-conscious folks. Below is a rundown of some popular resources I checked out.
Keep in mind that we needed just simple wills and advance healthcare directives. If you have young children, make sure to state your wishes for their guardianship—and secure permission from whomever you designate. Ditto for pets. And if you own real estate (especially if you own rental property), own a business, or are worried there might be a dispute over who gets your stuff after you die, read Checkbook's full estate-planning advice—and consider getting help from a pro. But no matter how you complete this work, it's better to have some form of plan in place than no plan at all.
*****
This aptly named site offers a free tool that asks for various pieces of info to generate a last will and testament, living will (advance healthcare directive), durable financial power of attorney, and beneficiary plan.
Since FreeWill partners with nonprofits interested in receiving bequests, the site has a heavy focus on charitable giving—it's the third tab as you work your way through filling out a last will and testament.
All told, I found the site offered a straightforward process I could easily complete during an afternoon. I also saw some nifty features—for example, as soon as I clicked the button indicating I'm married, a dialogue box popped up saying the site would give the option to create a "mirror will" for my husband, should we have similar wishes. That's a smart feature: As Checkbook notes in its full estate-planning advice, it's better for married couples to prepare separate wills.
The downside to the site is that, unlike the two other services I explored, FreeWill doesn't offer a way to check with an attorney if you're unsure about something.
This website provides access to templates and advice to help create various legal documents, including those for business contracts, LLC formations, nondisclosure agreements, lease agreements, sales contracts—plus wills and living wills, power of attorney, power of attorney for a child, and trusts. It also offers access to on-staff lawyers who answer legal questions via email or phone.
Rocket Lawyer uses a subscription model. For $39.99 per month you get to use its document-creation tools and ask its lawyers questions online. If you need to chat with an attorney via phone, you'll get 30 minutes for each new legal matter; after that, attorneys are supposed to offer a 40 percent discount off their usual rates.
You don't have to subscribe to prepare documents and ask questions, but the service's costs for non-members rack up fast: $39.99 per document; $49.99 for each question; $59.99 for a 30-minute consultation.
Rocket Lawyer offers a seven-day free trial, during which you can create up to three documents and ask an attorney one question. If you decide not to continue with a paid membership after the trial, or if you cancel your membership down the road, your documents will remain available online.
At first, I found the website's layout confusing: Under an "Estate Planning" link, Rocket Lawyer lists four "popular documents," but after clicking on the categories displayed to the left of them I found more templates. How do I determine whether I'm filling out all the necessary paperwork? Finally, after much clicking around, I found estate-planning checklists and FAQs, which helped me figure out everything I needed.
Rocket Lawyer does provide sufficient warnings that if you have a large or complicated estate, or if you think someone may challenge your will, you're best off hiring a lawyer to help.
Once I identified my needed documents, I found it easy to answer the site's online questions to build them. I also liked having an incredibly inexpensive way to ask attorneys quick questions, since the template used much more legal jargon than FreeWill. After I submitted a question about assigning co-executors through the "Ask a Lawyer" chat box, I received a helpful answer less than four hours later from a lawyer who practices in my state.
Like its Rocket Lawyer rival, LegalZoom offers a variety of legal documents, including templates for estate-planning tasks.
LegalZoom offers templates à la carte or in bundles. If you need multiple documents—and you likely will—a bundle is a better bargain. It charges $179 for its "Last Will Estate Plan" ($279 for a couple), or $329 for its "Living Trust Estate Plan" ($379 for a couple). Each of those options comes with one year of its "Attorney Assist" program that lets you ask lawyers in its network questions related to estate planning work, including having them review documents you create.
LegalZoom offers a 60-day refund period, during which it will reimburse any fees you've paid it if you're not satisfied.
Compared to FreeWill and Rocket Lawyer, this service's focus is much more on providing access to advice from legal professionals—the site encourages customers to have conversations with its attorneys early and often. If you need that advice, LegalZoom for sure provides a pretty inexpensive way to get it; but since we have a straightforward financial situation and needed to prepare just basic documents, I decided the other DIY options were better fits.