Last updated November 2017
Congrats! You're getting married/just had twins/got a new job—all events or changes that require photos—and better ones than you can snap with your phone. So how can you find, and work with, a pro shooter who will get you great images at a good value? Here are our tips on hiring a shutterbug.
Get Referrals from Friends
Ask friends and family for recommendations of photographers they've worked with and liked. Our customer reviews of photographers also might help you find good prospects.
Check Portfolios
While the internet can overwhelm you with wedding and event ideas (so many Pinterest barn-themed weddings), it can help you check out the work of potential photographers for your big day or big portrait shoot. Most photographers have online portfolios. Do you like the style (photojournalistic, whimsical, formal)? Are the images well-composed and crisp? Do the shots capture people looking relaxed, happy, and most important, good? Skill with a lens and light mean nothing if the photographer can't get you, your baby, or even your pooch to look their best in the frame.
You can use online directories to search portfolios of lots of local photographers. The websites of the Professional Photographers of America and the Wedding Photojournalist Association will provide you with lots of prospects. But keep in mind that plenty of great photographers don't bother to pay dues to join these groups or buy ad space on other popular sites.
Zero in on Their Specialty
Many photographers are jacks-of-all-trades, switching lenses to capture landscapes, little kids, or your extended family on the beach. But others focus on a particular sub category, from those cash cow weddings to pets. Since some studios and pros have special equipment (sets and props for little kids to pose in, backdrops for cats/dogs/guinea pigs), they're worth a look if you have very specific needs.
Check References
Ask for references from two or three recent clients, preferably those who hired for events similar to yours. Then get in touch and ask about the photographer's work. Was he or she polite and prompt? Were they happy with the quality of the work?
Set Up a Meeting
If you're simply having new headshots done, you can probably hire a photographer via email or after a quick phone chat. But before committing to paying $3,000 or more for wedding photography or spending hundreds on a family portrait session, try to meet in person to make sure you click with them and see more of their work.
Get Several Price Quotes
Some photographers work by the hour, but most work via a package rate. That might range from $150 to have a few new headshots done to $10,000 or more for a high-end wedding package with video, lots of photo editing, and multiple photographers at your event (more costly, but a boon if you want lots of candid images at a variety of angles). Be sure to outline what happens if your event or shoot runs longer than planned; most photographers will charge extra time by the hour, and you'll want that rate in writing.
Ask About Editing
With rare exceptions, pro photographers spend a good deal of time editing images—correcting colors, removing blemishes, choosing the best shot from a series of images. Find out how much time they'll devote to that, how many images they'll present you to choose finals from, and if you'll have the right to ask for further improvements if you aren't happy.
Who Owns the Images?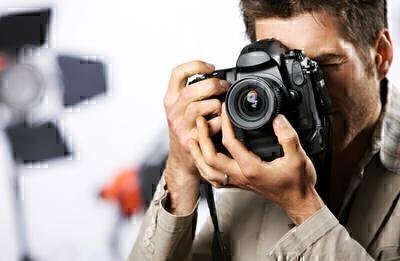 In the old, film-only days, photographers usually kept the negatives from their shoots, hoping to sell clients additional prints or photo albums later. For an extra fee, some allowed their customers to purchase negatives.
Most photographers these days provide digital files to customers, or allow them to purchase the rights to them, but be sure your contract stipulates what you get. Also ask about policies for posting images on social media. If the photographer retains his or her copyright, ask for a permission statement. Usually, you'll in turn agree to credit the pro when you post images.
Ask About Additional Services
Drone cameras, photo booths, video—many photographers offer additional and unusual ways to capture your event.
Get It All in Writing
Whichever would-be Annie Leibovitz you pick, get a contract specifying services provided, date of event, what they'll deliver and when, copyright permissions and restrictions, and fees. Most photogs will ask for a small deposit to book an event; try to make that amount as low as possible. Much of working with a photographer depends on them A. showing up and B. delivering, so withholding payment is the best insurance that they'll do a good job. It's also a smart idea to have at least a short "shot list" describing particular subjects, people, or actions you want included in your session—it assures that, even during a busy wedding reception, the photographer remembers to get shots of Great Aunt Edna on the dance floor or the flower girl just being cute.