Last updated February 2018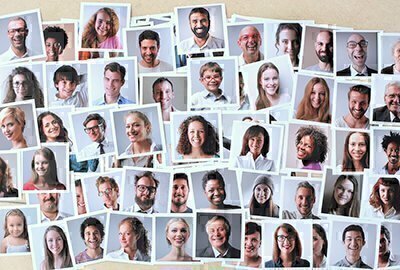 A good photo of your face isn't just for Hollywood stars or the recently incarcerated anymore. In the modern online world, a great headshot acts as a professional and personal calling card and branding device. They're a big part of how you promote yourself on professional and personal websites and platforms like career-building juggernaut LinkedIn, Twitter, or your own business site. A portrait that looks polished and approachable should help you get job interviews, clicks, or business. Here's what to do—and what not to do—to get a great mug shot.
Do: Consider hiring a professional.
Yes, the high-tech cameras and photo editing tools on smartphones mean you might be able to use a timer or a pal with skills to capture your smiling face. Use natural or bright indoor lighting, get lots of shots, and look at our tips below for ideas. But know that for relatively little money (as low as $150 in some markets), you can get half an hour or an hour with a pro photographer who can use their better equipment, fancy lights, and knowhow to make you look like Mr./Ms. Most Likely to Succeed. Their fee is also likely to include retouching and editing. See our section on hiring a photographer for ideas on finding one, plus ratings of local shutterbugs.
Don't: Wear a Loud Print, All Black, or All White
Most headshots are just that—an image of your face, shoulders, and neck. Don't distract from your visage with an overly bold print. Instead try simple, solid colors (yes, bright is fine) in medium to dark hues. Know that wearing all black can reflect dark shadows on your face (and make you look a little like an undertaker), and that all white is best confined to doctors.
Do: Wear Something That Fits Your Field
For most headshots, veer to the conservative side of your field. That's why lawyers of both genders should choose a well-cut suit, and design pros should go for a dress or jacket in a brighter hue. Choose items with simple shapes and no distracting necklines (too low, boatneck) or turtlenecks (which may make you look bulky). Ties and subtle necklaces are great; huge, puffy scarves or giant earrings are not. The idea is that the camera captures you—your eyes, your smile, your confident gimme-a-job expression—not your outfit.
Don't: Forget Grooming
If you go with a pro headshot service, you may be able to pay a bit extra for hair and makeup (makeup and hair zooshing for women; a bit of powder and combing for guys). Cameras tend to fade your features, so for women, this is one occasion when brighter blush, more foundation, and a bold lipstick look good, not garish. Just remember to err on the side of real tasteful, not "Real Housewives."
Do: Get a Lot of Options
Whether you DIY your shots or hire a pro, get multiple options to choose from so you can pick the best, most comfortable-looking photo. The desired effect: relaxed-yet-confident, someone that Company X or Client Z would gladly hire. Some packages allow for an outfit change or two, which is ideal if you own your own business (you might want different shots for different sections of your website or other needs) or need different roles (one business-y shot for your LinkedIn profile, a dressier option for your work on a museum charity). Some photogs also specialize in shooting dating profile images.