In most parts of the U.S., in-person concerts, plays, and sporting events have roared back from coronavirus closures. Unfortunately, that's caused a steep rise in ticket prices. But part of the reason seats cost so much is that most transactions are run by Live Nation-Ticketmaster, which holds a de facto monopoly on the industry. A 2016 report by the New York Attorney General's office found that the company effectively releases fewer than half of tickets for popular concerts to the general public, creating artificial demand—and frustrating consumers who spend hours waiting in virtual lines only to end up empty-handed, left to buy from brokers who scooped up most of the tickets.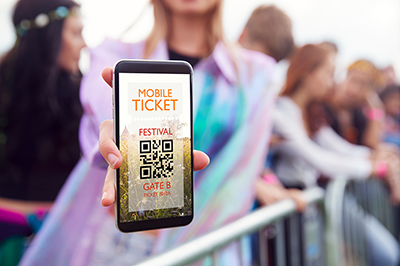 While you're unlikely to find great deals on seats to Lady Gaga's latest tour or this year's hit musicals, there are tricks that can score you discounted seats (or standing-room spots) to plays, concerts, and sporting events.
Be an Usher
Many theaters and seated concert venues rely on volunteer workers. Policies vary from venue to venue, but you can usually expect to see the show you work at for free (though you might land in standing room) or earn a credit toward one seat to another show. Bonus: You'll meet like-minded culture vultures. To find out whether your favorite venue has a program like this, hit its website or call the box office; you'd be surprised how prevalent this arrangement is.
There's an App for That
In New York City, you can still stand in line near Times Square to buy discounted theater tickets. But now people in other cities can get in on the how-low-will-the-show-go? action via a pair of apps and websites. TodayTix.com offers discounted (and full-price) seats for plays, operas, and comedy gigs in 15 metro areas (although unfortunately not yet in the Twin Cities area). As its name suggests, you can score a last-second seat or buy a ticket weeks in advance. Many tickets are sold at face value, but it often offers discounts (25 to 50 percent off) for small venues.
Goldstar.com is a nationwide discount broker selling tickets to concerts, plays, tours, and an array of quirkier events like food-truck festivals. It even posts occasional comps, though they're most likely to smaller events or things like neighborhood walking tours, not Elton John's last, last, last—no, really!— last-ever tour.
Previews and Dress Rehearsals
For theater or opera shows running for weeks or months, many venues offer lower-priced tickets for some of the first performances (aka "previews"). Deals range from a small percentage off—say, 20 percent—to pay-what-you-can nights. The idea is that while the cast and crew are still learning their cues, you'll generally take in the same quality show you'd see later in the run, but at a discount.
Less common but still occasionally on the marquee: free dress-rehearsal tickets, which can offer an insider view of theater performances or operas.
Fan Clubs
Most venues and performers have email mailing lists. Sign up and you'll get early notice of tickets and occasional special deals. Many bands have fan forums on their websites, too, where you can sometimes nab discounted tickets.
Ticket Brokers and Craigslist
If you want to attend a sold-out event, you can score tickets via offers from online brokers on SeatGeek.com, StubHub.com, Ticketmaster.com, Vividseats.com, and others. High-demand tickets are almost always sold for higher than their face value, and you'll usually have to pay additional junk fees, too, although one site, TickPick.com, doesn't charge service fees.
The lowest prices usually are offered by individual sellers on Craigslist. Just beware of crooks—if possible, pay with a credit card to protect yourself.
For shows and games that don't sell out, brokers and individual sellers will slash their prices. A good place to evaluate deals from different brokers is Ticketwood.com, which lets you compare prices across multiple resale sites.
Subscribe
You usually can get a 10 to 20 percent discount by buying season passes to a symphony, theater, or dance company.