Finding the Right Car Detailer
Last updated November 2022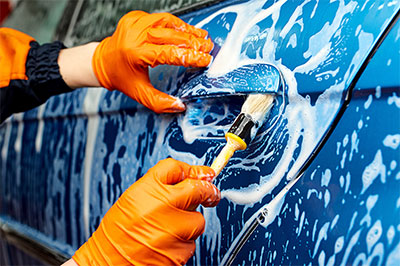 For motorheads, a spotless vehicle is next to godliness. But even ordinary commuters and carpool chiefs can take joy in a newly cleaned ride. For less than $250, a detailing shop can cleanse your family's sloppy sins and transform your ride, inside and out, leaving it looking used-car-lot new.
Our Ratings Tables report how area consumers we surveyed rated auto detailers. We primarily surveyed Checkbook members, but also invited other randomly selected consumers to provide ratings.
We asked customers to rate services they've used as "inferior," "adequate," or "superior" on questions such as "doing work properly," "promptness," and "overall quality." For companies that received 10 or more ratings on our surveys, our Ratings Tables report the percent of each service's surveyed customers who rated it "superior" (as opposed to "inferior" or "adequate") on each of these questions. Click here for further discussion of our customer survey and other research methods.
While some detailers received "superior" ratings for "doing service properly" from more than 95 percent of their surveyed customers, others received "superior" ratings from 75 percent or less.
Our Ratings Tables also show counts of complaints we gathered from the Better Business Bureau (BBB) for a recent three-year period and the number of complaints on file with local government consumer protection offices for a recent two-year period. Click here for more information on reported complaint counts.
You can also perform some quality checks on your own—
If you're considering a brick-and-mortar shop, rather than a mobile operator, you can evaluate its work by asking to see other customers' detailed cars. If they look unsatisfactory, ask the shop what it can do to meet your expectations. If your car is in particularly bad shape, ask the shop what problems it can and can't solve.
Also assess the shop's cleanliness and orderliness—a messy, unorganized facility may be a sign of sloppy work.
Ask whether the shop uses a three-step polishing process—polishing, buffing, and waxing—or the less effective one-step one.
Ask how they clean carpets. Most use hot-water-extraction equipment, which is usually the most effective method; if not, ask it to describe, or show, its protocol.
Ask how long the service will spend detailing your car. A company that takes only an hour or so probably isn't providing the same service as those that take half a day.
Ask for proof that the company carries current liability insurance to cover the cost of repairs to your car if it's damaged.
Make sure the operator of a mobile detailing service is following Environmental Protection Agency rules, which require operators to use a runoff reclamation system. These systems place a mat under the car to capture all water runoff during washing. After washing, the runoff is sucked up from the mat back into the detailer's water tank.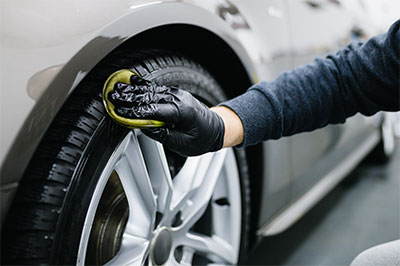 Because most services will quote prices for basic detailing jobs over the phone, it's easy to compare prices. For the companies listed on our Ratings Tables, we've done some shopping for you. Our undercover shoppers asked each business for its prices for a basic detailing of two sedans, a minivan, and an SUV; the table below illustrates the range of prices we found. The price comparison scores on our Ratings Tables indicate how each company's prices compared to the average prices quoted for the same jobs. For instance, if one company has a price comparison score of $120, while a second company has a score of $100, it means the first company's quotes were 20 percent higher than the second company's.
Of course, the easiest way to save on detailing is to do the work yourself. Detailing equipment and products are relatively inexpensive and widely available at automotive supply shops, hardware stores, and discount retailers. When buying supplies, be wary of products that make grandiose claims about their effectiveness—for example, "Never wax your car again!" No wax will last more than six months or so, even under optimal conditions.