Watch Out for Auto Maintenance Highway Robbery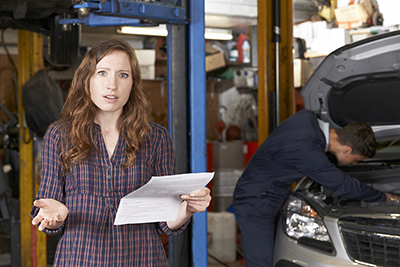 To keep your ride in good shape, you should follow your automaker's maintenance schedule. And if you have a newer car, failing to perform oil changes and other critical tasks can void your warranty. Unfortunately, we discovered that many shops charge astonishingly high prices for simple maintenance tasks, and some shops drove up costs by proposing to do additional unneeded work.
Consumers' Checkbook undercover shoppers called shops in the seven major metro areas with a simple question: How much would they charge to perform Toyota's recommended 30,000-mile/36-month maintenance on a 2020 four-cylinder Camry LE? We collected prices from 229 Toyota dealerships, independents, and quick-lube outfits.
The results were staggering. If we had driven our Camry under normal operating conditions, Toyota's recommendations called for doing a checklist of inspections plus four simple tasks: Change the oil; replace the oil filter; replace the cabin filter; and rotate tires. Yet some shops—29 out of 229 surveyed—quoted $400 or more to do that work; six said they'd charge more than $1,000; two Toyota dealerships quoted more than $1,400.
Fortunately, not all shops had such high prices—47 shops quoted prices less than $200. But for all shops, the average price to deal with our handful of simple tasks was still $288.
Here are some simple strategies for keeping your vehicle maintained without getting taken for a ride.
Package Prices Often Are Lousy Deals
Our researchers quickly learned that requesting prices for a "30,000-mile maintenance" session often meant higher costs than if they asked shops to quote costs to do only the four specific tasks recommended by Toyota, plus an inspection.
Some shops wouldn't give us a package price. Some said they would check our vehicle and perform Toyota's recommended tasks only if they were truly needed. Others didn't know our Camry's recommended maintenance and didn't seem interested in looking it up, including, inexplicably, a Toyota dealer. Still others, we were happy to see, explained that the recommended maintenance included only a few services, and they priced the work piecemeal. Shops with a la carte prices often quoted significantly lower costs than the shops that gave us package pricing.
That raised an interesting question: What would happen if we called back shops that quoted package pricing and this time simply asked for their prices for doing the four recommended items, plus a comprehensive inspection? After waiting a few weeks, that's what we did. The results were striking.
While many shops' prices were about the same or, surprisingly, even higher, about 40 percent quoted prices substantially lower than what they originally quoted when we asked for a maintenance package. For example, one Toyota dealer that originally quoted $740 as a package price later priced the work a la carte for just $244. On average, shops that quoted higher prices for packages were $125 less expensive when we asked about just the specific tasks recommended by Toyota.
Why did so many shops quote higher prices for a package? Perhaps shops know customers won't look up the work manufacturers require and therefore try to sneak in bigger bills. And the long inspections recommended by Toyota during these visits (checking windshield wipers, fluid levels, tire wear, brakes, etc.) might have added labor costs.
But when we asked shops to quote prices just to change the oil, replace air filters, and rotate tires, we found most shops would do most of the checks Toyota recommends for free. Often, we didn't even have to ask them to inspect the car; this was part of their usual service when doing oil changes. Only a small number of shops said they'd charge extra to inspect our car.
Even if a shop actually inspects every last item on Toyota's long list, it's hard to believe it would need to charge hundreds of dollars more for that work. After all, many shops are happy to take on maintenance work because it gives them the chance to prospect for repairs that will drive up the bill.
Watch Out for Shops That Recommend Unnecessary Work
Many of the higher-priced shops wanted to charge us for maintenance that went far beyond Toyota's recommendations for 30,000-mile service, such as flushing the radiator, replacing spark plugs and transmission fluid, performing wheel alignments and tire balancing, and even putting additives in the engine oil, coolant, and fuel system. Some shops insisted those extras were recommended by Toyota.
One Toyota dealer said its $627 package included $176 to change our Camry's brake fluid and $233 to clean the fuel injectors; neither is recommended by the manufacturer. Even more bizarre: One shop told us its $500 maintenance package included replacing our Camry's distributor cap and rotor—parts that haven't been used in cars in at least a decade.
Perhaps even worse, some shops' maintenance packages omitted recommended tasks. One tried to sell us a $798 smorgasbord that included pretty much everything except any of the four recommended items.
New Vehicles Require Very Little Maintenance—and EVs Need Even Less
While they can still break down, late-model vehicles need astonishingly little scheduled maintenance. Many models need oil changes only every 5,000 or 10,000 miles. For our Camry, at 60,000 miles Toyota recommends doing only the same handful of tasks as it did at 30,000 miles; at 120,000 miles, it recommends the same four tasks and adds only one: replacing the spark plugs.
Have an all-electric vehicle or thinking about buying one? EVs have far fewer moving parts than cars with internal-combustion engines—and because they have no oil to change, no spark plugs, fewer fluids to top off, and batteries needing very little maintenance, there are few maintenance tasks to do at all, aside from monitoring tire and brake wear.
Shop Around to Make Sure You Don't Overpay
Our ratings of auto repair shops will help you identify top shops.
Before collecting price quotes, look up the exact maintenance your vehicle's manufacturer recommends based on your vehicle's age and mileage. You can find this info on your vehicle's maintenance schedule in your owner's or service manual. Keep in mind there typically are separate maintenance recommendations for vehicles used in special operating conditions, such as on dusty roads or towing trailers. When requesting prices, don't forget to ask about any additional fees for giving the vehicle a once-over.
Also, Ask Questions
Ask shops about anything that seems unusual in your vehicle's maintenance requirements.
For our Camry, we noticed that Toyota calls for using an unusual viscosity engine oil, 0W-16, which the manual says is "the best choice for good fuel economy and good starting in cold weather." Given that the 2020 Camry was the top-selling passenger vehicle that year, we were surprised that some shops said they have never heard of 0W-16 and would use only the more common 0W-20. (Toyota says 0W-20 can be used if 0W-16 is unavailable, but it must be replaced at the next oil change.) Others said they would charge us extra for 0W-16 because it's more expensive (we found it online for less than 0W-20). Most disturbingly, one independent shop warned us that 0W-16 could damage our engine and asked our permission to experiment with 5W-30. From this we could only conclude that some shops are putting the wrong oil in their customers' Camrys.
Save a Bundle by Doing Easy Stuff Yourself
While most of us don't want to crawl under our cars to change the oil, many other maintenance tasks are easy and can save you a lot. For example, more than 100 of the shops we surveyed quoted at least $100 to replace our Camry's cabin and engine air filters (two wanted more than $200). In comparison, we found the filters online for a combined total of less than $25. Most drivers can do those tasks without any tools in 15 minutes or less. Other easy DIY tasks include swapping out windshield wipers and topping off fluids. There are scads of how-to videos online to show you how to do this work, no matter what vehicle you own.