Last updated November 2023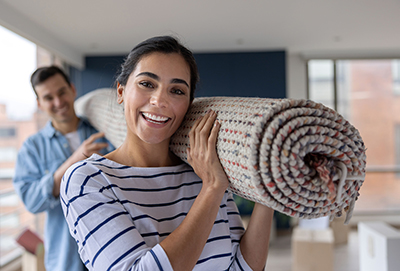 Many Arabian legends star magic carpets that do their master's or mistress' bidding, flying them to distant lands or zipping them away from evil genies—all, presumably, while providing plush seating.
An area rug—aka any carpet that isn't tacked or glued to the floor—can work a similar alchemy in your home. They add softness underfoot while still showing off your wood floors, and they absorb sound the way wall-to-wall carpets do. Plus, area rugs can be rolled up for cleaning, moving, or just when you want to change up décor.
No wonder wall-to-wall carpeting has gone from 60 percent of all floor coverings sold in the U.S. to only a third. "It's just not done that much anymore, except in basements and bedrooms," says Washington, D.C., interior designer Annie Elliott.
The old way of buying an area rug often meant haggling in person at an "Oriental rug" store that probably was advertising an endless 90-percent-off-going-out-of-business sale. But that business model is fading, thanks to the rise of internet retailers and an increasing interest in transparent pricing.
Still, a host of bad rugs are out there, in part due to sophisticated companies in India and China that can fake handmade textiles with machines and laser printing. "Today's rugs often fall into two major categories: 'short-life' rugs that will last five to 10 years, or 'disposable' rugs that you will have until your first spill, or after a year or two of foot traffic," says Lisa Wagner, a San Diego rug-cleaning expert who operates the informative blog "Rug Chick."
Here we unroll the dos and don'ts of shopping, from materials to size to why you get what you pay for with cheap rugs:
Do buy big
"A rug is only too big if it's crawling up your baseboards," says Elliott. She and other pros counsel getting a size that's large enough so that any furniture placed in the same space has at least one leg on the rug; otherwise, something in the room will look stranded. This is particularly important in a dining space, where chairs need to scoot in and out without falling off—and bunching up—the rug.
That said, you can purchase a smaller rug and layer it on top of a larger neutral one (say, a colorful Turkish kilim on top of a room-sized natural-tone seagrass model).
Do go for natural fibers
Rugs made with animal fibers—wool, silk, fur—tend to be easier to clean than synthetics. Fibers that are durable and washable in nature tend to be the same way in your home.
Don't go for cotton
If you need an indestructible rug, consider a polypropylene indoor/outdoor model. But skip any floor coverings (except maybe bathmats) that claim you can toss them in a washing machine. That means almost anything made of cotton. "Cotton is one of the hardest fibers to keep clean," says Wagner. "It shows soil quickly and requires constant cleaning." The same goes for synthetic fiber rugs (like Ruggables, which Wagner particularly loathes) that add microplastic to the environment and don't hold up well anyhow.
Don't rule out natural grasses
If you want an easygoing, inexpensive rug that isn't rough on the planet, seagrass, jute, and sisal are good options. They're usually sold in their own natural hues (tans, straws) and, depending on whose feet you ask, they feel nicely textured or a little too scratchy underfoot. "Plus, these are terrific options if you have a too small more expensive rug—you can just layer it over your sisal or seagrass," says Elliott.
Do consider your style of pile
Area rugs, like wall-to-wall carpeting, come in a range of pile heights and textures. For ease, you might think of them as being in three categories. There's wild and wooly shag with higher tufts and a more sheeplike texture, as in many Moroccan rugs and flokatis. Medium pile means tufts that are about an inch long, as in "Oriental" or Persian varieties. Flat weave is what it sounds like, as in Turkish kilims or Indigenous American rugs. What you choose is, firstly, a matter of personal style as well as what you'd like underfoot. Shags tend to be a bit more modern, Persians read a bit more traditional. Flatweaves are the easiest to care for (vacuums love them) and can come across as a bit more casual in your space—think California cool or Southwestern rustic.
However, if you have pets, super-fuzzy rugs can be more tempting to chew; they can also trip up older family members and visitors. No matter which pile you choose, you'll want to place a wool rug pad underneath to keep the thing from sliding. There are also grippy tape-like slide stoppers you can attach underneath the corners of your rug to keep it in place.
Don't shy away from color
You can't go wrong with a neutral rug—such as a white and tan Moroccan Beni Ourain or a tan flatweave. But a colorful rug can also bring drama to a room and perhaps even inspire an entire décor scheme. "Bring paint swatches to the carpet store, and use them to figure out what will work best in your space," says Elliott, who has more rug-choosing advice in her new decorating book, My Neighbor Saw Me Naked and Other Reasons You Need Drapes.
Do evaluate quality in person
There are fewer and fewer rug dealers you can visit in person anymore—the internet retail juggernaut has simply rolled most of them out of business. Though many big box stores—Pottery Barn, Restoration Hardware, even hardware stores—sell rugs, it can be difficult to determine product quality unless you see them and touch them yourself. Some old-school "Oriental" rug shops exist, and there are a few specialized rug dealers selling Turkish, Moroccan, or antique rugs from many sources. Are all of these places great? No, but a rug specialist may know more than personnel at a home decorating chain.
Ask for a sample (some shops may even let you borrow a whole rug if you leave a credit card number) to take home. Then place it in the space and eyeball it under different lighting and at different times of day.
If you're considering laying down a lot of coin, consider getting feedback from an interior designer. Wagner also recommends taking rug samples to local rug cleaning businesses for evaluation. Click here for ratings of local cleaners.
Other things to consider when judging quality:
Higher knot counts often mean higher quality.
Wool rugs are often, but not always, of higher quality and longer wearing than cotton or synthetic ones. But ask if warp threads, as well, as the yarn is 100 percent wool—cotton warp threads (the ones that hold the main fibers or weft in place) can make a rug break down faster. Shag rugs in synthetics are particularly prone to shedding.
If you can, do a spot test for color fastness.
Check tassels and fringe to be sure they are part of the rug and not a cheap trim that's been tacked on.
Do consider buying vintage/antique or fair trade
"The world has many semi-antique and antique rugs because the quality of the wool and work was so good back then that you had rugs that easily lasted 75, 100, 150 years and are still in fantastic condition today," says Wagner. "They are 'forever rugs.'"
You can find older rugs via dealers, at estate sales or auctions, and via websites such as Kilim.com (sells new and vintage Turkish rugs) and Merak Rugs.
You can also look for companies or rugs with fair-trade designation. This means products have been produced under ethical conditions, usually made from greener, more-sustainable materials. Wagner recommends The Anou Cooperative, a Moroccan-based collective of artisan weavers that offers readymade and custom rugs.