The average cost of a kitchen remodel in the U.S. runs $21,679. You'll pay a lot more than that if you have a large space or want high-end materials and appliances.The average bathroom redo comes in at around $10,000. But if your bath or cucina has a good basic footprint and cabinets or fixtures in decent shape, you might be able to save a bathtub of moolah with a light remodel.
That's a term that contractors and DIYers use to refer to a cosmetic spiff up or minor update of an existing space. Think Botox and a peel rather than a full-on facelift. And sure, just installing a new shower curtain or painting counts, but for our purposes, we're talking about more substantial changes.
Depending on how much of the work you're willing to take on, and on the costs of your materials (tile, a new fridge), you might be able to polish up a small kitchen or standard bathroom for a few thousand bucks. In general, light remodels don't involve moving walls or altering the room's basic footprint.
Some tasks you might want to DIY—say, switching out a bathroom light or replacing pulls on kitchen cabinets. Others, like having new countertops cut and installed or electrical work, probably require a pro, and by using the ratings here at Checkbook.org, you'll find great ones in the area. Just be sure to get multiple price quotes.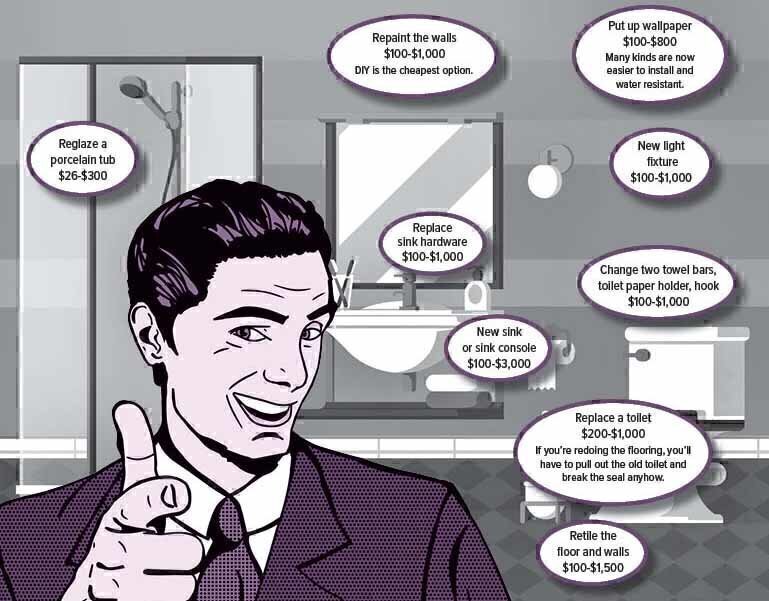 Keep in mind that materials matter, both for the bottom line and how good things look. Consider scrimping on or DIYing some elements and splurging on high-impact, smaller items, e.g. an expensive Lucite towel bar in your powder room but bargain-priced subway tile on the wall behind it. And if you update one part of a room (bye, crummy bathroom linoleum, hello marble tile!), make sure that what remains behind (or what else you replace), matches in terms of style and quality, or else you'll end up with a junky look. Lower prices represent inexpensive materials and DIY; higher price tags mean luxury items and contractor fees.
And, again, whether you're shopping for a general contractor a tile installer, an electrician, or just a good appliance store, consult the ratings and advice here at Checkbook.org to find pros and tons of tips.