Americans Are Keeping Their Cars Longer Than Ever
Last updated May 18, 2023
Ron Cantu isn't ready to buy a new car yet, and he feels used cars are still over-priced—so he's hanging on to his 2003 Audi A8 sedan with approximately 135,000 miles on it.
"It's a very pleasant vehicle to drive, and very safe," the Seattle-area dentist told Checkbook.
Cantu said it costs only about $1,500 a year to maintain his 20-year-old ride. So, for now, he's sticking with something he knows and likes.
Listen to audio highlights of the story below:


Unable to get decent deals on new vehicles, or find used ones they can afford, millions of motorists are keeping their cars longer. The average age of passenger vehicles on the road today is a record 12.5 years old, according to a report released this week from S&P Global Mobility. That's a jump of more than three months from 2022, and the highest yearly increase since 2008-2009 (during the Great Recession), the report noted. The average for sedans is even older—about 13.6 years.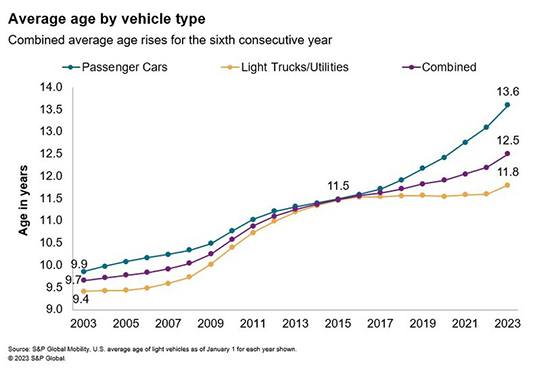 A "confluence of economic factors" is driving people to keep their cars longer, said Todd Campau, associate director of aftermarket solutions at S&P Global Mobility. Higher prices for new and used vehicles—and the loans needed to finance them—combined with economic uncertainty has many potential buyers sitting on the sidelines, Campau said.
The average price paid for a new vehicle in April was $48,275, according to Kelley Blue Book. The average new-vehicle loan interest rate was 9.52 percent, and the estimated typical monthly payment was $766.
Used car prices remained "historically high" in the first quarter of 2023, with the average used car selling for $28,381, according to Edmunds.
The quality of vehicles made in the last 20 years helps make it possible for owners to keep their cars longer. But it's the economy, "the affordability of vehicles that's driving people to do this," Campau said. "There's a little bit too much unknown with the ongoing inflation and the interest rate reaction from the Fed, and certainly, the public is making cautious decisions, for sure, as they go forward."
Campau told Checkbook he expects the average age of vehicles on the road to continue to grow older for at least another year, possibly two—continuing the current six-year trend—if manufacturers don't bring back significant buyer incentives.
Repair Shops Staying Busy
Older vehicles tend to need more maintenance, which has been a boon for repair shops across the country.
At Center Automotive in Needham, Mass., owner Jim O'Brien told Checkbook he's busier than ever servicing high-mileage vehicles.
"The average customer would trade their cars in around 75,000 to 80,000 miles," O'Brien said. "Now they have 150,000 on them and they have no intent of trading them in yet."
At Performance Motors in Lynnwood, Wash., they're seeing the same trend.
"People are seeing the value in keeping their cars in good running condition, and not letting little things continue to pile up and go on neglected," owner Brian Farmer told Checkbook. "It's now very common to see cars that are getting upwards of 200,000 miles."
Jennifer Stockburger, director of operations at the Consumer Reports' Auto Test Center, noted that keeping an older vehicle well maintained gives you flexibility.
"Now, you can replace your car when you want to, not because you have to," Stockburger said. "It lets you plan, rather than being forced into it because your car is giving you a ton of trouble."
Older cars may require major repairs, such as changing timing belts, shocks, or struts. How do you decide if it's worth the money? Consumer Reports advises comparing the cost of that repair with the cost of a car payment.
"A lot of people have paid for their car, and they can go another five, six, or seven years without a car payment. And that's when even a major repair may be more cost effective than getting back into a higher interest rate, a higher payment, and a much higher MSRP that we see on both new cars and used cars in the market right now," Stockburger told Checkbook.
Finding a Good Mechanic
A good repair shop will perform top-quality work quickly at a good price. Checkbook finds that many repair shops disappoint their customers with poor work, long delays, and inaccurate estimates. Checkbook's surveys of consumers consistently show that customers of independent shops are more satisfied than those who get repair work performed at dealerships, and independent shops tend to have lower prices.
Our advice: Unless the work you need is covered by a new-car warranty or manufacturer recall, use a top-rated independent shop, not a dealership.
The shop should provide a work order that clearly documents the work you have authorized and how much it will cost.
If you know what repairs are needed, ask for a price and have the shop write that and a description of the work on the work order.
If you don't know what is needed, write on the work order: "Shop will provide customer a written estimate. The charge for the estimate will be $_____. No other charges will be incurred without customer's authorization following the estimate."
Also, write this at the bottom of the work order: "Keep replaced parts for customer's inspection." Even if you can't tell an alternator from a tailpipe, the shop doesn't know it—and can't be sure you won't show the parts to someone who does.
Contributing editor Herb Weisbaum ("The ConsumerMan") is an Emmy award-winning broadcaster and one of America's top consumer experts. He has been protecting consumers for more than 40 years, having covered the consumer beat for CBS News, The Today Show, and NBCNews.com. You can also find him on Facebook, Twitter, and at ConsumerMan.com.