Black Dollar Index Shines a Light on Corporate Commitment to Diversity
Last updated February 11, 2021
Corporate America raced to publicly embrace the social justice movement after the death of George Floyd and the summer of Black Lives Matter protests that followed. In countless news releases and advertisements, major U.S. companies vowed to support Black-owned businesses and add diversity to their workforce and management.
But are they? Is anyone keeping score?
The Black Dollar Index (BDI) aims to be the watchdog that holds these companies accountable for their promises—and by doing that, it hopes to educate and empower socially conscious consumers.
The new site—which launched at the start of February—is volunteer-based and rates large consumer-facing corporations on their commitment to Black America in seven featured categories: finance, retail, food services, consumer goods, travel, media, and technology.
"Think Better Business Bureau meets Consumer Reports for Black consumers," said Kelle Rozell, one of the founding members of this grassroots website.
Rozell told Checkbook that BDI provides a list of "safe places for Black Americans to shop," similar to how The Green Book helped Black Americans find safe places to eat and sleep when they travelled in the Jim Crow South.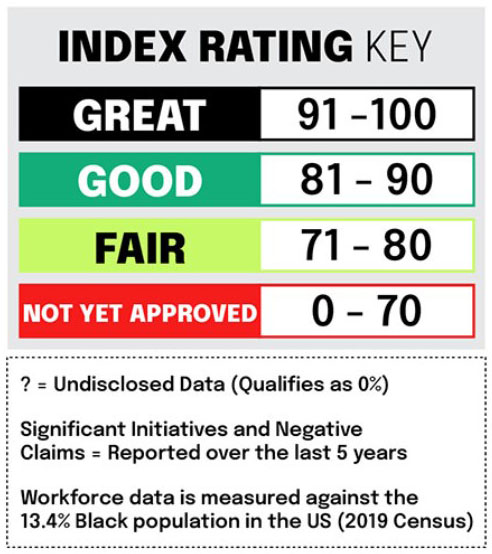 The BDI score (from zero to 100) is based on ratings for nine critical factors, both quantitative and qualitative, gathered from publicly available information that captures overall Black representation in the workforce, management, and corporate leadership.
"Any consumer should be able to do an online search and find the same data that we find," Rozell said. "We don't want to get any of the quantitative information from a third-party site, we want it directly from the company."
Most of the overall BDI score (80 percent) is based on the percentage of Blacks in the workforce, senior level leadership, corporate leadership, and board of directors, as well as if the CEO is Black.
Qualitative factors (rated yes or no) make up the other 20 percent of the BDI score:
Have there been any racially based claims in the last five years?
Has the company made a significant investment in Black initiatives in the last five years?
Is there a supplier diversity program?
Does the company have diversity and inclusion initiatives?
The Black Dollar Index launched with scores for 105 major U.S. companies. Most did not do very well; only 14 are "Black Dollar Approved" with scores of 71 or higher out of 100.
Only one company rated "Great": UPS (92). Five rated "Good": Allstate (90), AT&T (89), American Express (82), Nike, and Under Armour (81). Eight rated "Fair": Clorox and Verizon (80), Walmart (76), Best Buy, Target, and Wells Fargo (74), Bank of America (73), and Netflix (72).
Fifteen companies had scores less than 10, and three of those had a zero: Trader Joe's, TGI Friday's, and Cheesecake Factory.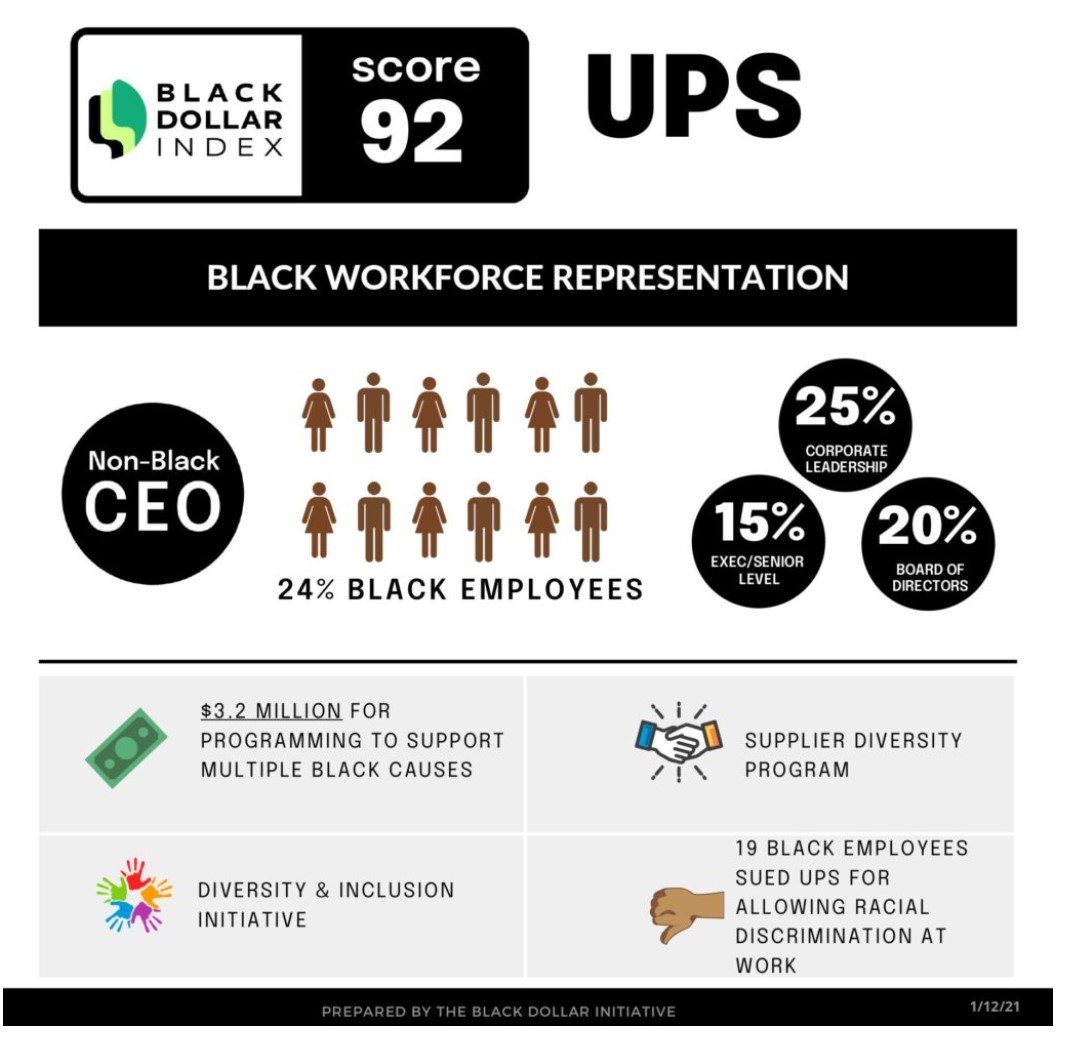 Rating companies to encourage social responsibility is not new, but the fact that the BDI is a volunteer effort is unique.
"It's innovation and creativity in the entrepreneurial spirit, yet at the same time trying to serve a social purpose, so for that I'm impressed with the Black Dollar Index," said Tony Byers, an expert on global diversity and inclusion, and author of the book, The Multiplier Effect of Inclusion: How Diversity & Inclusion Advances Innovation and Drives Growth. "They're doing a different type of protest, because without the protestors raising awareness, we don't get to this point."
It All Started on Zoom
The Black Dollar Index was born from frustration at corporate America's lack of progress in dealing with social and racial injustice.
Rozell, a marketing director who lives in Brooklyn, N.Y., wanted to do more than march. She believed holding companies accountable—exposing hollow commitments to social justice—could drive good behavior.
Rozell shared her idea with a group of Black friends who meet each week for a virtual brunch on Zoom, asked for help, and the Black Dollar Index was born. Right now, this band of volunteers is paying for the site, but they will need outside funding to keep it going and growing.
"The Black Dollar Index is an accountability tool that we can build upon for generations to come," Rozell said. "Our goal is to work hand-in-hand with these corporations to make real, infrastructural change because as Americans, we want racial justice, and as consumers we want options."
Rozell says the BDI rating are not static. They'll be updated as companies become more transparent about their diversity and inclusion programs, and work to create or improve them.
Will the BDI Make a Difference?
Black buying power is a growing force in the marketplace. Black Americans spent $1.4 trillion dollars in 2019. That's expected to hit $1.8 trillion by 2024, according to Nielson, a global market research company.
The country's demographics are changing and corporate leadership needs to recognize that and make the necessary changes to stay relevant, said Anthony D'Angelo, a professor of communications management at the Newhouse School of Public Communications at Syracuse University.
"While people may view this as an ethical and moral imperative, there's also a business imperative for doing this," D'Angelo told Checkbook. "People believe in what you do, not in what you say, so organizations that make this commitment [to social justice] and make some sort of progress, will ultimately reap a benefit in the marketplace."
Transparency is a powerful thing, D'Angelo said. When people—and corporations—know they're being watched, that's a level of accountability that often influences behavior.
Just Getting Started
Rozell's goal is to have ratings for every company in the Fortune 1,000 list by 2024. She hopes people will make spending decisions based on BDI scores. And while the index is designed for and marketed to Black people, Rozell encourages everyone to use it.
"Allies are welcome; anybody who cares," Rozell said. "As consumers, I think we need to hold ourselves accountable, the same way that we're holding these corporations accountable. If we want this to work, we all have to play our part. If we're all committed to racial equity, then the country will be a better place."
Contributing editor Herb Weisbaum ("The ConsumerMan") is an Emmy award-winning broadcaster and one of America's top consumer experts. He is also the consumer reporter for KOMO radio in Seattle. You can also find him on Facebook, Twitter, and at ConsumerMan.com.