Check Washing Makes a Comeback; Here's How to Protect Yourself
Last updated March 16, 2023
When Lawrence Brandon of Philadelphia looked at his November bank statement, he couldn't believe what he saw: The $57 check he'd mailed to his health insurance company a few weeks earlier had been cashed for $4,950.
Brandon's bank reversed the transaction, but not until it spent nearly four months investigating the crime.
"It was terrible," Brandon, 80, told Checkbook. "That's a large sum of money to me. I worked hard for that little bit of money that I saved up for a rainy day."
The mail thieves who stole Brandon's check washed away his handwritten ink with common chemicals—most likely acetone or benzene, the solvents used in nail polish remover. Then they changed the date, the amount, and the payee (to themselves).
Listen to audio highlights of the story below:


"You can watch the ink literally float up off the check, and it gives you a brand new piece of paper that you can do whatever you want to with," said Brett Johnson, a convicted identity thief turned security consultant. "Sometimes, you don't want to remove all of the ink that's on the check. Sometimes, you want to keep the signature. Typically, you want to change the payee and you want to change the amount."
This story from Good Morning America shows how quickly and easy it is to wash a check.
Check washing has been around for decades, but according to Amy Nofziger at the AARP Fraud Watch Network, it's made a comeback in the last few years, with victims reporting losses ranging from a few hundred to tens of thousands of dollars.
"Criminals do what works, and this works for them," Nofziger told Checkbook. "That's why I think we've seen a rise in check washing."
Victims across the country are telling their horror stories to news reporters:
In Boston, Kurt Davis found his checking account debited almost $16,000, after a $50 check he included in a birthday card was intercepted, washed, and altered, according to WBTS-TV.
In New York, Rudy Markard mailed a $42 check to pay his phone bill. The crooks cashed it for $7,000. The Coast Guard veteran told WABC-TV he felt totally violated.
In Chicago, Joyce Goldenstern told WLS-TV she lost her retirement money when a check for $9.12 was washed and changed to $9,900.
Why Check Washing Fraud is Surging
Criminals like schemes that are easy, lucrative, and have a low risk of getting caught—and check washing meets those criteria.
The chemicals needed to remove the ink are cheap and widely available. Checks can be deposited remotely and anonymously at ATMs or via mobile deposit. And a single altered check can be used to steal thousands of dollars.
"Remote deposit is why check washing is so popular, so successful, and so profitable for criminals right now," Johnson said.
No one is sure how much money is stolen through check washing, but financial institutions are being flooded with fraudulent checks—and the losses associated with them is skyrocketing.
In 2021 U.S. banks reported more than 350,000 cases of potential check fraud (not all of it was check washing) according to the U.S. Treasury Department's Financial Crimes Enforcement Network. In 2022, that figure nearly doubled, to 680,000 reported cases.
Earlier this year, Frank McKenna, chief fraud strategist at Point Predictive, told the website BankInfoSecurity.com that he expected check fraud to hit $24 billion or more in 2023.
The U.S. Mail Isn't as Secure as You Might Think
Check washing is a low-tech crime that, until recently, required a thief to cruise through neighborhoods, open unlocked mailboxes, and take whatever was inside. That's why fraud fighters have recommended getting a locked mailbox, or putting your mail in one of the Postal Service's blue collection boxes.
But in recent years, check forgers have stepped up their game to score more mail in a shorter amount of time. They are using "arrow keys," master keys that can open those blue Postal Service drop boxes, as well as the big green drop-off boxes used by postal carriers.
Criminals can try to steal arrow keys from postal carriers (some carriers are being robbed at gunpoint for them), or they simply buy them online. Johnson provided us with these images showing these master keys for sale: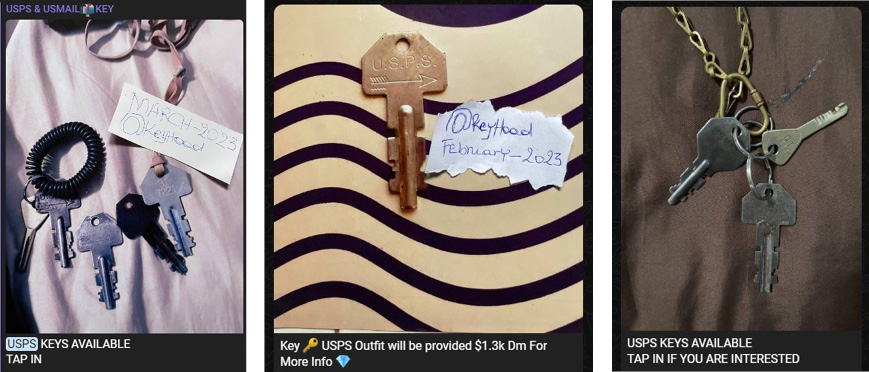 By breaking into these Postal Service mailboxes, the thieves can steal mail in bulk, including checks for payroll, income tax refunds, credit card and utility bills, property taxes, and gifts tucked into birthday cards.
Could More Be Done?
Last week, three members of the Senate committee on Banking, Housing, and Urban affairs sent a letter to the American Bankers Association (ABA) warning that check washing "has become an elaborate and organized method of successfully scamming consumers and banks."
In their letter, Chair Sherrod Brown (D-OH), Sen. Elizabeth Warren (D-MA), and Sen. Catherine Cortez Masto (D-NY), said they were "concerned by banks' inability to effectively identify washed and other types of fraudulently altered checks, timely process claims, and reimburse those that have lost thousands of dollars."
"Consumers should not be left waiting for their accounts to be made whole again," the senators wrote. "It is the responsibility of banks to properly address these concerns and to reimburse consumers in a timely manner."
Checkbook asked the ABA for a response to the lawmakers' letter. Sarah Grano, ABA's Vice President for public relations, sent this statement:
"We share the senators' concern about the rise in check washing and look forward to detailing what ABA and our members are doing to protect consumers. We hope the senators will join our efforts to educate the public on how to avoid check fraud and also encourage the U.S. Postal Service, law enforcement and other stakeholders to work more closely with the industry to prevent these crimes from happening in the first place."
How to Protect Yourself
The "safest way to pay is online," said John Breyault with Fraud.org, as long as you're using a secure computer that's not connected to public Wi-Fi. Pay online with a credit card (but make sure there's no service fee to do that), and "you'll be even more protected," Breyault said. If a credit card payment is compromised, you still have access to those funds while the bank investigates the fraud. That doesn't happen with checks.
The AARP Fraud Watch Network has these tips for sending checks through the mail:
Use a pen with blue or black non-erasable gel ink. Gel ink soaks into paper and is more difficult to remove than ballpoint-pen ink.
Take your outgoing mail to a post office. Don't put envelopes containing checks in your own mailbox or in outdoor USPS collection boxes after the last pickup time. Best bet: Take them to your nearest post office during business hours, and either hand them to a clerk or slide them through an outgoing mail slot inside the building.
Don't let delivered mail sit in your mailbox. Collect your mail every day, as close to the delivery time as possible. If you'll be away, ask a trusted friend to collect it, or have the post office hold it until you're back home. Sign up for Informed Delivery from the Postal Service and you'll get an email each morning with what's scheduled for delivery that day. That way, you can make sure you get the checks that were supposed to arrive.
As with all fraud, the sooner you spot it and report it, the better. So, monitor your bank accounts; don't wait for your monthly statement. Go online (or call) to review your balance and what checks were cashed.
If you still get canceled checks mailed to you with your monthly statement, make sure you shred them when you're done with them.
If you spot a problem, notify your bank or credit union immediately. They are "generally required to replace funds stolen via fraudulent checks, but only if the scam is reported within 30 days of the date of your bank statement," AARP's Nofziger advised. You should also contact the U.S. Postal Inspection Service and file a report with your local police department.
Contributing editor Herb Weisbaum ("The ConsumerMan") is an Emmy award-winning broadcaster and one of America's top consumer experts. He has been protecting consumers for more than 40 years, having covered the consumer beat for CBS News, The Today Show, and NBCNews.com. You can also find him on Facebook, Twitter, and at ConsumerMan.com.