Consumer Advocates Want the Department of Transportation to Fix Our Broken Airline System
Last updated September 19, 2022
Click below to listen to our Consumerpedia podcast episode on what advocates say needs to be done so the airline industry stops failing its customers.
Delays. Cancelations. Lost luggage. It was a trifecta of trouble this summer for airline passengers who paid sky-high ticket prices—the highest in five years, according to Hopper—and all too often had their flights canceled at the last minute, or delayed for hours.
Checkbook agrees with other consumer advocates that U.S. airlines failed their customers by putting profits ahead of realistic schedules. The U.S. Department of Transportation could and should do far more to protect passengers.
"Air transportation this summer was just abominable," said Charlie Leocha, president and co-founder of the consumer advocacy group Travelers United.
"It was outrageous," said John Breyault, a vice president with the National Consumers League.
"I can say without hesitation, this is the worst summer I've ever seen for customer service," said Bill McGee, who's been around the airline industry as an employee, writer, and passenger advocate for 37 years.
Millions of airline passengers had their travel plans disrupted or ruined by an airline industry that was not prepared to deal with the increased summer demand. On the worst days, up to seven percent of all domestic flights were canceled, according to FlightAware.
The 10 largest domestic airlines had 602,057 scheduled domestic flights in June, and canceled 3.1 percent of them, or 18,473 flights, according to the DOT. By comparison, in June of 2019 (pre-pandemic), those same carriers had 694,469 scheduled flights and canceled 2.1 percent, or 14,667 flights.
American Airlines topped the list, canceling 4.4 percent of its flights this past June; Delta canceled 3.9 percent; and United canceled 3.5 percent.
The DOT was inundated with complaints: Passengers filed 5,862 complaints in June, up 35 percent from the 4,344 received in May, and up 270 percent from the 1,586 received in June of 2019.
Some airlines tried to blame bad weather and air traffic control problems, which were sometimes a factor. But in most cases, flights were canceled because of staffing issues that the airlines knew about in advance, said McGee, a senior fellow for aviation and travel at the American Economic Liberties Project, a nonprofit that works to fight monopolistic practices in the U.S. economy.
"I find it unforgiveable that the airlines canceled so many flights at the last minute when people were on the way to the airport. And it's unforgiveable, quite frankly, that Transportation Secretary Pete Buttigieg hasn't done more to protect us," McGee told Checkbook.
In August, a frustrated Buttigieg sent a letter to airline executives, telling them the level of disruption Americans have experienced this year was "unacceptable."
"As you know, these aren't just numbers, these are missed birthday parties, graduations, time with loved ones and important meetings," he wrote.
Buttigieg said passengers who experience cancelations and delays "deserve clear and transparent information" on the services the airline will provide "to address the expenses and inconveniences resulting from these disruptions."
The secretary told the CEOs of the country's 10 largest airlines that the DOT would publish a new information tool just before Labor Day to make it easy for passengers to see and compare what each carrier would do for them when a flight was delayed or canceled. He urged them to improve their customer service plans prior to the launch.
As a result, all but one of those 10 airlines upgraded their customer service policies. For example, prior to the Buttigieg letter, no airline unconditionally guaranteed meal vouchers or hotel rooms. Now, nine of the 10 guarantee meals and eight guarantee hotel accommodations when the airline causes the delay or cancelation.
A Look at the New Interactive Flight Dashboard
The Airline Customer Service Dashboard, which launched on Sept. 2, shows what the 10 major U.S. airlines (and their regional operating partners) say they will do for passengers—if possible —when a delay or cancelation is the airline's fault. This would include issues such as maintenance, equipment, or crew problems such as insufficient staffing. Disruptions resulting from bad weather or air traffic control are not considered to be the airline's responsibility.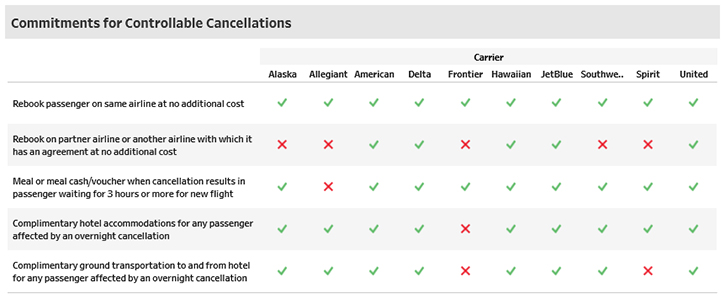 A few highlights of what customers can expect when a cancelation or delay is the airline's fault:
Nine airlines (all but Allegiant) say they will give passengers meals or meal vouchers—not just snacks—when passengers have waited more than three hours.
All 10 airlines say they will rebook passengers at no cost on other flights when original flights are canceled or there are "significant delays."
Five airlines (America, Delta, Hawaiian, Jet Blue, and United) say they will try to rebook stranded passengers following cancelations with other partner airlines at no additional costs.
In most cases, these are service commitments for customers who request relief; they are not required by any federal rule or regulation.
McGee called it "lipstick on a pig." Only Delta has included its customer service guarantees in its "contract of carriage," the legal agreement between the airline and the ticketholder.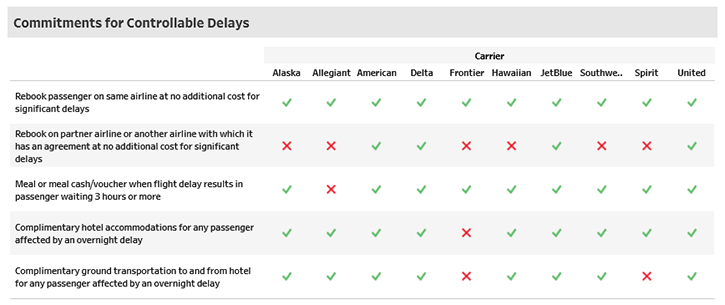 The DOT Must Do More
While the clarifications and new presentation provided by the dashboard are a "step in the right direction," the airlines "have lots of wiggle room before handing out amenities," Travelers United's Leocha said in a blog post. "It's a shame that it took an entire summer and more than 100,000 complaints to shame DOT into action." This post explains what each airline has promised to do for inconvenienced passengers.
Travelers United wants the DOT to require all airlines to include their customer service agreements in their contracts of carriage to make them enforceable. "Otherwise, they are merely a public relations ploy," Leocha said.
Airlines must operate under far more consumer-friendly policies in Europe and Canada, where there are meaningful regulations that spell out what the airline must do if your flight is delayed or canceled.
When Refunds Are Required
Here's a DOT rule every flier should know about: If a flight is canceled—for any reason—the airline must provide ticketholders with a full cash refund. Airline also owe refunds when they make significant schedule changes to previously booked itineraries. Airlines can offer other perks, such as miles or travel vouchers, but you're entitled to get your money back.
Most Americans don't know this, so if a flight is canceled, and the airline offers a credit, some people take it, mistakenly assuming it's better than nothing.
"When it comes to refunds, we have ample evidence that airlines are not being completely truthful with passengers," McGee said. "If the airline says you have a choice between cash or a voucher or miles, then that's fine, make your own choice. But passengers should not be told you're getting a credit, without being offered the cash first."
The airlines owe more than $10 billion in unpaid refunds, much of that going back to the earliest days of the pandemic, McGee told Checkbook. He's disappointed that the DOT has not issued fines for any U.S. airline for unpaid refunds, or the massive flight cancelations that created the travel problem.
DOT Proposes New Rule
In August, the DOT responded to the "flood of air travel service complaints" about refund problems, with a proposed rule that would, in the words of Secretary Buttigieg, "protect the rights of travelers and help ensure they get the timely refunds they deserve from the airlines."
The rule would define the terms "cancel" and "significant change" that are used in the current DOT rules to trigger refunds but have been inconsistently interpreted by the airlines.
The Department proposes that "significant changes" to a flight would mean:
Changes that affect the departure and/or arrival times by three hours or more for a domestic flight or six hours or more for an international flight.
Changes to the departure or arrival airport.
Changes that increase the number of connections in the itinerary.
Changes to the type of aircraft flown if it causes a significant downgrade in the air travel experience or amenities available onboard the flight.
Under the proposal, a "canceled" flight would mean a flight that was published in a carrier's computer reservation system at the time the ticket was sold but didn't take off as scheduled.
"It's not a new protection, but it is one that allows consumers to better understand their rights for the airlines to play fewer games, said NCL's Breyault, who's also a member of DOT's Aviation Consumer Protection Advisory Committee. "Regardless which airline you fly, they'd need to play by the same rules."
The DOT proposal would also require the airlines and ticket agents to provide flight credits or vouchers that are valid indefinitely "when passengers are unable to fly for certain pandemic-related reasons, such as government-mandated bans on travel, closed borders, or passengers advised not to travel to protect their health or the health of other passengers."
Airlines and ticket agents that receive significant government assistance related to a pandemic "would be required to issue refunds," not travel credits or vouchers.
Checkbook asked Airlines for America, the trade group that represents major U.S. airlines, to comment on the proposed rule, but it declined to do so.
As part of the notice of proposed rulemaking, DOT noted that its Office of Aviation and Consumer Protection recently concluded its investigation of 10 airlines and is pursuing "enforcement action against them for extreme delays in providing refunds for flights the airlines canceled or significantly changed." The office is also "actively investigating" refund practices of more than 10 additional airlines flying to, from, or within the U.S.
Should Congress Give the States Authority to Sue the Airlines?
Last month, the National Association of Attorneys General sent a letter to Congress asking for authority to enforce state and federal consumer protections for airline travelers. Currently, state authorities cannot sue an airline, even when victims are in their state. Federal law gives the DOT sole responsibility for doing that.
The letter, signed by 38 attorneys general (Republicans and Democrats), calls on Congress to give them the authority to hold airlines accountable for violations of state and federal consumer protection laws—and to consider shifting the authority for federal investigations of passenger complaints from DOT to an agency "more primarily focused on consumer protection, such as the U.S. Department of Justice or the Federal Trade Commission."
The Colorado Attorney General's Office received more consumer complaints about Frontier Airlines than any other company in 2020, the letter noted.
"Over the past couple of years, our offices have received thousands of complaints from outraged airline passengers about airline customer service—including about systematic failures to provide required credits to those who lost travel opportunities during the pandemic," the attorneys general wrote. "[The] mistreatment of airline consumers is a bipartisan issue—one that requires immediate action from federal lawmakers."
The DOT has not responded to the AG's letter or Checkbook's request for a comment.
Two members of Congress are ready to make a change. Last month, Congresswoman Jan Schakowsky (D-IL), and Congressman David Cicilline (D-RI), introduced the Ensuring Friendly Skies for Passengers Act. It would empower the FTC and state attorneys general to hold an airline accountable for selling tickets, delaying, or cancelling flights when it knows it doesn't have sufficient staff to operate.
Specifically, the bill would make it unlawful to cancel a flight less than four hours prior to takeoff if the airline knew at least two days prior that it did not have enough staff. Delays of four hours on domestic flights and delays of six hours on international flights would also be unlawful if the airlines knew in advance it did not have enough staff.
More Info
Contributing editor Herb Weisbaum ("The ConsumerMan") is an Emmy award-winning broadcaster and one of America's top consumer experts. He is also the consumer reporter for NW Newsradio in Seattle. You can also find him on Facebook, Twitter, and at ConsumerMan.com.