Court Ruling Puts Temporary Hold on Student Loan Forgiveness Program
Last updated October 19, 2022
A federal appeals court has temporarily stopped President Biden's federal student loan debt relief program. On Friday, the U.S. Court of Appeals for the 8th Circuit blocked the cancelation of any student loans while it considers a request for from six Republican-led states to stop the program. The states (Nebraska, Missouri, Arkansas, Iowa, Kansas, and South Carolina) claim the president does not have the authority to cancel this debt without approval from Congress.
White House press secretary Karine Jean-Pierre said the court order does not prevent borrowers from applying for relief or stop the Department of Education from reviewing those applications.
"We encourage eligible borrowers to join the nearly 22 million Americans whose information the Department of Education already has," Jean-Pierre said.
The program, announced by the president in August offered millions of Americans with federal student loans the opportunity to have some or all of their debt canceled. The online application form, which should take about five minutes to complete, is still available on the Department of Education's website.
The federal government wants to provide relief to as many as 27 million borrowers, including roughly 20 million who will have their remaining balance eliminated, according a fact sheet from the White House.
The program, which targets financial relief for low- and middle-income borrowers, is designed to prevent them from defaulting when the pause on federal student loan payments ends at the end of the year.
Listen to audio highlights of the story below:


Here are the specifics:
The Department of Education will provide up to $20,000 in debt cancellation with loans held by the federal government to Pell Grant recipients, and up to $10,000 in debt cancellation to non-Pell Grant recipients.
To be eligible for this relief, your 2020 or 2021 annual income must have been less than $125,000 (individual, or married but filing separately), or less than $250,000 (married couples filing jointly, or head of household). You will not be asked to verify your income when you apply; that happens later. You will be asked to submit your Social Security number and date of birth.
Most federal student loans with outstanding balances on June 30, 2022, qualify for relief:
Undergraduate and graduate Direct Loans
Parent PLUS loans
Grad PLUS loans
Federal Family Education Loans (FFEL) held by the Department of Education or in default at a guaranty agency
Federal Perkins Loans held by the Department of Education
Private (non-federal) loans are not eligible for the relief program. If you've consolidated federal loans into a private loan, you're out of luck.
The program also extends relief to many borrowers who have defaulted on their student loans, including debt with Department of Education-held or commercially serviced Subsidized Stafford, Unsubsidized Stafford, parent PLUS, and graduate PLUS loans; and Perkins loans held by the Department of Education.
"Over 5 million borrowers who were in default or over 90 days delinquent before the pandemic began are now eligible to have their loans fully canceled and can breathe a huge sigh of relief," said Kyra Taylor, staff attorney at the National Consumer Law Center.
If you have a remaining balance on your defaulted loan(s) after relief is applied, consider getting or staying out of default through the Fresh Start initiative.
After we first published this article, in late September, the Department of Education (ED) "quietly" changed its guidance on the types of loans covered by the debt cancellation program, disqualifying Federal Family Education Loan (FFEL) loans, according to a report by NPR. Private banks issue and manage FFEL loans, but they are guaranteed by the federal government.
The updated guidance on StudentAid.gov now says: "As of Sept. 29, 2022, borrowers with federal student loans not held by ED cannot obtain one-time debt relief by consolidating those loans into Direct Loans."
Previously, the site said those loans could be consolidated into federal Direct Loans, which would make them eligible for the program.
"It's unclear why the department reversed its decision on allowing FFEL borrowers with commercially-held loans to consolidate and then qualify for debt relief," NPR reported; noting that the change could affect about 800,000 borrowers.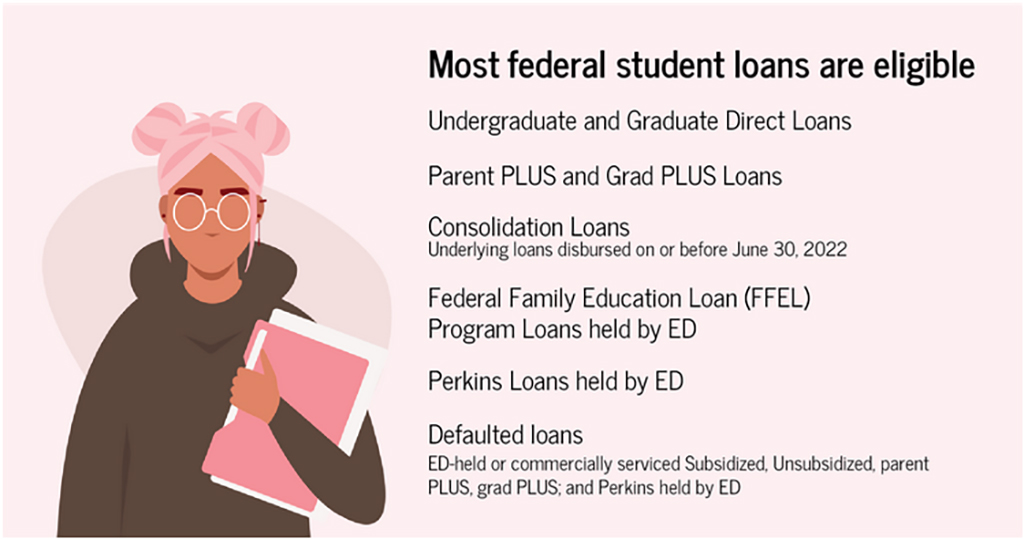 Here are answers to some questions borrowers may have:
Q: Do I need to apply for this relief?
While about 8 million borrowers will get debt relief automatically, most will need to apply.
"The Department of Education says people who recertify their income for an income-driven repayment plan or who attested to their income on the FAFSA form because they're still in school within the last two years, may be able to receive cancellation automatically," Taylor said.
"But I think it's better to be safe than sorry, so everyone should apply as soon as that application is available in a few weeks, just to make sure that they're not overlooked," she told Checkbook.
Q: Is there a deadline for applying?
Yes, December 31, 2023. But apply as soon as possible. The online version of the form is now available on the Department of Education's website. Paper applications will come later.
The Department of Education says borrowers need to apply by mid-November to receive relief before the January restart of payments.
After you apply, you will receive an email confirmation from the Department of Education, but your StudentAid.gov account won't show the status of your application. If the government needs more information to confirm your eligibility, you'll be emailed instructions.
Q: Is there anything I need to do now?
It's been more than two years since most borrowers made a payment. Loan servicers have gone out of business, or you may have moved or changed financial institutions. Make sure your contact information is up to date with your loan servicer and on StudentAid.gov.
"Double check to make sure everything is good to go," said Cecelia Clark, student loan expert at the personal finance website NerdWallet. "If you are amongst the borrowers who saw a servicer change, you will absolutely need to make sure that your autopay information is updated and on file. Otherwise, if that falls off and isn't in the system, you will lose that interest rate discount that you get for having autopay."
The Department of Education will send updates by both email and text message, so make sure to sign up to receive text alerts.
Q: If I have multiple loans, can I pick which ones are canceled?
No. The Department of Education will do that. Relief will be applied in this order:
Defaulted federally held loans.
Defaulted commercial FFEL Program loans.
Direct Loan Program loans and FFEL Program loans in good standing.
Federally held Perkins Loans.
If you have multiple loans in a program type (e.g., multiple Direct Loan Program loans), the debt relief will be applied in this order:
Loans with highest statutory interest rate.
If interest rates are the same, unsubsidized loans take priority over subsidized loans.
If interest rate and subsidy status are the same, the most recent loan gets relief.
When all factors are the same, relief goes to the loan with the lowest combined principal and interest balance.
Q: What happens if I still have a loan balance after debt relief is applied?
Loan balances remaining after relief will be recalculated based on the new balance. This could reduce your monthly payment, but it does not change the length of the loan. Your loan servicer will tell you what the new monthly payment will be.
Q: Is the debt relief taxable?
This one-time student loan debt relief will not be subject to federal income taxes. But it may be taxed as income by some states, including Arkansas, California, Indiana, Minnesota, Mississippi, North Carolina, and Wisconsin, according to NerdWallet.
Q: If I made voluntary payments during the pandemic, am I still eligible for relief?
Yes. You will automatically receive a refund of those payments made during the payment pause if you successfully apply for and qualify for debt relief, AND your voluntary payments during the payment pause brought your balance below the maximum debt relief amount you're eligible to receive—but you did not pay off your loan in full.
The Department of Education gives this example for someone who is eligible for $10,000 in relief: You had a balance of $10,500 prior to March 13, 2020, and made $1,000 in payments since then, so your balance is $9,500. That $9,500 balance will be discharged, and you'll receive a $500 refund.
One caveat: If you consolidated your loans after March 13, 2020, any payment you made before consolidation do not qualify for the refund.
NCLC's Taylor cautions borrowers with federal loans about refinancing into a private loan. That could make you ineligible for debt cancellation. You also would lose access to various government relief programs, such as income-driven repayment.
"I would caution people to be very, very, very careful, and not refinance their federal loans into private loans until they know what their situation is going to be after cancellation is applied to their account," Taylor told Checkbook.
Can I decline to participate in the relief program?
Yes. If for some reason you don't want the relief—maybe you object to the program, or are concerned about the state tax implications—contact your loan servicer(s). If you are notified that you're automatically eligible for relief, you have until Nov. 14, 2022, to opt out. If you opt out now and then change your mind, you can still apply for relief before Dec. 2023.
Is this really going to happen?
The president's debt relief program faces several legal challenges, including one from a coalition of six Republican-controlled states—Arkansas, Iowa, Kansas, Missouri, Nebraska, and South Carolina, according to The Washington Post. A court injunction could delay the program.
Watch Out for Scams
The student loan forgiveness program presents a golden opportunity for scammers. Criminals are likely to offer "fraudulent relief schemes that mimic the official process," warns Fraud.org.
Most student debt scams start with a con artist who claims to be a representative of the Department of Education or a partner with it, this Fraud.org blog post explains. They may promise early or special access, or guaranteed eligibility to the relief program.
The fraudsters may have accurate borrower information, such as loan balances or consolidation history, that make them appear to be legitimate.
Here's the tell: They want money to process the forms, which you can do for free yourself, or personal information, such as Social Security numbers, Federal Student Aid (FSA) IDs, or bank account credentials.
"If you're approached by somebody claiming that they can help you with this program, or that they're representing the government, hang up. If it's a text, delete it, because it's not true," said cyber security expert Adam Levin, host of the What the Hack podcast.
There is no fee to apply for the debt cancellation program. It's available to all qualified borrowers at no cost. No one can get things started early, or speed up the process, or guarantee eligibility. Only a scammer would promise that.
"If someone promises to get you to the head of the line, they're just giving you a line," Levin said. "So run away as fast as you can."
More Info
The Department of Education will have updated information on its website StudentAid.gov. Once the application form goes live, phone support will be available at 833-932-3439.
Here are some resources currently available from StudentAid.gov:
Contributing editor Herb Weisbaum ("The ConsumerMan") is an Emmy award-winning broadcaster and one of America's top consumer experts. He is also the consumer reporter for NW Newsradio in Seattle. You can also find him on Facebook, Twitter, and at ConsumerMan.com.