FTC Proposes New Advertising Guidelines Against Misleading Endorsements
Last updated July 22, 2022
Click below to listen to our Consumerpedia podcast episode on how to spot deceptive advertising tactics.
Endorsements can be highly persuasive, which is why they're used in so many advertisements. But to avoid misleading consumers, endorsements should be genuine and honest, and any relationships (such as compensation) between the advertiser and the endorser should be disclosed.
The Federal Trade Commission's Endorsement Guides, last updated in 2009, require "clear and conspicuous" disclosure if there is a "material connection" between an endorser and the marketer that consumers would not expect, and that would affect how they evaluated the endorsement. Endorsers are also cautioned not to talk about their experiences with products or services they have not tried, or make claims they can't back up.
In May, the FTC proposed several revisions to its guides that would clarify and strengthen rules for traditional media, plus apply guidelines to cover influencer endorsements on podcasts, social media, and elsewhere.
"We're updating the guides to crack down on fake reviews and other forms of misleading marketing, and we're warning marketers on stealth advertising that targets kids," said Samuel Levine, director of the FTC's Bureau of Consumer Protection. "Whether it's fake reviews or influencers who hide that they were paid to post, this kind of deception results in people paying more money for bad products and services, and it hurts honest competitors."
The updates would clarify what qualifies as "a material connection" that needs to be disclosed, and how such disclosures should be made. Here are the key proposed changes:
Specify that material connections can include business, family, or personal relationships; monetary payments; free or discounted products or services (even if they are unrelated to the endorsed product); receiving other benefits, such as early access to the product, the chance to win a prize, or the opportunity to appear in media promotions.
While the required disclosures do not need to explain the complete details of the relationship, they must "clearly communicate the nature of the connection sufficiently for consumers to evaluate the significance."
Expand the definition of an "endorser" to include virtual influencers, such as computer-generated avatars and fictional characters, a growing trend on social media.
Specify that "tags" in social media posts are considered an endorsement covered by the FTC's guidelines.
The commission's proposed revisions clarify that a "clear and conspicuous" disclosure is "difficult to miss (i.e., easily noticeable) and easily understandable by ordinary consumers." For example, a visual disclosure should "stand out" from any accompanying text or other visual elements—by size, contrast, location, and length of time it appears—so that it is "easily noticed, read, and understood."
Further, if a disclosure meets the guidelines when the content is viewed on a computer browser, it must also be clear and conspicuous when accessed on a smartphone. With audio disclosures on a radio commercial or podcast, the disclosure should be "delivered in a volume, speed, and cadence sufficient for ordinary consumers to easily hear and understand it."
Other proposed guidelines to increase transparency:
If a celebrity has a material connection to an advertiser, and talks about its products or services on a talk show, that celebrity needs to disclose that relationship during the interview. Disclosure in the credits would no longer be considered adequate.
If product review bloggers include affiliate links that earn them a commission when their readers make a purchase, that compensation needs to be disclosed, even if those reviews are independently generated.
The FTC revisions make it clear that endorsers who make statements "they know or should know to be deceptive," may be subject to liability, along with the companies involved in the creation and dissemination of that deceptive endorsement, such as public relations firms and advertising agencies.
The commission reminded advertisers that they are responsible for providing guidance to their endorsers on the need to make truthful statements and disclose material connections—and monitoring the endorsers' compliance.
Note: The endorsement guidelines are not regulations, so there are no civil penalties for those who don't follow them. But the FTC can investigate advertisers who disregard the guidelines, and potentially charge them with "unfair or deceptive practices" under the FTC Act, which could result in legal action.
Why Focus on Social Media Influencers?
Social media has become an efficient and effective platform for advertising and marketing. Instagram and TikTok are saturated with influencers. Companies that want to sell their products to younger consumers know they need to be there.
For those born between 1998 and 2006 (Generation Z), social media influenced half of their purchases, according to a survey last year by Statista.com.
The best way to reach this audience is often with a subtle mention or testimonial (that doesn't come across as a sale pitch) by an online influencer—someone who has established credibility and trust for some reason.
That influencer could be an actor, celebrity, musician, sports figure, or someone who has a huge social media following, and can persuade their audience to act based on their recommendations, which seem authentic, and therefore, trustworthy.
"Influencers rival friends in building consumer trust," according to a 2016 survey by Twitter. When looking for product recommendations, 49 percent of survey responders said they relied on influencers, second only to the 56 percent who said they relied on Tweets from friends.
Some advertisers are using virtual influencers, computer-generated characters that pose with products and promote brands, just like human influencers. According to a report by the non-profit watchdog group Truth in Advertising (TINA.org), these virtual characters (some that look very life-like) can be powerful influencers that are "easier to control, cheaper and less regulated—at least for now." (The image below shows a few examples of computer-generated virtual influencers from TINA.org.)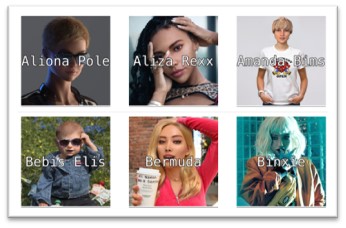 The influencer marketing industry is expected to grow to approximately $16.4 billion in 2022, according to a report by InfluenceMarketingHub.com. More than 75 percent of brand marketers contacted for the report said they intended to dedicate a budget to influencer marketing this year.
"Social media marketing is really the Wild West right now," said Bonnie Patten, TINA.org's executive director. "We have a lot of influencers basically doing anything they want on these platforms. And a lot of times, if they don't tell us that it's an advertisement, we have no way of knowing it, so that our defenses are down, and we're not looking at it as marketing material, but rather organic content."
And there's the rub. While an endorsement may seem spontaneous and sincere, it's often highly controlled by the advertiser.
"It can be very, very calculated, about how they want their products to be seen, and how they want them to be shared," said Regina Luttrell, an associate dean at Syracuse University's Newhouse School of Communications. "For example, they may say, 'We want you to be sitting outside, and have the beach behind you.' So, they script it out, give it to this influencer, and the influencer basically creates that video around their product."
How can you spot a plug that's paid for? If you've followed someone for a long time because they're genuine and passionate about something—maybe makeup, fashion, or tech—and they suddenly start mentioning or showing brand-name products without any disclosure, "that's a red flag," Luttrell said. "Clearly, something changed, and it's likely there's some kind of affiliate relationship."
In its comments to the FTC, TINA.org said it would like to see the commission "more aggressively pursue endorsers who advertise deceptively online," and it suggested that enforcement actions that included monetary judgments would "maximize the deterrent effect."
What About Influencers Who Target Children?
Advertising to children is a special concern because they may react differently than adults to endorsements or disclosures. The FTC plans to deal with this issue separately. It plans to hold a public event on October 19 that focuses specifically on children's capacity at different ages and developmental stages to recognize and understand advertising content and distinguish it from other content, and the need for and effectiveness of disclosures to children.
Contributing editor Herb Weisbaum ("The ConsumerMan") is an Emmy award-winning broadcaster and one of America's top consumer experts. He is also the consumer reporter for NW Newsradio in Seattle. You can also find him on Facebook, Twitter, and at ConsumerMan.com.