FTC Rule Would Make it Easier to Cancel Unwanted Subscriptions
Last updated April 6, 2023
Click below to listen to our Consumerpedia podcast episode on "dark patterns."
Wouldn't it be nice if every company made it as easy to cancel a subscription as it was to sign up?
The Federal Trade Commission (FTC) plans to update its rules about subscriptions and recurring payments by adding a provision requiring companies to provide a "click to cancel" option. The goal is to eliminate the frequent hassles involved with ending unwanted subscription payments for everything from streaming services and cosmetics to gym memberships and pet products.
"Some businesses too often trick consumers into paying for subscriptions they no longer want or didn't sign up for in the first place," said FTC Chair Lina Khan. "The proposal would save consumers time and money, and businesses that continued to use subscription tricks and traps would be subject to stiff penalties."
The notice of proposed rulemaking announced on March 22 is part of the FTC's ongoing review of its 1973 Negative Option Rule, which regulates unfair or deceptive practices related to subscriptions, memberships, and other recurring-payment programs. Negative option marketing includes subscription services that automatically renew unless the customer affirmatively cancels, and free trial offers that convert to paid subscriptions unless canceled within a limited time period.
The commission said click to cancel is needed because the "current patchwork of laws and regulations" do not provide consumers or businesses with a "consistent legal framework." The proposal would clarify what the FTC expects companies to do.
Here are the major requirements in the proposed rule changes:
A simple cancellation mechanism. Businesses would be required to make it "at least as easy to cancel a subscription as it was to start it." For example, if you can sign up online, you must be able to cancel on the same website, in the same number of steps. If you can sign up via phone, you should be able to cancel by phone without being stuck on hold for an hour or more.
New requirements before making additional offers. Companies would be allowed to pitch additional offers or modifications to a subscription when a consumer tries to cancel, but before doing that they must ask if the customer wants to hear them. A seller must take "no" for an answer, and upon hearing "no" must immediately start the cancellation process.
New requirements regarding reminders. Sellers would be required to provide an annual reminder to consumers enrolled in negative option programs (involving anything other than physical goods) before their subscriptions are automatically renewed.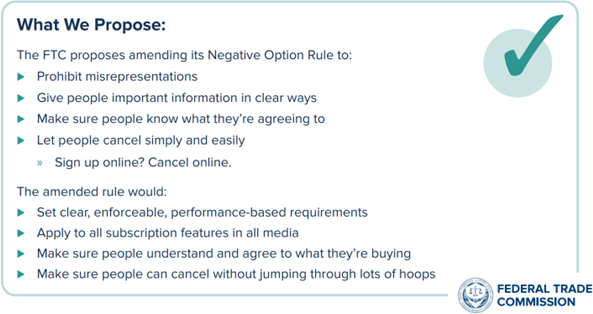 Complaints Grow as Businesses Push Subscriptions
Subscription programs have grown in popularity in recent years, as companies look for ways to retain customers and boost revenue. These programs can provide substantial benefits, such as free shipping, discounted prices, or special offers.
Problems arise when merchants fail to adequately disclose all terms and conditions, bill people without their consent, or make cancellation difficult or impossible. For example, customers who sign up online may be required to cancel in person or by phone (if they can reach a customer service agent), or certified letter.
Free-trial offers are especially problematic. In most cases, if you don't cancel on time, you'll be charged for that product or service. You could also be automatically enrolled in an ongoing subscription. The company can do that because it already has the credit or debit card number you provided to pay for shipping and handling. Cancelling that subscription can be difficult at best; impossible if you've fallen for a free trial scam.
In 2020, the FTC sued ABCmouse, an online educational company for allegedly making it difficult to cancel free trials and subscription plans. According to the complaint, consumers who wanted to cancel "were often forced to navigate a difficult-to-find, lengthy, and confusing cancellation path on the company's website and click through several pages of promotions and links that, when clicked, directed consumers away from the cancellation path."
In settling the case, ABCmouse (no relation to the ABC network or Disney) agreed to pay the government $10 million dollars to be refunded to customers harmed by its business practices.
The Consumer Financial Protection Bureau (CFPB) is also concerned about deceptive tactics used by some companies to "confuse and deceive consumers enrolled in subscription services."
Earlier this year, the CFPB warned businesses that use negative option marketing that they risk violating the law if they do not "clearly and conspicuously disclose the terms of their subscription services and obtain consumers' informed consent, or if they make it unreasonably difficult for consumers to cancel."
Checkbook tip: It's best to pay for any subscriptions that bill automatically with a credit card. If you cancel and the company continues to bill for services you don't want, you can challenge those charges with your credit card company. That may be a problem if the recurring charges continue to be billed to your debit card after you cancel.
More info: Getting In and Out of Free Trials, Auto-Renewals, and Negative Option Subscriptions
FTC Promises 'Aggressive Enforcement' of Fair Cancellation Policies
Responding to the thousands of complaints it receives each year about cancellation problems, the FTC issued a policy statement in 2021 telling companies they were expected to make it as easy for customers to cancel services as it was to enroll.
In November 2022, the FTC announced it had stopped internet phone service provider Vonage from "creating obstacles" to those who tried to cancel their service. In its lawsuit, the FTC claimed that Vonage "force[d] customers to cancel only by speaking to a live 'retention agent' on the phone."
The complaint alleges Vonage also created "significant cancellation hurdles" by making it difficult to find the phone number on the company website, not consistently transferring customers to that number from the normal customer service number, offering reduced hours the line was available, and failing to provide promised callbacks.
Vonage has agreed to settle the case by changing its business practices and refunding $100 million to customers harmed by its actions.
Sam Levine, director of the FTC's Division of Consumer Protection, said he hopes this case "sends a strong message…that these practices won't be profitable."
In an interview for Checkbook's Consumerpedia podcast, Levine said the commission will be aggressive in holding companies accountable if they "continue to use tricks and traps to prevent people from cancelling their services, to trap them in services they don't want, or trick them in a way that prevents them from cancelling." He encouraged anyone who has trouble cancelling a subscription or membership to file a complaint with the FTC.
"That's the best way to ensure that we can hold these companies accountable," Levine said.
Related: FTC Report Shows Rise in Sophisticated Dark Patterns Designed to Trick and Trap Consumers
Contributing editor Herb Weisbaum ("The ConsumerMan") is an Emmy award-winning broadcaster and one of America's top consumer experts. He has been protecting consumers for more than 40 years, having covered the consumer beat for CBS News, The Today Show, and NBCNews.com. You can also find him on Facebook, Twitter, and at ConsumerMan.com.