FTC Sues Company for 'Unfairly Thwarting' Consumers Trying to Reverse Disputed Credit Card Charges
Last updated April 20, 2023
Credit cards have a unique feature—the chargeback process—that protects you from charges that are fraudulent, inaccurate, or unauthorized. It can also be used when merchandise doesn't arrive, shows up damaged, or is defective.
If the merchant won't solve the problem or provide a refund, you can contact the credit card company and challenge the charge. While the credit card company investigates, you receive credit for the disputed amount. If the credit card company determines the claim is legitimate, that purchase is removed and charged back to the merchant.
Chargebacks have become an increasing concern to businesses large and small. Half of the 300 merchants surveyed last year said dealing with chargebacks is their worst problem, according to a report by pymnts.com. "These may be initiated by cardholders who have experienced true fraud, who are confused or frustrated about their transactions, or who are simply using the chargeback process to avoid paying for goods and services," the report noted.
To handle chargeback disputes and flag potential fraud, many merchants are using third-party companies, including Chargebacks911 based in Clearwater, Fla. Chargebacks911 promises to proactively reduce the number of overall chargebacks (and the associated fees), and discourage future chargebacks. The company has received a great deal of positive news coverage in the last few years.
Last week, the Federal Trade Commission (FTC) and the Florida Attorney General sued the company and its owners, accusing them of "unfairly thwarting consumers who were trying to dispute credit card charges through the chargeback process."
In a complaint filed in federal court, the FTC and Florida AG allege that since at least 2016 Chargebacks911 has used "multiple unfair techniques to prevent consumers from successfully winning chargeback disputes."
According to the lawsuit, Chargebacks911 did this by regularly sending erroneous screenshots on behalf of their clients to credit card companies that "supposedly show that consumers had agreed to the disputed charges"—when they had not.
In many instances, the complaint noted, these screenshots were not even from the websites where customers made the disputed purchases, and that Chargebacks911 "ignored clear warning signs the website screenshots were misleading."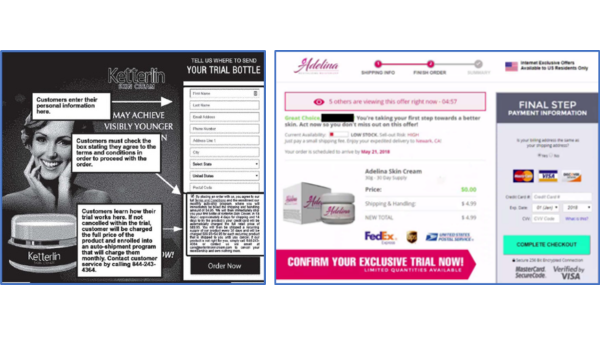 According to the complaint, Chargebacks911 provided credit card companies with the order form on the left—an order form that included a box customers had to sign to agree to proceed with the order—which was different from the order form customers who disputed the charge filled out (order form on right).
The FTC and Florida AG said Chargebacks911's clients included several companies the FTC had sued previously for deceiving customers with negative-option free trial offers (often for skin care products and nutritional supplements)—including Apex Capital, F9 Advertising, and AH Media—disputing tens of thousands of chargebacks on behalf of each of these companies.
"Chargebacks911 helped scammers stay in business and defeat chargeback attempts by consumers hit with fraudulent charges," said Samuel Levine, director of the FTC's Bureau of Consumer Protection.
The company asks the court to stop the defendants' illegal activities and order monetary relief, including compensation for consumers and civil penalties.
Chargebacks911 did not respond to Checkbook's request for comment. In a statement to pymnts.com, the company said it does not "condone deceptive or unfair practices," and it vowed to "mount a vigorous defense." The company challenged the government's complaint, claiming that it "makes a series of inaccurate accusations that are factually and legally wrong."
More info:
Credit Cards Provide Strong Protections for Consumers
Contributing editor Herb Weisbaum ("The ConsumerMan") is an Emmy award-winning broadcaster and one of America's top consumer experts. He has been protecting consumers for more than 40 years, having covered the consumer beat for CBS News, The Today Show, and NBCNews.com. You can also find him on Facebook, Twitter, and at ConsumerMan.com.