Ford to No Longer Allow Customers to Buy Electric Vehicles at the End of Their Leases
Last updated June 16, 2022
Lease an all-electric vehicle from Ford and you no longer have the option to buy that car or truck when your agreement ends. As of June 15, Ford eliminated the purchase option for new leases on the F-150 Lightning, E-Transit Van, and Mustang Mach-E (shown below).
The new policy is already in effect in 37 states. In other states, and in the District of Columbia, the change will take effect before the end of the year.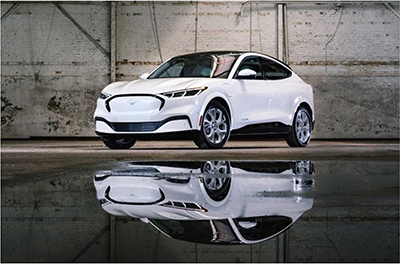 Ford sent letters to its dealers last week, advising them that the change was part of its overall corporate strategy. Ford Credit confirmed the policy change in an email to Checkbook:
"Ford wants to make electric vehicles more sustainable, drive down the cost for batteries, and ultimately help make electric vehicles accessible and affordable for more Americans. Ford's battery strategy includes recycling and localizing battery production, and Ford Credit's plan for EV leasing enables customers to replace their vehicles with the newest model at lease end while keeping the vehicle in the Ford network longer so Ford can better manage battery recycling and materials."
While Ford's claims of production efficiency and environmental responsibility may be part of the reason it made this change, there's likely also an economic motive: Eliminating the purchase option at the end of leases will provide Ford dealers with a constant supply of low-mileage EVs to sell in the years ahead.
Right now, the used car inventory is at all-time low. As Checkbook previously reported, faced with record-high prices for new and used vehicles, many drivers are buying their cars at the end of their leases, rather than turning them back in.
An important factor in a leasing arrangement is the stated "residual value" for the vehicle, which is an estimate of what the car will be worth when the lease ends. Right now, consumers who took out leases three or four years ago are finding their rides are worth considerably more than what their lease contracts assumed. It's not unusual to have built up $4,000 to $6,000 in equity. Those customers can therefore opt to buy their cars at prices that are significantly lower than current trade-in values.
"Ford wants those vehicles to go to their dealerships when they're coming back from a lease, rather than customers," said Ronald Montoya, senior consumer advice editor at Edmunds.
Ford's move is just the latest example of automakers adding increasingly restrictive policies to their lease agreements.
Earlier this year, Tesla eliminated its lease-to-buy option for vehicles delivered on or after April 15. At the end of leases, Tesla will allow customers in good standing to apply for a one-time lease extension of six months.
Do these limitations change anything for people who want to lease their EVs from Ford or Tesla? Montoya doesn't think so.
"You don't want to go into a lease thinking that you're going to buy the car," Montoya told Checkbook. "If that's the case, you may as well purchase the car because over time it's going to be less expensive to actually purchase that vehicle outright."
The financing arms of 17 major automakers, including General Motors, Ford, Honda, Nissan, and BMW now prohibit their customers from selling their leased vehicles to a third party, according to Edmunds. That leaves two options when the lease expires: Take the vehicle back to the dealer, or buy it from the lease company, if the company allows it.
More Info: Checkbook's CarBargains service can help you obtain the best possible price on a new car, whether you want to buy or lease.
Contributing editor Herb Weisbaum ("The ConsumerMan") is an Emmy award-winning broadcaster and one of America's top consumer experts. He is also the consumer reporter for NW Newsradio in Seattle. You can also find him on Facebook, Twitter, and at ConsumerMan.com.