Fraud Alert: Bogus COVID-19 Vaccine Survey
Last updated April 21, 2021
Fraudsters have figured out another way to exploit the pandemic. They're sending out emails and text messages asking people to complete a bogus COVID-19 survey about the Pfizer, Moderna, or Johnson & Johnson vaccines. There's even a fake survey for AstraZeneca, which hasn't even been approved for use in the U.S.
In return, the messages say, you'll get a free reward. You can choose from "various free prizes, such as an iPad Pro."
But, there's a catch. You're required to pay the shipping charge to get your gift, something you find out after taking the survey. Don't do it!
"The fake survey is just a ruse, a way for the crooks to get you to give them your credit or debit card information, so they can start buying things," cautioned digital security expert Adam Levin, author of the book Swiped. "If it's really a gift, you should not have to pay anything to get it—no shipping, no handling, nothing."
People who provide their credit or debit card information are charged for shipping and handling, but most never receive the promised prize, according to the U.S. Department of Justice. Victims are also providing scammers with their personally identifiable information (PII) increasing their risk for identity theft.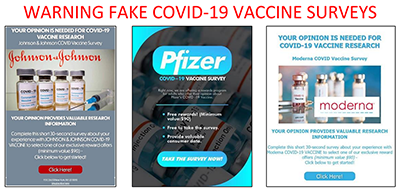 (These phishing messages offer participants a free reward for taking a survey about their experience with the COVID vaccine. They're designed to harvest credit and debit card numbers for the cyber thieves. Courtesy: International Property Rights Center.)
"It's a classic phishing scam with a COVID twist to it," said Colleen Tressler, a consumer educator with the Federal Trade Commission, which has issued a warning about this. The crooks have done "a really good job" of making their bogus email and text messages look real," Tressler told Checkbook.
A Victim Shares Her Story
The fraudster's email was good enough to fool Jeri, a scam-savvy 81-year-old who lives in Bremerton, Wash.
The scammers were lucky. Their phishing email—made to look like it was from Pfizer—arrived shortly after Jeri got her first Pfizer shot. It said her opinion was needed for "COVID-19 vaccine research," and it promised "exclusive reward offers (minimum value $90)" for doing it.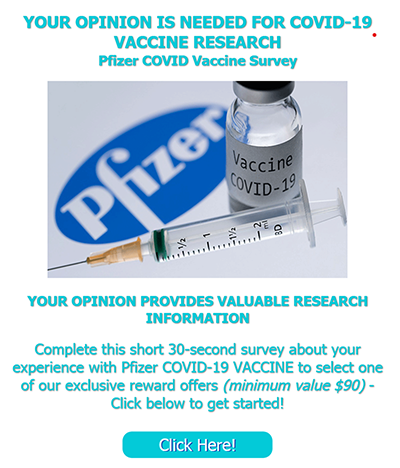 The phishing email Jeri received was made to look like it was from Pfizer.
"The timing was just perfect," she said. "I just thought this would be a way to help others."
So, she clicked the link and took the short survey. The questions were "innocuous" and didn't raise any alarms, Jeri told Checkbook. She used her credit card to pay the $4.97 shipping charge. While most victims don't receive a gift, Jeri got a cheap watch.
A few weeks later, Jeri spotted a $179 credit card charge for a health product she hadn't ordered. While she can't prove it, Jeri believes this unauthorized purchase was related to falling for the COVID survey scam. She rejected the charge and cancelled her credit card.
Jeri knew she'd been taken when another email, this one made to look like it was from Moderna, asked her to take a similar opinion survey. Remember, she had the Pfizer vaccine.
"I'm a fairly intelligent person, and I got duped," Jeri told Checkbook. "I didn't check the sender's email address, I just clicked on the link. If I had looked at the email address—which was not Pfizer—that would have been a red flag."
Protect Yourself
While an email or text may look legitimate, vaccine manufacturers are not conducting any post-vaccination surveys, the FTC cautions. The only possible follow-up could come from the Centers for Disease Control (CDC) via its smart-phone based v-safe after vaccination health checker, and you have to sign up to use this tool.
"Anytime you get an email or text message out of the blue that contains a link to click, you should always stop, take a breath, and look for the red flags," cautions Amy Nofziger with the AARP Fraud Watch Network.
If you got fooled and provided personal or financial information, you'll need to immediately contact your credit card company or financial institution. You also may need to take other steps to prevent identity theft. The non-profit Identity Theft Resource Center can help. You should also file a report with the Federal Trade Commission.
The pandemic has provided fraudsters around the globe with an unprecedented hook to snag their victims. Scammers are selling bogus treatments, unapproved test kits, and promising "guaranteed" vaccination slots, for a price. They're also sending out phony emails and texts pretending to be from the CDC or World Health Organization (WHO) designed to steal personal information or download malware.
Find out more about coronavirus scams on the FTC website, and from the AARP Fraud Watch Network.
Contributing editor Herb Weisbaum ("The ConsumerMan") is an Emmy award-winning broadcaster and one of America's top consumer experts. He is also the consumer reporter for KOMO radio in Seattle. You can also find him on Facebook, Twitter, and at ConsumerMan.com.