Fraud Alert: How to Spot Scammers Posing as Health Department COVID-19 Contact Tracers
Last updated August 3, 2020
Contact tracing is one of the critical tools state and local health departments are using to help stop the spread of the coronavirus. Unfortunately, it's also given criminals a new way to scam people.
When someone tests positive for COVID-19, health department workers (contact tracers) try to find and alert everyone who had close contact with that person when they may have been infectious to warn them of their potential exposure.
Scammers, pretending to be contact tracers, hope to steal your identity, your money—or both, according to a fraud alert from the Federal Trade Commission.
"We've already gotten some complaints … and as states ramp-up their contact tracing programs, we'll probably see more scammers trying to take advantage of the situation," Shameka Walker, an attorney in the FTC's Bureau of Consumer Protection, told Checkbook.
FTC Issues Warning About the Scam
The text message in the image below is bogus. Unlike a legitimate text from a health department––which only wants to let you know they'll be calling––this message includes a link to click. Click on that link and the scammers can either download malware onto your device (giving them access to your personal and financial information) or take you to a phishing site designed to collect your personal information.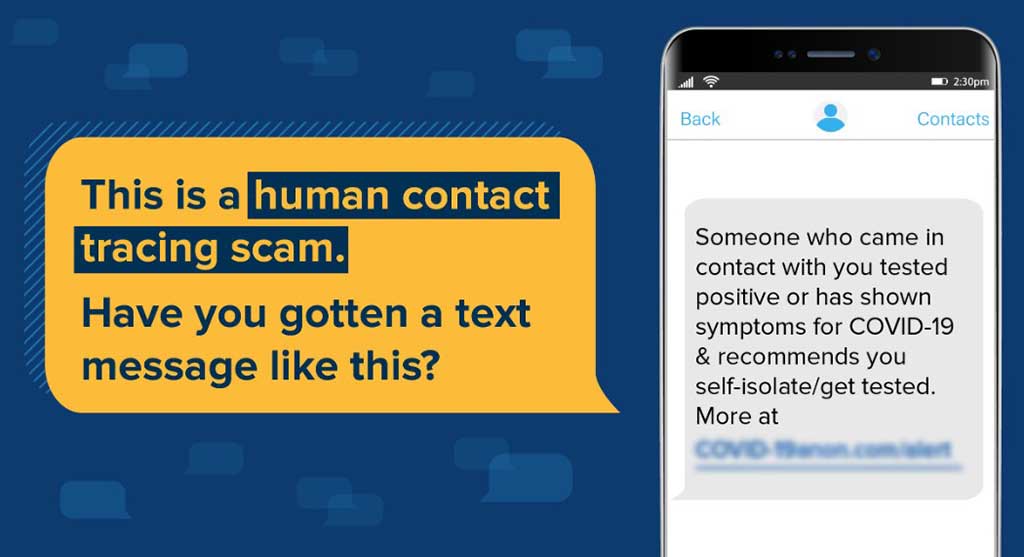 Adam Levin, founder of CyberScout, a data security firm, and author of Swiped: How to Protect Yourself in a World Full of Scammers, Phishers and Identity Thieves, says the imposters use fear to get what they want.
"They hope to scare you into making an emotional response without thinking about the personal information you're giving up. And unfortunately, all too often they're successful," Levin told Checkbook.
What a Real Contact Tracer Will Ask
Legitimate contact tracers call, text, or email (and in some cases, come to your home) to say you may have been exposed to the virus, and to explain what precautions to take. They will also want to know who you've been in contact with and may have unknowingly infected.
In some states, contact tracers send a text message prior to calling, explaining that you should expect a call—from a specific number—about an urgent public health matter. There is never a link to click on, and never a number for you to call.
When they call, real contact tracers ask how you're feeling, where you've been, and who you've been in contact with recently. They will also ask for some basic personal information, such as:
Name and address
Date of birth
Occupation and work status
Contact information and contact preferences
Five Questions You Should Not Answer
Here are five ways you can tell the difference between a real contact tracer and a scammer. According to the FTC, contact tracers will never:
Ask for money or payment of any kind.
Ask for your bank account or credit card number.
Ask for your Social Security number.
Ask for your immigration status.
Ask you to click on a link in a text or email.
Scammers may also offer fake contact tracing jobs in order to collect both Social Security numbers and bogus fees, warns the U.S. Department of Justice. The DOJ has compiled a list of COVID-19-related scams, from free-testing schemes to fraudulent sales of personal protection equipment (PPE). It shows that fraudsters are targeting victims via text, phone, email, and social media.
The Bottom Line
It's important to talk to legitimate contact tracers. The information they have can protect you and people you know. This will help slow the spread of the novel coronavirus.
Since the process varies from county to county and state to state, it's critically important to verify that you're talking to a contact tracer before you give out any information.
"We know that they will not ask you for financial information, but they do have to make attempts to verify who you are, and a DOB [date of birth] may be one of the ways that some counties are choosing to do so," said Eva Velasquez, president and CEO of the non-profit Identity Theft Resource Center.
A legitimate contact tracer will be able to tell you which county/region they work for. If they won't disclose that information, that's a huge red flag.
"Once you have that information, you can visit your county website and/or call the phone number that you independently verify (not the one they give you to call back, or the one that appears on your caller ID) and ask if that individual is, in fact, a contact tracer for that entity," Velasquez told Checkbook.
If you think you've been scammed by a fake contact tracer, report it to your state health department and tell the FTC about it at FTCcomplaintassistant.gov.
If you provided personal information that could be used to commit identity theft, visit IdentityTheft.gov or the Identity Theft Resource Center to find out what you need to do to protect yourself.
Contributing editor Herb Weisbaum ("The ConsumerMan") is an Emmy award-winning broadcaster and one of America's top consumer experts. He is also the consumer reporter for KOMO radio in Seattle. You can also find him on Facebook, Twitter, and at ConsumerMan.com.