Headlight Ratings Encourage Automakers to Improve Safety; These 2021 Models Scored Best
Last updated January 4, 2021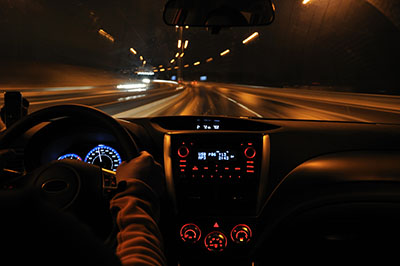 Today's vehicles are loaded with advanced safety features, such as side curtain air bags, lane departure warnings, and pre-collision systems that automatically apply the brakes to avoid a crash.
And yet, with all the emphasis on safety, little attention has been paid to headlights. Critics say headlights, which are part of a vehicle's safety system, are often designed for appearance rather than function.
Current government regulations do not take into account on-road headlight performance.
Inferior headlights can create excessive glare for oncoming traffic, or do a poor job of lighting up the road ahead. Insurance industry data show half of all fatal crashes in the U.S. happen at night; almost a quarter take place on unlit roads.
"Headlights are critical for nighttime driving safety," said David Harkey, president of the Insurance Institute for Highway Safety (IIHS). "Good headlights provide a driver with an opportunity to see further down the roadway, identify potential hazards, and hopefully avoid a crash."
To encourage automakers to improve inferior headlights, the IIHS started rating headlights in 2016. The IIHS rates headlights on the distance they illuminate on straight and curved roadways under low-beam and high-beam conditions.
On a straightaway, "good"-rated low beams illuminate the right side of the road at least 325 feet ahead. Poor ones might light up 220 feet or less.
In 2016, only two of the 95 models evaluated earned a "good" rating. For the 2020 model year, 85 of the 185 models tested had headlights that rated "good."
Those vehicles with "high-beam assist," a feature that automatically switches between high and low beams based on oncoming traffic, receive additional credit. Research shows most drivers don't use high beam enough. Vehicles that produce excessive glare (that can momentarily blind oncoming drivers) lose points.

New Ratings Drive Improvements
To receive the highest IIHS rating, Total Safety Pick+ (TSP+) award, automakers must provide "good" or "acceptable" headlights across all trim levels for a vehicle model. This helps eliminate confusion, because customers know the headlights perform the same for any version of that vehicle.
Testing shows continued progress with the 2021 models: 10 models have moved from Top Safety Pick to Top Safety Pick+ simply by eliminating or changing headlight packages previously rated "poor" or "marginal." In addition to meeting headlight criteria, models earning the TSP and TSP+ awards must also earn good ratings in each of the institute's six crashworthiness tests.
Here are the 2021 models (built after Sept. 2020) with improved headlights that are now rated Top Safety Pick+:
Acura RDX (good)
Audi A7 (acceptable)
Honda Accord (good or acceptable)
Honda Odyssey (acceptable)
Hyundai Palisade (good)
Mazda CX-30 (good)
Nissan Altima (acceptable)
Subaru Ascent (good)
Subaru Forester (good)
Subaru Legacy (good)
Subaru Outback (good)
Toyota Highlander (good or acceptable)
Volvo S60 (good)
Volvo XC40 (good)
Volvo XC60 (acceptable)
Volvo XC90 (acceptable)
Two carmakers improved the headlights on four 2020 models that earned Top Safety Pick+ awards: The Acura RDX, Subaru Forester, Subaru Legacy, and Subaru Outback. These vehicles had been available with different headlights that earned both good and acceptable ratings. For 2021, good-rated headlights are standard.
BMW also improved the headlights on the 2021 BMW 5 series by eliminating a "marginal" option. Although it does not qualify for either a TSP or TSP+ award (its pedestrian crash avoidance has not been rated), every 2021 BMW 5 series vehicle now comes with headlights rated good.
"More manufacturers are going to a single headlight package for many 2021 models, which is a big win for consumers," Harkey said. "Sometimes, taking an inferior piece of equipment off the market is as important as the invention of a better one."
More Info: You can read more about headlight testing and the IIHS's news release on headlight improvements on the Insurance Institute for Highway Safety website.

Ready to buy a new ride? Checkbook's CarBargains service helps consumers save hundreds—often thousands—of dollars while bypassing all the hassles and high-pressure sales tactics of traditional car shopping. Our shoppers will find you the lowest price, guaranteed.
Contributing editor Herb Weisbaum ("The ConsumerMan") is an Emmy award-winning broadcaster and one of America's top consumer experts. He is also the consumer reporter for KOMO radio in Seattle. You can also find him on Facebook, Twitter, and at ConsumerMan.com.