Holiday Shopping: The Pros & Cons of Traditional Layaway and New Buy Now, Pay Later Services
Last updated October 28, 2020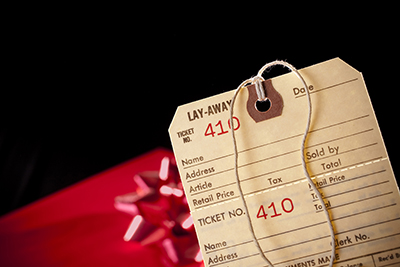 The holiday shopping season is underway and despite the pandemic, most Americans say they plan to spend as much as they normally do on gifts—even if that means going into debt.
The average consumer expects to spend $650 on holiday gifts this year, down only $8 from 2019, according to the annual holiday survey by the National Retail Federation. The survey of 7,660 adults, conducted in early October, was released last week.
For people without savings or credit, or who have credit cards maxed out because of the pandemic, layaway may be the only way to buy everything on their gift-giving lists.
With layaway, you find an item you want (online or in the store), make a downpayment to put in on hold, and agree to pay in full within a specific time period. Because you don't get the item until you've paid in full, there's no credit check.
Layaway programs aren't as widely available as they once were, but some big-name chains still offer them, including Walmart, Sears, Kmart, Marshalls, T.J. Maxx, GameStop, and Burlington Coat Factory.
"The big appeal of layaway is that it's not credit, so you're not paying any interest and you're not building up debt, as you would with a credit card," said Kimberly Palmer, credit card and personal finance expert at NerdWallet. "The downside is that if you end up not being able to pay it off, you typically have to pay a cancellation fee of between $5 and $10."
Layaway programs vary from store to store, so you need to check the terms. Here are the key questions to ask:
Is this free or is there a fee? Many stores charge a $5 to $10 service fee to setup a layaway account. This fee is generally non-refundable if you can't make a payment or cancel the contract.
Is there a minimum spending requirement? At Walmart, your total layaway purchase must be worth $50 or more.
Is there a downpayment, and if so, how much is it? In most cases, it's a specific amount or a percentage of the total purchase amount. GameStop requires a $25 deposit. At Walmart it's $10 or 10 percent of the purchase amount, whichever is greater. The down payment at Burlington Coat Factory is $10 or 20 percent of the total layaway, whichever is greater.
Is there a payment schedule I must follow? Most stores do not set up a payment schedule. Both Sears and Kmart require payment every two weeks.
How long is the layaway period? It's up to 30 days at Marshalls. Walmart requires full payment and pickup by Dec. 14, 2020.
Does the program apply to both in-store and online purchases? Layaway is limited to in-store purchases at Marshalls, T.J. Maxx, and GameStop.
What's the penalty for cancelling? Some stores have a set fee—it's $5 at Marshalls, and $10 and Walmart.

More Info: RetailMeNot has details on 2020 holiday layaway programs at 10 national retailers.

The New Layaway: Buy Now, Pay Later
About a dozen major companies, including Afterpay, Affirm, FuturePay, Klarna, PayPal, and QuadPay offer installment loans called "buy now, pay later" (BNPL) for purchases made online, or in some cases, at the store.
Unlike traditional layaway, BNPL financing is not limited to a specific retailer—and more significantly, you take possession of the merchandise before you've paid in full.
No wonder millions of people have used one of these services. A survey by The Ascent, a service of the Motley Fool, found that most shoppers who use a BNPL service want to avoid paying credit card interest (39 percent); buy something that's not in their budget (38 percent); or borrow money without a credit check (25 percent).
A worrisome finding of the survey: Fewer than half (43 percent) of the 1,800 adults who said they had used a BNPL service completely understood the terms and conditions.
These BNPL services can be a no- or low-cost way to finance large purchases. But you need to understand the cost (are there fees or interest?) and the repayment terms and figure out if a fixed payment program aligns with your financial situation, said Ted Rossman, industry analyst at CreditCards.com. Keep in mind: Unlike a credit card, there's no minimum payment option with these programs.

How Buy Now, Pay Later Works
There are two types of buy now, pay later programs: No interest, or a fixed interest rate based on the length of the loan. Some have late fees; some don't. In either case, the loan must be paid off in regular fixed installments.
The BNPL programs provided by these independent companies are different from the promotional financing offered by many national retailers, such as "No interest if paid in full within 12 months." These special financing deals are called "deferred interest programs," and they have big gotchas: If you owe anything on that balance after the payback period—even a penny—you will be charged interest, typically 25 percent or more, on the entire amount financed. That will not happen with these new fin-tech financing programs.
For example, here's what Affirm says on its website: "We don't charge late fees. Even so, partial payments or late payments may hurt your credit score or your chances of getting another loan with us. After you schedule a payment, we'll continue sending reminders by email and text message until any remaining balance is settled, but you won't receive calls about your loan."
Here's a look at some popular BNPL services:
Affirm: Pick a payment schedule—from a few weeks to 48 months—and see the interest rate offered and what your monthly payments would be. The interest rate ranges from zero to 30 percent—as high as someone with poor credit might pay on a traditional credit card. The interest rate is fixed, it will never go up, and Affirm promises that it won't charge "late fees or penalties of any kind, ever."
Klarna: Before checking out online, you agree to pay the full purchase price in four interest-free installments on your credit or debit card. The first installment is paid at purchase. The next three are automatically charged to your card every two weeks. A late fee of up to $7 will be charged if an automatic payment cannot be collected.
Pay In 4: This new four-week installment program from PayPal (launched in September) lets you split an online purchase of between $30 and $600 into four equal payments, paid every two weeks. There's no interest and there are no fees. The customer can manage payments in PayPal's wallet feature.
PayPal also offers PayPal Credit, which gives shoppers an interest-free way to pay for purchases of $99 and up over six months.
"Each service is a little bit different, so you really need to do your homework. Don't just sign up impulsively on a whim," Rossman told Checkbook. "For some people the idea of fixed payments is very appealing, but think about the full picture and don't buy something that you can't afford simply because the store is trying to incentivize you to spend money."

More Info: CreditCards.com has a detailed comparison of the major BNPL services.

For those who choose to use buy now, pay later services, CreditCards.com has this advice:
Calculate your interest and fees to make sure you're actually saving money over another payment method. You might save more by using a credit card

—

especially one with a zero percent introductory APR.
Don't take on too many plans at once. Smaller payments can mask how much you are actually spending. You don't want to be stuck with more than you can pay back.
Know your terms and conditions. Before you accept an offer, be sure you understand any penalties (such as account closure or late fees) that come from not meeting the payment terms.
Keep your own payment calendar. Do this even if you have autopay or set up notifications. You don't want to miss a payment if something goes wrong.

The Bottom Line
The holiday season is special and you want to give gifts to loved ones. Clearly, there are payment options to help you buy things you can't afford to pay for at the time of purchase. But consider the long-term consequences to your family budget. The smart move, as any personal finance expert will tell you, is to save up enough to be able to afford the purchase, whether you pay with cash or debit card, or charge it and pay off the bill as soon as it arrives.
Contributing editor Herb Weisbaum ("The ConsumerMan") is an Emmy award-winning broadcaster and one of America's top consumer experts. He is also the consumer reporter for KOMO radio in Seattle. You can also find him on Facebook, Twitter, and at ConsumerMan.com.