How to Shop Safely Online This Holiday Season (and the Rest of the Year, Too)
Last updated November 6, 2020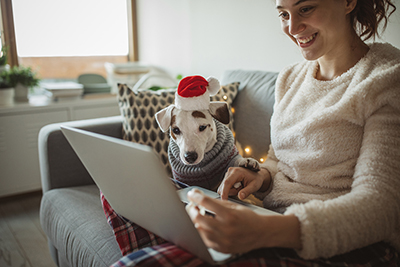 Like everything else during this pandemic, holiday shopping is different this year. Stores are open and malls are decorated, but even diehard brick-and-mortar shoppers are more likely to buy online.
Nearly 60 percent of the consumers surveyed by the National Retail Federation in September said they planned to shop more online this year. Adobe Analytics expects U.S. online holiday sales to increase 33 percent from last year to $189 billion, "shattering all previous records."
While shopping online reduces the risk of getting infected with COVID, it increases the chances of falling victim to cybercriminals. The Federal Trade Commission has seen "a substantial increase" in online shopping complaints during the first three quarters of this year compared to the same period last year: 235,630 complaint reports in 2020 vs. 128,577 in 2019.
According to the FTC's July Data Spotlight:
In April and May of 2020, more people reported problems with online shopping than in any other months on record. More than half of complainants said they never received the items they ordered.
Online shopping complaints in May of this year were nearly double the reports filed in December 2019.
Shopping scams are a year-round threat, but the risk goes up during the hectic holiday season because we tend to make quick decisions, and criminals take advantage of that.
"If you're not careful when doing online shopping during the holidays, you could end up on a website that's a complete scam," cautioned John Breyault, who runs the National Consumers League's Fraud.org website. "At best, you could get a lousy product, or a counterfeit, or nothing at all. At worst, you could be giving your credit or debit card number to a crook."
How Online Shopping Scams Work
Scammers have a bag of tricks to entice online shoppers to visit their websites. The top motivator is price, according to the 2020 Online Purchase Scams Report from the Better Business Bureau's Institute for Marketplace Trust.
"When you combine an attractive price with the product someone wants, the scammer is going to be very successful," said Melissa Trumpower, executive director of the Institute. "People who see a really attractive price are more likely to buy that product and lose money. If you see an offer that looks really great, just pause for a little bit, and don't act too quickly."
More than half (53 percent) of the 1,549 U.S. and Canadian victims surveyed in August said they didn't know they were targets of scams until they didn't receive the products they ordered.
Those who took the time to research the website or business via an independent source before making a purchase were less likely to lose money. Of those who did get ripped off, the BBB survey found that:
73 percent paid and didn't receive the products.
15 percent received something different than described, and they could not get refunds.
11 percent had other issues, such as overcharges, extra fees, and returned products with no refunds.
1 percent had credit card information stolen.
About 80 percent of the people who filed complaints with the Better Business Bureau regarding online purchase scams so far this year lost money—$93, on average, up from $76 in 2019.
The Threat Matrix
Cyber-crooks use bogus email and text messages, fake ads, and copycat websites—all designed to steal your money and/or personal information, and in some cases, load malware onto your device.
"We are getting so many complaints now about the ads on Facebook," said Amy Nofziger, with the AARP Fraud Watch Network.
"Be very careful about clicking on any advertisements on your social media feed or that come by email or text," Nofziger said. "Criminals will often put fake links in their ads, email, and text messages that take you to a website they created that looks just like the real website. If you are interested in buying something you see in an ad, go directly to the retailer's website."
More Info: The AARP Fraud Watch Network has a blogpost on Online Shopping Scams.
Criminals' fake ads and imposter websites are often so good you might not spot the danger. As the AARP Fraud Network warns:
"Some faux e-stores are invented from whole cloth, but many mimic trusted retailers, with familiar logos and slogans and a URL that's easily mistaken for the real thing. They offer popular items at a fraction of the usual cost and promise perks like free shipping and overnight delivery, exploiting the premium online shoppers put on price and speed."
Researchers at Check Point Software Technologies analyzed cyber threats related to Amazon's Prime Day and found "an alarming increase in the number of registered domains" that were malicious. In the 30 days leading up to the October event, Check Point found a 21 percent increase in domain registrations containing the word "Amazon," compared to the previous month. More than a quarter (28 percent) of those domains were found to be malicious, another 10 percent were considered suspicious.
Some emboldened scammers pay Google to have their fraudulent ads show up at the top of search results.
How to Protect Yourself
It takes some effort to shop safely online. Just remember: The threat is serious and growing, so before you click on a link or do anything that requires you to provide personal or payment information, stop and think about it.
Here are some online shopping tips from the National Cyber Security Alliance:
Think before you click. If you receive an enticing offer, rather than click on the link, go directly to the company's website to verify the offer is legitimate.
Do your homework. Before you make a purchase, read reviews to hear what others say about the merchant. In addition, look for a physical location and any customer service information.
Consider your payment options. Using a credit card is much better than using a debit card because credit cards have better fraud protection. In most cases, credit card companies must remove fraudulent charges from your bill.
Note: I advise people not to use a debit card online, because you're providing that company access to your checking account. Reversing the transaction, if something goes awry, can be more difficult than if you paid with a credit card.
Use secure Wi-Fi. Using public Wi-Fi to shop online while at your favorite coffee shop is convenient, but not cyber safe. Instead, use a Virtual Private Network (VPN) or your phone as a hotspot.
A Final Tip
Do your homework, but trust your gut! According to the BBB online shopping scam survey, 45 percent of the respondents said they avoided losing money because they felt something wasn't right and bailed out of the transactions.
More Info from Checkbook
Checkbook's top tips for saving when shopping online
Should you use a cashback shopping portal?
Credit cards provide strong protections for consumers
Contributing editor Herb Weisbaum ("The ConsumerMan") is an Emmy award-winning broadcaster and one of America's top consumer experts. He is also the consumer reporter for KOMO radio in Seattle. You can also find him on Facebook, Twitter, and at ConsumerMan.com.