Is It Time to Buy an Electric Vehicle?
Last updated April 19, 2022
Click below to listen to our Consumerpedia podcast episode on what to know before buying an electric vehicle.
Electric vehicle sales are still a tiny part of the U.S. auto market. Last year, only about 2.5 percent of all vehicles purchased were battery-electric, according to Edmunds.com.
But surging gas prices—up 48 percent on an annual basis in March, according to the Bureau of Labor Statistics—are driving up demand.
New Models Will Soon Be Available
Automakers are racing to get new plug-in hybrids and all-electric models to market. As production increases and new choices become available, prices should come down.
Earlier this month, Honda and General Motors announced plans to expand their joint venture to produce entry-level EVs. That should result in new vehicles from both companies starting at under $30,000, according to The Detroit Bureau.
Critics are taking notice. All three nominees for "World Car of the Year" at this month's New York International Auto Show were EVs: the Ford Mustang Mach-E; the Kia EV6; and the Hyundai Ioniq 5 (shown below), which won the award.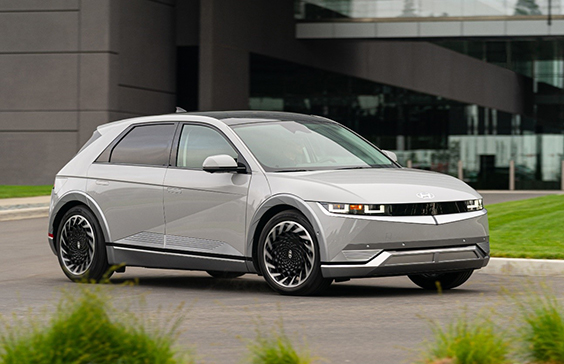 The first deliveries of Ford's new F-150 Lightning, the electric version of the most popular truck in America, begin at the end of this month. Ford received so many preorders that it plans to nearly double its planned annual production to 150,000 units by mid-2023, according to CNBC.
Paul Eisenstein, publisher and editor-in-chief of TheDetroitBureau.com, has seen and driven many of the models that will hit showrooms in the next year or so, and sees huge changes ahead "that will put to rest all the thing you thought you knew about EVs."
While the first battery-powered vehicles were built on existing platforms, the new approach is to create a customized platform that allows batteries, motors, and some of the electronics to be mounted below the load floor.
"You've basically taken out most of what you'd normally find in the engine compartment, so that you can free up space," Eisenstein told Checkbook. "You have a much bigger passenger compartment and cargo bay than you would on a traditional vehicle or an EV that used an existing platform. In some cases, you'll get EVs that are a class or two bigger than what you'd think because of the size of the body."
Most new EVs also get a front trunk or "frunk." Eisenstein said the frunk on the new F-150 Lightning is so big that he could fit inside it.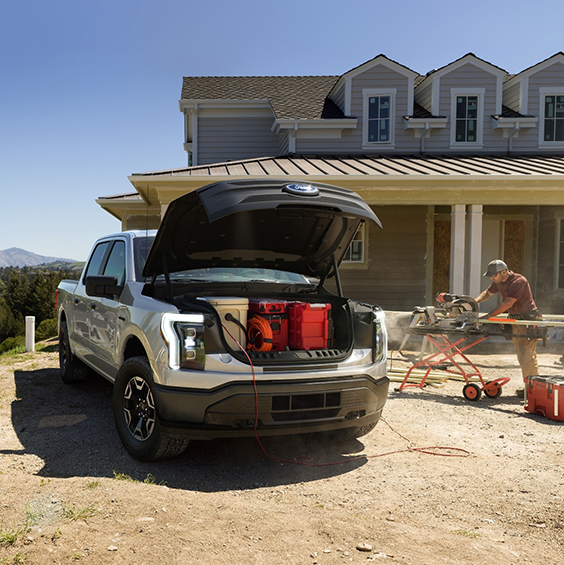 Tax Credit Might Offset Higher Sticker Prices
Right now, most electrics command premium prices. While the average sales price for all new vehicles in February was $45,600, the average price for a new EV was $60,000, according to Edmunds.
That price differential is starting to change, as some entry-level models priced at $40,000 to $45,000 hit the market. In January, General Motors announced it will build an EV version of its popular Chevrolet Equinox compact SUV. GM CEO Mary Barra said it should be available in the fall of 2023 with an estimated MSRP of around $30,000.
"These more affordable models have the potential to sway a significant percentage of the car-buying public toward buying an EV with their efficiency, performance, and lower ownership costs," said Gabe Shenhar, associate director of Consumer Reports' Auto Test Center.
Tax incentives can drive down the cost of an electric vehicle. You may qualify for a $7,500 federal tax credit, and some state and local governments offer tax credits, rebates, or vouchers.
Consumer Reports cautions that under current federal rules, "once an automaker sells 200,000 electric vehicles, the value of the tax credit decreases and eventually fades away." That provision has already affected General Motors and Tesla, and CR says Ford and Toyota may reach that threshold before the end of 2022.
Consumer Reports' Electric Vehicle Incentives Tool will show you what's available for specific models where you live.
President Biden wants to continue the federal tax incentive to charge-up EV sales. His Build Back Better bill, which passed the House but stalled in the Senate, would extend the $7,500 tax credit to all EV buyers through 2026.
Better Batteries Mean Less Range Anxiety
Many people worry that if they buy a full-electric vehicle they'll run out of power and get stranded. That problem is becoming less of a concern. Batteries are getting better, and more charging stations are being built.
The latest crop of full-electric vehicles can go between 200 or 250 miles per charge on the low end, and 300, 350, or 400 on the high end.
Lucid, a new player in the EV market, claims its Air Dream Range model will get 520 miles per charge. Tesla's Model S Long Range Plus sedan can go more than 400 miles on a single charge.
When AAA surveyed EV owners, most (95 percent) said they'd never run out of a charge while driving. Most of those who were originally concerned about insufficient range (77 percent) said they became less or no longer concerned post-purchase.
Charging stations have become much easier to find since that survey was taken two years ago. Still, in some parts of the country—such as South Dakota, Wyoming, Montana, and Mississippi—it can be a challenge to find a place to recharge.
The Biden administration plans to spend $5 billion approved by Congress to install charging stations during the next five years, but most of these new chargers will be along major highways. State governments are also building out this infrastructure. New York will invest $1 billion to support EV adoption and infrastructure.
Plug In America has an interactive map of where public charging stations are located.
Most owners will charge their cars at home, which is significantly cheaper than using a public charging station. But even if you pay a premium price to get a rapid charge on the road, it's still significantly cheaper than a fill-up at today's gas prices.
Some of the new plug-in hybrids now get 50 to 70 miles on a charge; perfect for day-to-day driving. And there's always that gas engine if you need it.
How Long Will the Batteries Last?
Plug-in electrics use batteries that are designed for extended life, but they will degrade over time and eventually fail. The National Renewable Energy Laboratory indicates that today's batteries "may last 12 to 15 years in moderate climates (8 to 12 years in extreme climates)," according to a Department of Energy blog post.
The standard warranty for EV battery packs is currently eight years or 100,000 miles, but that's already being expanded. Tesla's longest warranty now runs eight years or 150,000 miles. Warranty coverage on the new Rivian R1T electric pickup and R1S SUV batteries, available this summer, will be eight years or 175,000 miles.
JB Straubel, one of Tesla's co-founders and its former chief technology officer, was asked about battery life at CERAweek 2022, an energy conference in March.
"It's a subjective thing depending on what people's goal is for the car, but I think it's easily going to be 15 years in most cases," he said. "I think people will probably keep the batteries in their cars for a long time and really extract as much utility as they can."
Lower Operating Costs
Electric vehicles typically require less maintenance than conventional vehicles: no oil changes, no filter changes, and no tune-ups. According to the U.S. Dept. of Energy, the electrical system (battery, motor, and associated electronics) "typically requires minimal scheduled maintenance, and brake systems generally last longer than those on conventional vehicles because of regenerative braking."
A Consumer Reports analysis found that EVs save 60 percent in fuel costs and 50 percent in maintenance costs when compared to gas-powered vehicles. Put another way: With today's gas prices, EV owners could save between $1,800 to $2,600 in operating and maintenance costs for every 15,000 miles they drive compared to having a gas-powered vehicle, based on CR's calculations.
A Different Kind of Ride
Electric vehicles don't have all the powertrain noises of a gas-powered vehicle, so they're exceptionally quiet. They also drive differently.
"It gives you all the torque that's available immediately when you press on the accelerator pedal," said Mike Monticello, manager of road tests and reviews at Consumer Reports. "It can be fun to get all that power at once."
Car and Driver's testing of mainstream EVs earlier this year—including various sedans and SUVs that make no claim of being high-performance vehicles—accelerated from zero to 60 mph in less than five seconds.
Buy Now or Wait?
Consumer Reports has always advised against buying a model during its first year of production, and that includes the new crop of EVs coming to market in the next few years.
"Let the automakers work out some of those bugs that typically happen with new vehicles," Monticello told Checkbook. "It's not necessarily even related to the electric powertrain. It might be just maybe they put a new infotainment system in, or they put different controls in and stuff like that. Any time you bring in a whole bunch of new parts, you're asking for some potential reliability issues."
By waiting, you'll get more models to choose from. That means more features and lower-priced options.
With the marketplace changing so quickly, Consumer Reports just published a guide to each manufacturer's EV production plans for the years ahead.
More Info from Consumer Reports:
Contributing editor Herb Weisbaum ("The ConsumerMan") is an Emmy award-winning broadcaster and one of America's top consumer experts. He is also the consumer reporter for NW Newsradio in Seattle. You can also find him on Facebook, Twitter, and at ConsumerMan.com.