Is This a Good Time to Buy a New or Used Car?
Last updated June 17, 2020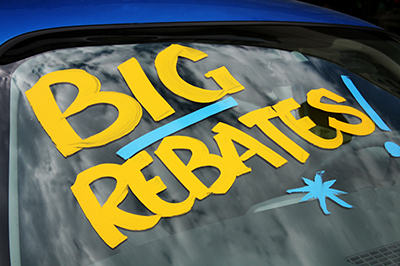 People are buying cars again. To regain lost business, car manufacturers and dealers are promoting steep discounts and special financing. Some of these offers could save you thousands of dollars upfront and over the life of the auto loan.
"It's turning out to be a great time to buy a car––new or used––for those who can afford to make this long-term commitment," said Jack Gillis, author of The Car Book 2020. "Even so, you still need to compare offers and read the fine print on those advertised specials to make sure you qualify."
For example: Some of the advertised specials are limited to first responders. Even so, it doesn't hurt to ask for that price; you may get it, Gillis said.
Automakers have focused their promotions on potential buyers who are worried about the shaky economy and their personal financial stability. They're offering cash back on selected models and low-rate financing.
"Many manufacturers have very attractive interest rates on their auto loans right now––in some cases, zero percent APR. They're also offering deferred payments for 60, 90, or 120 days, " said Guy Dickinson at CarBargains, a service offered by Checkbook that helps buyers get the best possible price on new cars by having dealers submit competitive bids for their business.
A deferred payment program lets you buy the car with no payments due on the loan for the specified number of months, without late fees or penalties. You will make up those deferred payments at a later date, so you still pay the same amount.
Edmunds, a car-shopping web site, has compiled a list of current deferment programs. Hyundai has the most generous program: Qualified customers can delay paying for up to six months. Edmunds also makes it easy to see the top SUV incentives (low- or no-interest loans) for June.
The best rates are limited to what the auto makers call "well qualified" buyers, but even with less than stellar credit, you may be able to qualify for a favorable loan.
"While you may not get zero percent, you can get closer to one or two percent APR," said Ronald Montoya, senior consumer advice editor at Edmunds. "Most of the car loans we saw in May were for less than three percent."
TIP: Before you start the car-buying process, check the auto loan rates at your credit union or bank. That way, you'll know if it makes sense to finance through the manufacturer.
To lower monthly payments, automakers are offering loans of up 72 months––84 months (that's seven years!)––in some cases, on specific models for the most credit-worthy customers.
While lower monthly payments make the car seem more affordable, it actually drives up the total cost because you'll pay more interest.
TIP: Never shop for a car based on the monthly payment. If the salesperson asks how much you can afford to pay each month, tell them your goal is to get the lowest price on that vehicle.
"While very long loan periods may mean enticingly-low monthly payments, you may be 'upside down' for a while," Gillis cautions. "That means you'll owe more on the vehicle than it's worth, which can be devastating if the car is stolen or totaled in an accident. Your insurance company will pay you the value of the car, and you'll have to make up the difference with your loan company."
That same negative equity can come back to bite you even if that long-term loan is interest-free. It may seem like a smart idea to let the car company finance your vehicle for 72 months, but what if you want to sell the car in three or four years?
Currently, the average car buyer who has negative equity in their trade-in vehicle still owes about $5,500 on their loan, according to Edmunds. That leaves them with two undesirable choices: Come up with the money or roll that negative equity into their next car loan, getting even deeper into debt.
TIP: Most consumer experts advise keeping a car loan to 48 months or shorter.
Keep in mind: Manufacturing plants are just going back online after being closed for several months, so some popular models may be in short supply. And as manufacturers switch to making their 2021 models, it may be difficult or impossible to order a 2020 model from the factory.
"Dealers are motivated to sell right now," Montoya told Checkbook, "but if you wait too long, the inventory may not be there."
Used Cars: Good Prices, Large Inventory
Maybe you can't afford, or simply don't want, a new vehicle. A good used car or truck is a great way to stretch your budget––let the original owner eat the depreciation.
Used car prices plunged in April, as new car dealers were flooded with cars coming off lease that they couldn't sell.
Prices made a comeback in May, according to the Manheim Used Vehicle Value Index, but they were still 1.9 percent lower on a year-to-year basis. And seasonally-adjusted prices for some categories were way below normal: vans down 8.3 percent, midsize cars off 7.4 percent, and compact cars were 6.9 percent lower.
Rental car companies, which need to turn parked cars into cash, are offering some of the most aggressive deals. Typically, they don't haggle on the price, and you'll need to feel comfortable buying a vehicle that's been driven this way.
"People think that rental cars are treated poorly––and perhaps they are in some cases–– but they're maintained by fleet mechanics, and they're always serviced when they should be serviced, so they can make for a good used car," said Benjamin Preston with Consumer Reports Autos.
Hertz, which filed for bankruptcy protection in May, needs to reduce its fleet to raise cash, so prices are significantly less than market value. A check of the Hertz Car Sales website shows more than 20,000 cars, trucks, SUVs, sedans and cargo vans for sale. Many of them are 2019 models with low mileage. Right now, you can shop from home and Hertz will deliver the car to you for free.
If you plan to trade in your current vehicle at the dealership, be prepared to be offered less than you expected. Faced with a glut of used cars on the lot, dealers are going to be very conservative with how they value trade-ins.
TIP: Never buy a used vehicle without having it inspected by a qualified, independent mechanic before you sign the contract. That may be more difficult to arrange right now, but it can and should be done. Most used cars are sold "as is" which means as soon as you sign the paperwork you're responsible for any mechanical problems, unless you can prove the dealer lied to you in some way.
New Ways to Shop
The coronavirus outbreak has changed the buying experience. In some cases, you don't even need to go to the dealership. All the negotiating, and even the document signing can be done from home.
You shouldn't negotiate in person anyway. That's why Checkbook recommends contacting dealers by phone or email to ask for competitive bids. This bypasses the hassles of face-to-face negotiations and forces dealerships to offer their best prices—or risk losing your sale to competitors. Checkbook has a step-by-step guide on how to conduct this competitive-bidding process.
For more than 25 years, Checkbook has offered its CarBargains service to consumers who want experts to collect bids for them. CarBargains has helped more than 100,000 car buyers.
Don't let COVID concerns keep you from test driving the vehicles you're considering. Many dealers will bring those vehicles to you. Standard practice is to sanitize the vehicle, but to be safe you should use wipes to sanitize the high-touch places, such as the seat, headrest, steering wheel, handles, and dash. And ask to take the car out on your own.
"Taking a good long test drive is critically important when buying a car," Gillis said. "Many of the things we don't like about the cars we own (blind spots, back seat too small, hard to park, acceleration weak, etc.) can be avoided with a test drive."
Some dealers are "taking advantage of COVID concerns" by offering "special vehicle disinfecting" for a charge, Gillis told Checkbook. Like nearly all dealer add-ons, these are "overpriced and should be avoided," he said. Simply ask the dealer to disinfect the vehicle prior to delivery as part of their service and then do your own cleaning before taking the family out for their first drive.
A Few More Money-Saving Tips
Prior to the pandemic, Americans were buying ever-more-expensive vehicles. The average price of a new car purchased between January and May of 2020 was $38,493, according to Edmunds. With a shaky economy, this may be the time to dial back on what you're going to buy.
"Maybe you'd be better off not getting something so expensive," said CR's Preston. "Being a little more conservative may work out better for you in the long run."
Shopping around is the only way to get the best value and that's what CarBargains does for you. Gillis, who knows a thing or two about buying cars, uses CarBargains and recommends it.
"While it does cost you a fee to use the service, by getting dealers to essentially bid against each other, you can be assured of getting the best possible price," Gillis said. "CarBargains is a non-profit organization with no financial affiliation with the dealers, so you know they are working for you."
CarBargains' fee is $250 ($225 for Checkbook subscribers).
I had CarBargains help me buy my new car. The process was simple and straightforward, it saved me an enormous amount of time contacting dealers to get quotes, and I was able to call or email my CarBargains representative when I had questions.
Before I contacted the dealer with the winning bid, I was able to see a breakdown of the various charges and the final price I would pay––to the penny.
And best of all, CarBargains beat the Costco Auto price by $1,000. The folks at CarBargains tell me they do that all the time.
Contributing editor Herb Weisbaum ("The ConsumerMan") is an Emmy award-winning broadcaster and one of America's top consumer experts. He is also the consumer reporter for KOMO radio in Seattle. You can also find him on Facebook, Twitter, and at ConsumerMan.com.