Looking to Save Money? Audit Your Digital Subscriptions
Last updated May 18, 2020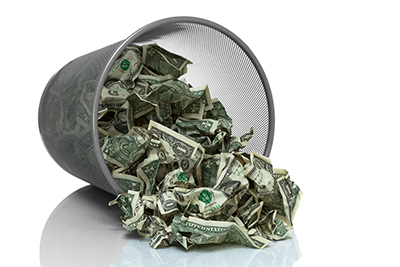 Subscription-based digital services are the ultimate in convenience—and the relatively small monthly fee to stream video, listen to music or audiobooks, or store your stuff in the cloud makes it seem like a good deal when signing up.
Here's the rub: It's also easy to sign up for a digital service, and then forget about the monthly subscription payments that are automatically billed to your credit card or checking account.
"You get on this endless treadmill of paying for something you're not even using and this is exactly why all the tech companies are moving toward a subscription model, because they expect that you are going to hit inertia and forget and you're just paying for nothing at that point," said Brian Chen, personal technology writer for The New York Times.
One of the main reasons people sign up for a streaming service is to watch exclusive content, such as The Mandalorian on Disney+ or Star Trek: Picard on CBS All Access. Once the series ends for the season, many subscribers don't use the service to watch other programs—but they forget to cancel.
Many streaming services use a free trial offer to get people to sign up—but a credit or debit card number is required to start the trial. If you miss the cancellation window, you are automatically subscribed and the billing to that credit card will start.
TIP: If you sign up for a trial, mark the end-date in your calendar, so you can cancel without cost if you decide you don't want to pay for this service.
It's Easy to Lose Track of the Total Cost
Small monthly subscription fees can add up. The average American spent $640 on digital subscriptions in 2019, according to an analysis of millions of users for The New York Times by Mint, the online budgeting tool owned by Intuit. That's up from $598 in 2017, an increase of about seven percent.
Do you know how much you're paying for subscriptions you've signed up for? Most people don't, according to a 2018 white paper "America's Relationship with Subscription Services," by West Monroe Partners, a business and technology consulting firm. Researchers asked 2,500 Americans how much they spend a month on digital services, devices, and subscription boxes (goods you receive automatically, i.e. BarkBox for dogs or meal kits such as Blue Apron)––84 percent underestimated the total cost.
The average guess––even after participants were prompted with names of specific services, such as Netflix, Birchbox, Dollar Shave Club, GoDaddy, PlayStation Now, iCloud, and Fitbit––was $112 per month. The actual average amount was $237 a month, or $2,844 for the year.
More than half (51 percent) of those who underestimated their spending on subscriptions were off by $100 a month or more.
Study author Dhaval Moogimane told Checkbook he was surprised by the results. He expected a difference between perception and reality, he said, but was surprised by the "magnitude" of the gap.
"A lot of these subscription services are for small dollar amounts … and so, when you sign up for a $5.99- or $6.99-a-month subscription, it feels valuable for what you're looking to do at that point in time, and you're not thinking about the expense in the aggregate. That's part of the challenge," Moogimane said.
Do an Audit to Find and Weed Out Needless Subscriptions
Chances are your subscription expenses aren't limited to digital services. You may subscribe to a gym or fitness club, newspaper or magazine, a monthly clothing or beauty box, weekly meal kits, or identity theft insurance. The list goes on and on.
The only way to figure out the total strain on your budget is to follow the money.
A number of app-based services will do the heavy lifting for you. Let them access your bank account and credit card statements, and they'll find all your subscriptions. Buy the premium service (a monthly fee involved) and they'll cancel the subscriptions you no longer use.
Of course, doing this yourself really isn't that difficult:
Start with a list of the recurring subscriptions and membership fees you remember.
Go through your credit card and checking account statements. Look at an entire year's worth of statements to make sure you didn't miss anything.
Check your mobile device or visit the app store you use to get a list of the apps you've downloaded. Do any of them have recurring charges?
Now you know how much you're paying each year for your subscriptions. Look at the list and decide which services are important to you—we hope Checkbook is on that list—and which are not. You may find that you're oversubscribed in some categories. For example, do you really need three video streaming services?
If you want to trim your budget, cancel the subscriptions you don't need, don't use, or don't get enjoyment from anymore.
TIP: In some cases, you may be able to switch to a digital service or app that does the same thing for free.
Expect to get pushback; companies don't like to lose customers. This could work in your favor with a service you'd consider keeping if it cost less.
For example, my new car came with a trial subscription to SiriusXM. I used it sometimes, but not enough to pay $16.99 a month ($200 a year) for it, so I didn't sign up. A few weeks before the free trial ended, the company offered me the same service for $5 a month for 12 months. For $60 a year, it's worth it to me. I already have a note in my calendar to cancel before my subscription jumps back to the regular price.
UPDATE: Kudos to Netflix for its new policy on subscription renewals, announced on May 21, 2020. The company said it will now check with inactive members at renewal time to see if they want to keep the service. If they don't respond, Netflix will automatically cancel their subscription. The company said its new policy would affect a few hundred thousand subscribers.
Contributing editor Herb Weisbaum ("The ConsumerMan") is an Emmy award-winning broadcaster and one of America's top consumer experts. He is also the consumer reporter for KOMO radio in Seattle. You can also find him on Facebook, Twitter, and at ConsumerMan.com.