Major Retailers Respond to COVID-19 with Expanded Holiday Gift Return Policies
Last updated December 25, 2020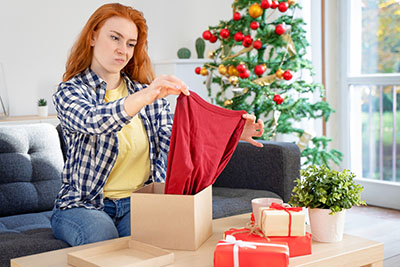 The final tradition of the holiday shopping season is underway—returns and exchanges. Whether it's a small kitchen appliance you don't want, a pair of running shoes that are the wrong size, or an ugly sweater you can't possibly wear, chances are you received something that just didn't quite hit the mark.
Dealing with returns during a pandemic can be a challenge. A few prominent national retailers are trying to make the process easier.
Walmart has partnered with FedEx to let you return items shipped and sold by Walmart.com without leaving the house. The new at-home pickup service is free.
Amazon is now accepting returns at its 500 Whole Foods Markets with no need for a box or shipping label.
Nordstrom, Dick's Sporting Goods and Best Buy offer curbside returns at some locations.
Many national chains have also liberalized their holiday return policies to give you more time to bring it back.
Edgar Dworsky, founder and publisher of Consumer World, which has surveyed national return policies since 2003, says retailers are responding to the ongoing concern about in store transactions, combined with a Christmas shopping season that started in October.
"It used to be that holiday return policies covered purchases made from November 1 or 15 onward, "Dworsky told Checkbook. "Now, we see a few companies saying that if you bought something as early as October 1, you have until mid- to late-January to return it. That's an unheard of four-month window."
Here are some of the noteworthy 2020 return policy changes reported by Consumer World:
Amazon expanded its holiday return window by a month allowing returns of most items shipped starting October 1 to be sent back as late as January 31.
Best Buy expanded its holiday return window by two weeks to include purchases made as early as October 13.
Target expanded its holiday return window by a month to include purchases of electronics and entertainment items as early as October 1.
The Home Depot doubled its regular return period from 90 days to 180 days for most items.
Bed, Bath & Beyond bucked the trend and reduced its return period to 90 days from 180 days last year.
More Info: The Consumer World survey includes a list of national retailers with generous regular or holiday return deadlines for purchases made in their brick-and-mortar stores.

Know the Rules
State law regulates returns. In general, a store can do what it wants, as long as the policy is clearly disclosed in advance and is not misleading or deceptive. It can establish time limits ("all returns in 30 days"), merchandise limits ("electronics not accepted after the package is opened"), payment limits ("store credit only"), or even eliminate returns ("all sales final").
It's always a good idea to have the sales receipt or a gift receipt when you head to the store.
"It's not unreasonable to require a sales slip or gift receipt to establish where and when the item was purchased, and at what price," Dworsky said. "Some stores will try to look up the purchase if you don't have a receipt, but if they're not able to do that, you may wind up with the lowest price that item was sold for in the past several months, or you may get nothing."
Even with a gift receipt, don't expect to get cash back. You're going to get a merchandise credit, a gift card, or an even exchange. Only the original purchaser can ask for a credit, or money back.
Before you do anything, check the store's website for details about its return policy, and if it's more generous during the holidays. If the item was purchased at a store, you'll probably have to return it to a store. If it was purchased online, you may have the option to ship it back or take it to a brick-and-mortar store near you.
Amazon.com does not accept returns directly for any purchase fulfilled by a third-party seller. In those cases, the seller may or may not accept returns under its own return policy.
Click here for more advice from Checkbook on getting happy returns.

A Word About Gift Cards
Gift cards are always a popular holiday present, but sales soared this year. For shoppers worried about going into a store or having a package arrive late due to widespread shipping delays, gift cards were the perfect go-to gift.
With the shaky economy, you don't want to take those gift cards and throw them in a drawer for later use. More than 40 U.S. retailers have filed Chapter 11 bankruptcy since the pandemic started, and 8,600 stores—including Pier 1 Imports, Lord & Taylor, Modell's Sporting Goods, and Papyrus—closed this year, according to the Associated Press.
The big guys, such as Walmart, Target and Amazon, aren't going anywhere. But gift cards to local retail stores, restaurants, salons, or spas should be used as soon as possible.
"Because of COVID, there's a chance that a local store or restaurant—even regional store—might not be around in a few months," said Lisa Lee Freeman, cohost of the Hot Shopping Tips podcast "So, if you've got a gift card, and you can't get to the store, go online and use it, but use it up quickly, because once the store is out of business, you may not be able to get your money back."
Contributing editor Herb Weisbaum ("The ConsumerMan") is an Emmy award-winning broadcaster and one of America's top consumer experts. He is also the consumer reporter for KOMO radio in Seattle. You can also find him on Facebook, Twitter, and at ConsumerMan.com.