Many Consumers Enrolled in COVID-19 Payment Modification Programs Find Their Credit Files Erroneously Tarnished
Last updated July 2, 2020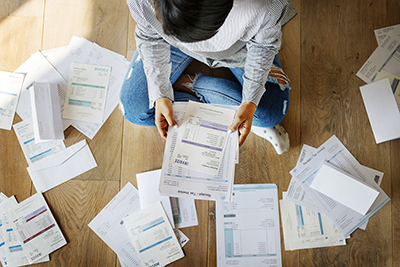 To help their customers stay financially afloat during the COVID-19 crisis, many lenders offered payment modification programs that allowed them to make reduced payments or skip payments altogether, without damaging their credit histories. But, in many cases, companies haven't held up their end of the deal.
Since March, more than 650 consumers have complained to the Consumer Financial Protection Bureau (CFPB) that their lender granted them payment accommodations, but still reported their accounts as delinquent. As a result, their credit scores have tanked.
A common theme among many of these complaints: The bank, credit card company, or mortgage lender did not honor its promise that by using the COVID relief program, the consumer would not incur late fees or receive negative marks on their credit history.
A few examples from the CFPB's Consumer Complaint Database:
A consumer in Michigan says inaccurate information reported to the credit bureaus creates "a difficult situation" in finding a job, getting approved for a loan, and getting approved for an apartment. "The company has not responded to the bureaus with the correct information. I pay my bills on time … I feel violated and my character is at stake."
Another consumer in Ohio describes being reported as making a late mortgage payment despite being granted a payment extension from the lender. "The rep told me this would not be considered as a late payment, I would just incur interest," according to the complaint.
A business owner in Illinois who was granted relief by his bank was reported as delinquent on their payments. "I have been 100% on time up until the past 2 months," the complaint stated. "I was qualified for relief loan until they reported negative [activity] … this relief program would have secured my company and any bills my company created."
"They're mad as hell," said Ed Mierzwinski with the U.S. PIRG Education Fund. He is troubled by the "astonishing number" of people who say they've been hurt.
"People should get some benefit from requesting a payment waiver," Mierzwinski told Checkbook. "If you're granted a waiver, you should not get dinged on your credit report."
In fact, the federal Coronavirus Aid, Relief, and Economic Security (CARES) Act, which became law in March, states that if a consumer is current on their payments and receives some form of payment relief from a creditor––and they comply with the terms of that financial hardship program––their payment status should continue to be reported as "current."
"What may seem like 'a little glitch' to the credit bureaus can be life-altering to a consumer," said Chi Chi Wu, staff attorney at the National Consumer Law Center. "If you have a clean credit report and very good credit scores, and you get one 30-day late payment reported to the credit bureaus, your score can plunge up to 100 points overnight. That negative mark could have a huge impact on your ability to get affordable credit or rent an apartment, even affect your insurance premiums or your employment."
The National Consumer Law Center has a tip sheets on enforcing the CARES Act credit reporting protections, protecting credit reports during the COVID-19 crisis, and disputing errors in a credit report.
A U.S. PIRG analysis of the CFPB complaint database also found a spike in complaints from people who had their request for auto loan payment relief denied.
"While some auto lenders are working with consumers, it's clear that the CFPB needs to stand up for consumers and crack down on uncooperative lenders," Mierzwinski said.
TIP: If you sign up for a COVID modification program, document the terms of the deal. Take notes, grab screenshots, get the name of the person you're working with––and ask them to send you a written copy of the agreement.
Student Loan Errors
Millions of student loan borrowers found negative marks on their credit histories recently because of a "coding error" by loan servicer Great Lakes Educational Loan Services. The mistake, revealed in late May, effected nearly 5 million accounts, according to Politico.
The CARES Act automatically suspended all payments on federal student loans for six months, until the end of September. That has been extended by executive order through December 31, 2020. To make sure deferred payments don't tarnish credit histories, Congress instructed the Education Department to make sure they are reported to credit bureaus as on-time payments.
But Great Lakes did erroneously report approximately 4.8 million accounts as being "deferred," which is a negative factor that can cause credit scores to drop.
Great Lakes and the Education Department said the problem was being fixed. The company issued a statement stating that it did not believe the reporting error "impacted actual consumer credit scores."
Consumer Reports is advising those with outstanding federal student loans to check their credit files.
Protect Yourself: Monitor Your Credit Files and Credit Score for Free
If you received an accommodation, forbearance, payment deferral, or any sort of COVID relief from a creditor, check your credit report at least once a month to make sure this is reported correctly. You should do it before you apply for credit, a loan, an apartment, or a job.
To see your credit for free, go to AnnualCreditReport.com. This is site was authorized by the federal government and is the only place you should go to get your free credit reports. From now through April 2021, you can check your credit files at the big three credit bureaus––Experian, Equifax, and TransUnion––for free once a week. Pre-pandemic, this could only be done for free once every 12 months.
"A lot of lenders and credit card issuers report to all three credit bureaus, so if there's a problem on one, there's probably a problem on the other two," said Liz Weston, personal finance expert at NerdWallet and author of the best-selling book, Your Credit Score.
If you find an error caused by a lender that is not in compliance with the CARES Act (or for any other reason), challenge it with the credit bureau(s). You can do this by mail or online.
"Everything gets sent through the credit bureau to the creditor, and the creditor has to investigate and respond within 30 days," Weston told Checkbook. "A lot of times that will solve the problem. If the creditor is stubborn or if the inaccurate information goes off and then comes back on, then you take your problem to the creditor and tell them they're reporting this incorrectly, and please fix it."
In that case, you should also file a complaint with the Consumer Financial Protection Bureau.
Note: The Fair Credit Reporting Act gives you the right to dispute errors in your credit report, but when negative information is accurate, only the passage of time can assure its removal. According to the Federal Trade Commission, a credit bureau can report most accurate negative information for seven years and bankruptcy information for 10 years.
It's also a good idea to monitor at least one of your credit scores. This will serve as an early warning system should something happen to your credit file.
"As soon as you notice a significant drop in your score, you can investigate it, and if there is a problem, hopefully nip it in the bud, and get any bogus negative information off your report," Weston said.
Because they're generated in real time, credit scores are always fluctuating. A 10- to 20-point change is not uncommon. But if you see a drop of 20 points or more and nothing in your credit history has changed––you didn't pay late, max out your credit cards, or apply for a bunch of cards within a couple of weeks––then something is wrong and you need to look at your credit report.
Many financial institutions and credit card companies provide customers with free credit scores. Various websites, including NerdWallet, also offer this service. It's a way for them to market financial products to a targeted audience.
When you sign up, you'll need to provide your Social Security number so the company can access your credit files, which are used to generate that score. That's why it's important to choose a reputable website.
My advice: If your bank, credit union, or credit card company provides free credit scores, use that service. You already have a trusted relationship with it.
Something New on the Horizon
On June 29, Fair Isaac, the company that created the popular-with-lenders FICO credit score, announced a new scoring model, called the FICO Resilience Index. It's designed to report to companies how well it thinks consumers can weather financial storms, such as the one created by the pandemic. The company says higher-resilience consumers tend to have more experience managing credit, lower total revolving balances, fewer active accounts, and fewer credit inquiries in the last year.
"It turns out there are tens of millions of consumers that have lower FICO scores, below 700, that do relatively well in a recession," Jim Wehmann, executive vice president of FICO Scores, told CNBC Make It. "For the very first time, we can help lenders and consumers identify those who are going to be more sensitive to the downturn and those that are going to be just fine."
It will take time for the new Resilience Index to work its way into the marketplace, and lenders can decide whether to use the new scoring model.
Contributing editor Herb Weisbaum ("The ConsumerMan") is an Emmy award-winning broadcaster and one of America's top consumer experts. He is also the consumer reporter for KOMO radio in Seattle. You can also find him on Facebook, Twitter, and at ConsumerMan.com.